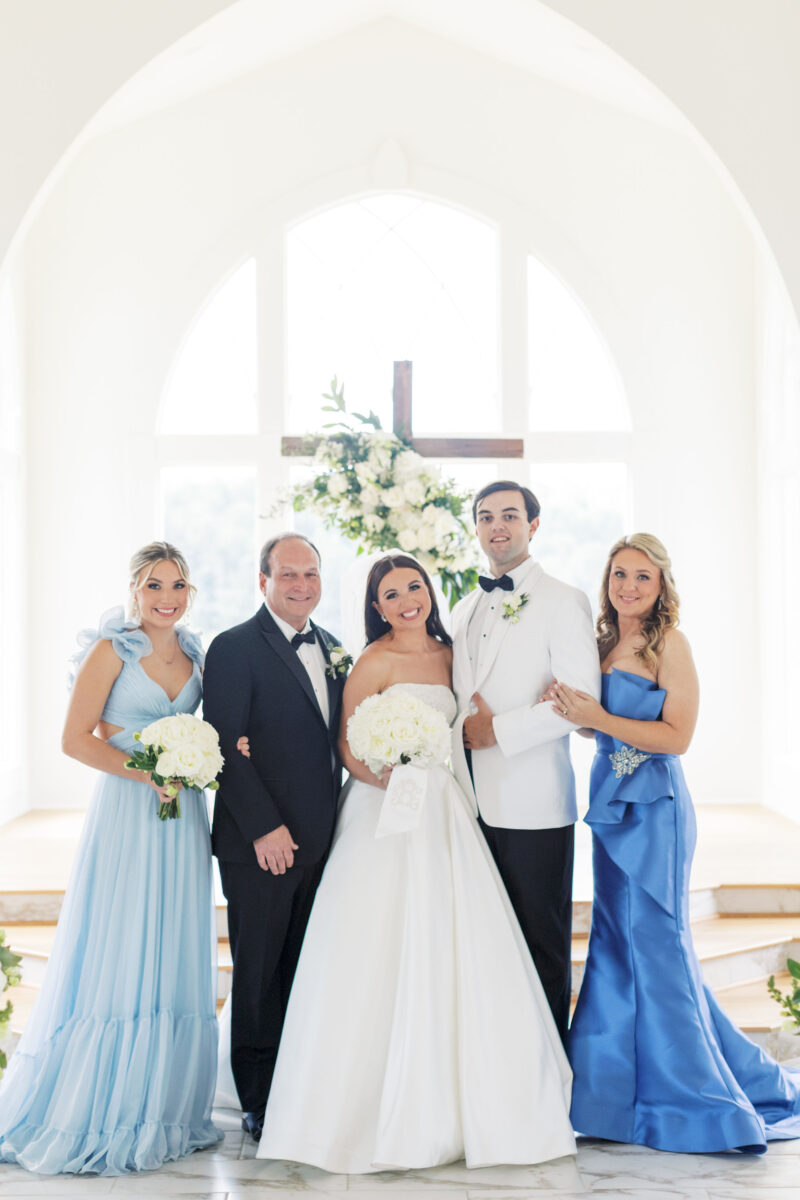 Name: Brandy Kristen Martin
Family: I have been married to my wonderful husband, Mark Martin, for 28 and a half years. Our two lovely daughters are currently attending Ole Miss, and we couldn't be prouder. Our eldest, Channing Martin Davis, has graduated with a degree in Integrated Marketing +Communications, and recently married Reagan Davis, a graduate of the University of Southern Mississippi. Currently, she is back at Ole Miss taking classes. Our youngest, Landry Kate Martin, is a Junior majoring in early childhood education.
Hometown: Commerce, Georgia
Current Town: Commerce, Georgia
What Years at UGA: 1997-2000
School/Degree: College of Family and Consumer Sciences, Furnishings and Interiors Major
Profession: I was what they call a non-traditional student when I enrolled at UGA. On the day of my graduation, I sat in Sanford Stadium, beaming with pride – pregnant with our first child and celebrating my fifth wedding anniversary. Even then, I had an entrepreneurial spirit and knew that I wanted to be an interior designer. This career choice allowed me to achieve my dreams of being a working mom and the class mom of my dreams. Working for myself allowed me to create my own schedule making it possible for me to attend class parties, dance recitals, field trips and ball tournaments. Fast forward to 2021, when my youngest child went off to college, and I signed the lease on a storefront with my college best friend, Erin Eisele Gilmer. This was my chance to achieve another lifelong dream – to open my own shop. God gave it to me when I needed it. From the beginning, Erin and I have worked hard to create a unique shopping experience for our customers, sourcing fresh and exciting lines not previously available in Athens. Our shop, The Avenue, offers a constantly evolving selection of gifts, home accessories, furnishings, lighting, collegiate and sorority offerings. Most importantly, we pride ourselves on the full-service interior design we offer, which is at the heart of The Avenue. As we celebrate our second anniversary, we are expanding into the space next door, excited to continue to grow and improve. I love meeting new people and sharing our vision with each person that walks through our door. Our hard work has paid off, and The Avenue has quickly become Athens' premier shopping destination. I'm eager for you to stop by and experience it for yourself!
Book: The Well-Watered Woman by Gretchen Saffles. We take on so many things in life with an "I got this" attitude. It's when you give it to God that you see things really getting done. Changing that mindset is a daily exercise that I have to practice, this book has been a wonderful companion in that.
Magazine: I pour through shelter magazines daily but what I really love is Garden & Gun. Probably not what you were expecting.
Instagram: I follow so many people and pages but my go to whenever I open the app is my family.
Brand: Schumacher. Period. (1)
Fashion designer: I am really loving Holly Shae. (2) She is adorable, her clothes are fabulous, and her holiday line is completely decadent.
Interior designer: Kelly Wearstler. It's the black and white for me. The bold and unexpected decisions. Makes for interesting and invigorating interiors.
Chef: John Currence. What can I say, the food is just too good every time we go to Oxford.
Historical figure: Diana, Princess of Wales. (3)
Quote: 
It won't always be easy, but it will always be worth it.
Describe Athens in five words or less:
Energetic, haunting, historic, Bulldawg Nation.
Restaurants and bars: Last Resort, Taqueria Del Sol, Chuck's, Jittery Joes.
Shops: Plain Jane Designs, I have been shopping with Jane for nearly 20 years, following her from one location to the next. She is the epitome of a warm southern welcome. Onward Reserve, having a great place to shop for the men in my life is priceless. Having Suzanne there to guide you through your purchases, even better. The Elephant Trunk. Charm is who introduced me to Bailey Boys and Strausburg 23 years ago. Every chance I get since, I stop in for a shower gift or I send someone her way. Everything else, I shop at The Avenue, of course, it truly is my favorite.
Athens/campus landmark:
Dawson Hall, so many great memories were made in that studio with those friends.
Memory while in school:
Designing a room for Christmas at Callenwold, watching the filming of Road Trip from the third floor of Dawson Hall, going to New York City as a member of the Pandora yearbook staff, Georgia Florida, obviously, and a trip to Dallas, Texas for the International Home builders show the January of my senior year, where I soon found out I was expecting. Good times.
Professor/class:
Ian Harding, he brought a little something different to our program. He was genuinely interested in our ideas and was just as quick to support them. He got excited with us and that was invaluable to students trying to find their footing in the word.
Gameday ritual/plan: Tailgating was so much easier back then. Our friend group would take turns parking our cars in lots along Lumpkin the night before a home game to secure a spot for the next day's festivities.
I ran across this recipe in the September 1998 issue of Southern Living. I still have the magazine with its stained and wrinkled pages from years of making the tortellini.
Fried Peppercorn Ranch Tortellini
INGREDIENTS
2 9 ounce packages refrigerated cheese-filled tortellini
1 24 ounce bottle peppercorn ranch dressing, divided
1 Tablespoon onion powder
1 Tablespoon garlic powder
1⁄2Tablespoon crushed red pepper flakes
2 Large eggs
2 Cups fine dry breadcrumbs
1 Cup mild chunky salsa
1 Cup chopped fresh cilantro
2 Cups vegetable oil, for frying
DIRECTIONS
Cook tortellini according to package directions; drain and cool. Whisk together 2 cups dressing, onion powder, garlic powder, red pepper flakes and eggs in a large bowl until blended. Add tortellini, and let stand 10 minutes. Drain and dredge in breadcrumbs; place on baking sheet. Chill at least 1 hour. Stir together remaining dressing, salsa and cilantro; chill. Pour oil into a Dutch oven; heat to 375°F. Fry tortellini, in batches, until golden brown. Drain on paper towels. Serve with dip; garnish with cilantro, if desired.
NOTE: To make ahead, fry tortellini according to directions; drain and place on baking sheet. Keep warm in 200F oven for 2 hours.