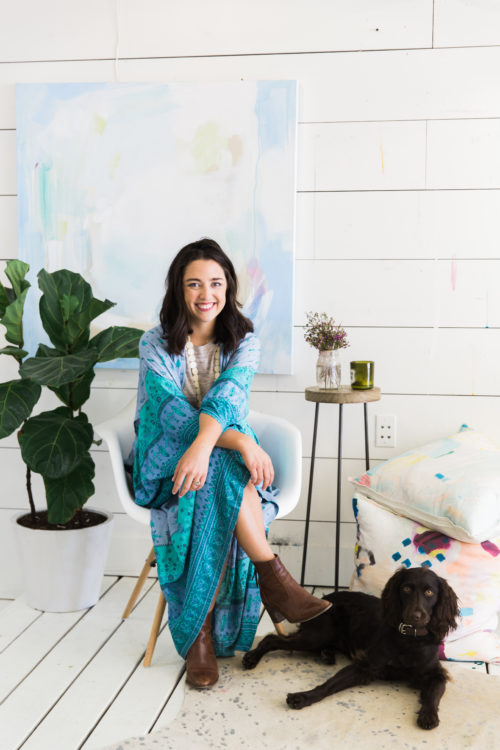 photo by KATHRYN MCCRARY
Name: Britt Bass Turner
Family: my husband, Render and our Boykin Spaniel, Birdie
Hometown: Milton, GA
Current Town: Roswell, GA
What Years at UGA: 2007-2011
School/Degree: Lamar Dodd School of Art/ BFA Art Education emphasis in Painting
Profession: Painter, Owner of Britt Bass Turner LLC
Accolades: Featured in Domino, Southern Living, Better Homes and Gardens, Anthology, Atlanta Magazine, and Atlanta Homes and Lifestyles. Awarded Jezebel's Best Artist of Atlanta 2013 and 2014. Named Southern Livings' 12 Artists to Buy Now 2014, and Domino Magazine's 10 artists to follow list 2016. Full time artist since 2012 selling prints and originals world wide!
#ATHENSga
Describe Athens in three words: Full of surprises!
Fave bars and restaurant in Athens: Just 5?! Mama's Boy, 90's Bar, Last Resort Grille, Little Kings, The National, Trapeze, and my new favorites since graduating: Creature Comforts and Seabear.
Fave shops in Athens: Agora, Community, and Heery's.
Fave Athens landmark: All of North Campus and the Tree that owns itself.
#UGAgameday
Describe your typical Bulldog game day: Bloody Marys and College Gameday at the house then meet up with our UGA Alum friends by Myers Quad for tailgating fun!
Share a tailgate recipe:
Skinny Bean Dip
Ingredients:
8oz nonfat plain greek yogurt
16oz salsa
1/2 tbs cuminn
1/2 tbs chili powder
2 c shredded lettuce (can use iceberg, spinach, or arugula)
2 large diced tomatoes
1-2 c cheddar cheese
2-3 avocados sliced
1 can blackbeans drained
1 can lowfat refried beans
1 can corn drained
Directions: In a large bowl combine yogurt, refried beans, salsa, and seasonings (add salt and pepper to taste). Spread mixture on bottom of baking dish. Top with corn, black beans, lettuce, tomatoes, avocados, and shredded cheese. Serve with tortilla chips!
#BULLDOGBELLEbeauty
Fave lipstick: Giorgio Armani Lip Maestro
Fave mascara: Lancome Definicils
Fave skin care line: Painted Earth
Fave hair product: I switch between BB and Pureology
Product you can't live without: Painted Earth's Lavendar Water Makeup Remover/Toner
Best budget buy product: Baby Lips Lip Balm in Grapevine
Biggest product splurge: Deborah Lippmann Topcoat and JINsoon base coat nail polish
#BULLDOGBELLEstyle
Fave fashion designer: Tibi, Marysia, Abbey Glass
Fave interior designer: my mom, Amy Ferrer of Miko and Boone Home
Fave jeans: AG
Fave tee: Madewell
Fashion idol: I normally look to my sister, Mackenzie Bass of @_moonaluna, and BFF, Courtney Clymer of @lifestyledatlanta who both have completely different but equally awesome fashion blogs! But I love following @jessannkirby and I'd have to say my celebrity fashion idols are the Olsens and Olivia Palermo.
Fave flower: peony
Fave accessory: a hat
Fave stationery: Rifle Paper Co
#BULLDOGBELLEinspo
Who inspires you? Emma Watson
Fave blog: designlovefest
Fave instagram: @jessechamberlin and @moeblake for beautiful images,@ngcollectivestudio for fresh artwork, and @rachkincaid for wisdom and truth
Fave magazine: domino, house beautiful, are my go tos
Fave book: whatever I'm currently reading, so today is Malcolm Gladwell's Tipping Point and Jess Connolly and Hayley Morgan's Wild & Free
Fave song: Otis Redding – These arms of mine
Fave artist: Basquiat
FOR RECENT POSTS BY CHERI LEAVY – click here
---
---
View Social Section Here: