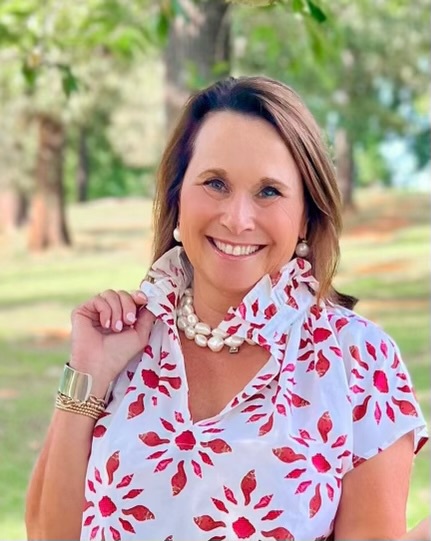 Name: Claire Collier Cronk
Family: I met my husband in 8th grade and we both graduated from UGA in 1985. Although we're both generationally native Atlantans, we now live in St Simons! I have two amazing daughters and two equally amazing sons-in-laws who both currently live in Atlanta. My two grandsons Bear and Brooks are my heart and soul. I also have the honor of helping care for my 92-year-old father who was a KA at UGA!
Hometown: When not in the Golden Isles, I enjoy writing in my cabin in North Georgia, traveling, playing pickleball and of course being with my daughters and two adorable grandsons who call me Honey!
Major: I was an Interior Design- Advertising major through the FACS school. I always thought I'd write for Southern Living!
Profession: As a creative (and a Gemini) I've had my hand in many different métiers! I feel like my latest journey as the face behind the blog @southern.pearlsofwisdom is a culmination of them all and I throughly love every minute of getting to know these amazing Southern women and their brands.
I had the honor of my Interior Design work being featured on a tour of homes and a little unknown fact that I was Atlanta's Junior Miss in 1980!
‌Book: Because I'm always writing, I'm always reading! Love anything by a Southern writer or about the South. Currently reading a Reese Witherspoon book club book: The Downstairs Girl by Stacey Lee (1)
Blog: Mrs Southern Social
Brand: I've had the honor of featuring so many amazing Southern brands on my site and I'm so proud of them all! But a few I adore are Kim at Lucy's Market, Cindy with Sapelo Skin Care, Jesslyn with Biolyte and Leighton with Recruitment Ready.
Fashion designer: Southern designers like Sue Sartor (2), Hunter Bell and Nardos Designs.
Chef: Ina Garten
Authors: Celestine Sibley, Julia Reed and Margaret Mitchell
Quote: 
"Be the woman who crowns others"
Describe Athens in five words or less: classic, friends, music, history, football, gastronomy. Because my husband is an Emeritus board member of the Terry Business School and occasionally presents to the students, we have fun enjoying Athens on non game days!
Restaurants/Bars: Then- Davinci's Pizza, Guthrie's, Steverino's and Sons of Italy, The Grill, O'Malleys; Now- The Last Resort, Five and Ten, Alumni Cookie Dough.
Athens/Campus landmark: The State Botanical Gardens, 40 Watt Club, The Tree That Owns Itself and Sanford Stadium.
Memory while in school: Themed fraternity parties. Running back from class to watch Luke and Laura get married on General Hospital! (5)
Gameday ritual: These days we take a long walk on the beach or take a spin class, watch GameDay, stop at Two Friends Bubble Bar for the perfect wine, then watch the game with friends!
Tailgate: Pimento cheese with Terrapin Ridge Farms Gourmet Hot Pepper Bacon Jam and a Bloody Mary with ALL the fixins including candied bacon and fresh Georgia shrimp! (6)