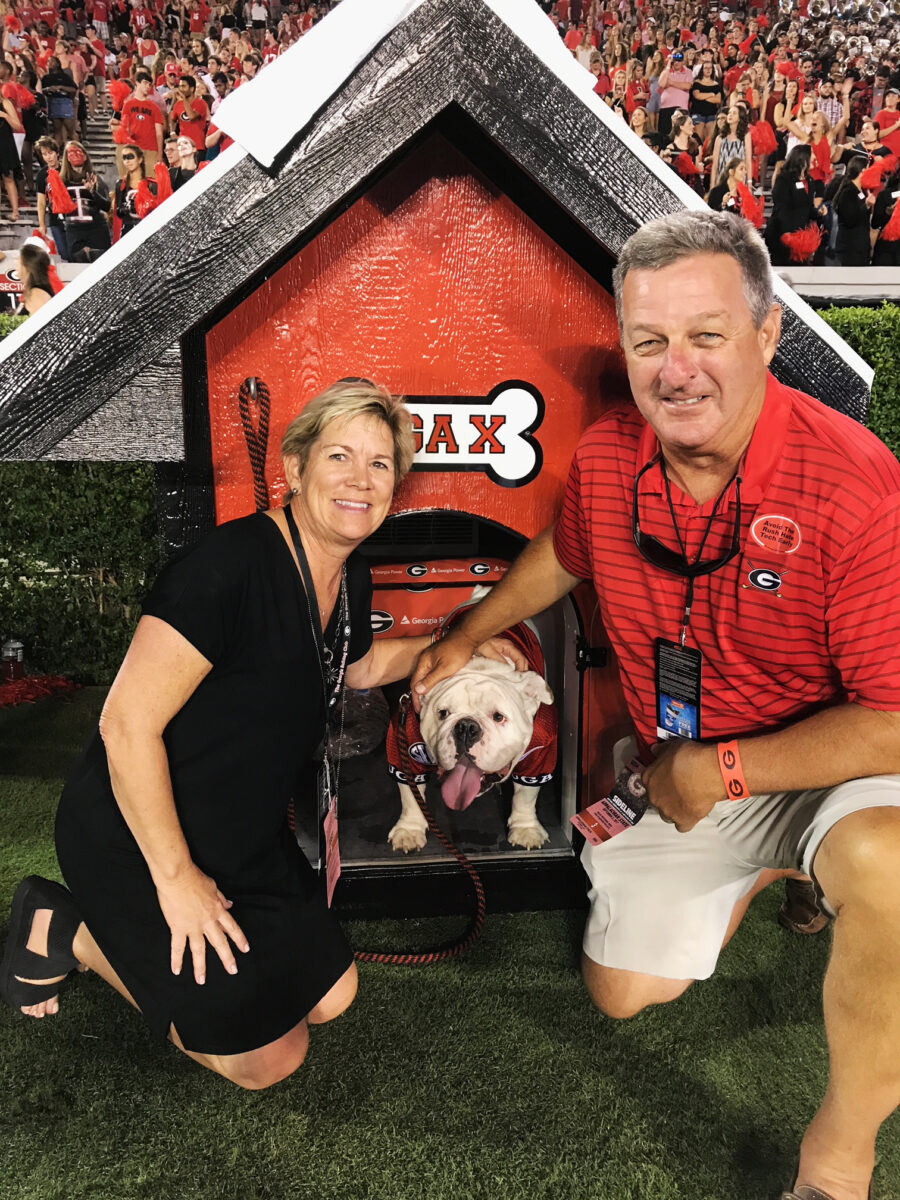 Billy Shuman met Bonney Stamper at a fraternity party in Athens when they were undergraduates at the University of Georgia but went their separate ways after four years on campus, which brings about an interesting and compelling explanation.
Bonney was a serious student, enrolled in the Terry College of Business and was headed to an exalted business career while Billy was in no rush to be fitted with cap and gown. He was enjoying life and what better place to do that than in Athens, Georgia, when the Bulldogs were winning big with Hershel "running over people."
The co-eds were charming and pretty, the fall and spring were magnificent, the parties were great, and life was just too good to worry about progress toward graduation. He was attending class and making good grades but was frequently changing majors — life was good.
"Then my dad pulled my scholarship," Billy laughs. Billy was not a wayward soul, not the prodigal son — he just had a degree timetable that was out of sync with his dad's. Soon he was back home in Savannah, gainfully employed and finishing degree requirements at Armstrong State.
By that time Bonney was well established in the business world, a co-founder of Bar Code Systems in 1983, which later became Stratix Corporation. Her resume notes that, "Stratix helped hundreds of end users, distributors and other organizations gain a competitive advantage by utilizing bar coding and other forms of automatic data capture." She served as President and Chief Executive officer until selling the company in 2011.
She is one of the most accomplished businesswomen graduates of the University of Georgia. Her time with Stratix saw her become President of AIM USA, the automatic data capture trade association, and she was a board member of "Women in Packaging." She served on the Georgia Women's Business Council.
Meanwhile, Billy found his way to Chicago where he began a career in commodity trading, enjoying the Windy City's sports teams, the Bears, Michael Jordan and the Bulls, and the White Sox. Being a devout Braves fan, he could not pull for the Cubs although he loved the singular and extraordinary environment of Wrigley Field. The Chicago of the 80s, "Old Chicago," he says, was a terrific experience — except for the harsh winters.
While Bonney and Billy chose separate career paths, they remained diehard Dawg fans and met up again at a wedding of friends. Soon they were an item, married and settled in Atlanta. Billy commuted to Chicago while Bonnie traveled the country and internationally — everywhere from Canada to Japan, to the United Kingdom to Mexico to Australia but reserved commitment to Athens on fall gamedays. (She traveled to all 50 states before she turned 50, a personal point of pride).
She always had a penchant for combining work and play, which was underscored when their daughter, Mary Ellen, a Double Dawg with a BBA from Terry, and law degree from UGA, (they also have a son, Billy Jr., who played golf at Furman and has a Masters from UGA) signed a grant-in-aid to play golf for the Bulldogs. Wherever the Lady Dawg golf team played, Bonney and Billy made every effort to join them.
The best of times came when they settled in St. Simons where Billy turned his business attention to real estate which included the purchasing of pecan farms near Marshallville, where he enjoys spending time.
There are fish to catch, golf to play on some of the best courses in the world, Dawgs to patronize, and now that Bonney has retired, they can join all the tailgate parties and any noteworthy event or celebration in Athens.
They are active alumni. Bonney serves as a Trustee of the UGA Foundation and recently served as President of the UGA Alumni Association. She enjoys being a UGA Mentor and was a founding member of the Sea Island Scholars program through the Terry Women's Initiative.
Locally, she is an emeritus board member of the Communities of Coastal Georgia Foundation and is currently the Treasurer of Christ Church, Frederica.
For Billy, no one in Southeast Georgia holds greater antipathy for the Florida Gators than this pecan grove aficionado. His anti-Gator golf outing (Gators Eat Boogers) is one of the most popular in the Golden Isles to take place during the annual Georgia-Florida weekend.
Bonney and Billy Shuman, Damn Good Dawgs, who have traveled much of the world, are now happy to be homebodies in their forthcoming golden years in the Golden Isles.