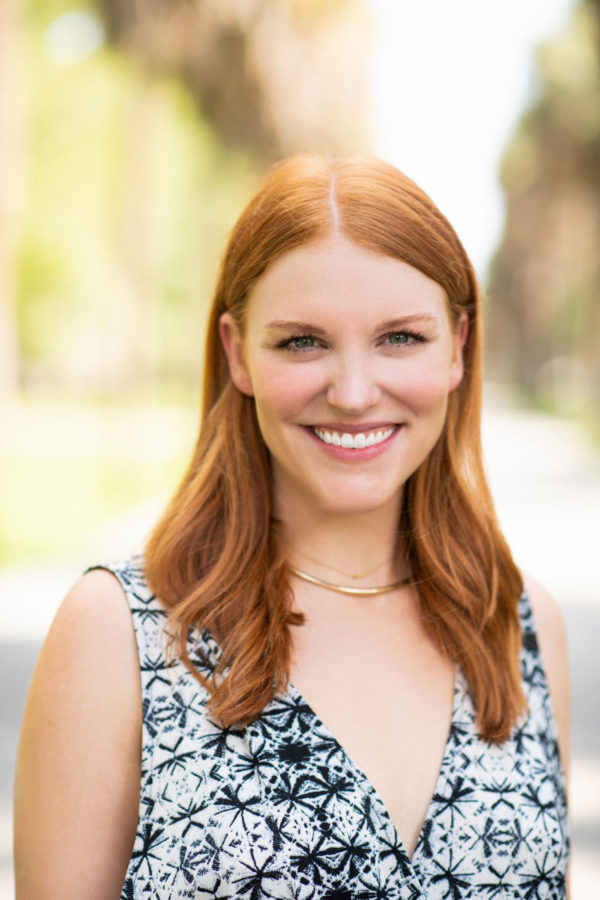 Name: Elizabeth "Liz" Minch Eichholz
Family: Husband Jason Eichholz (also a UGA grad!); daughter, Tempe Elizabeth Eichholz, "Tee" (19 months); Dogs, 2 labs Lola and Bella
Hometown: Austin, Texas
Current Town: Savannah, Georgia
What Years at UGA: 2007-2012 (I changed my major from Journalism to Graphic Design which earned me a victory lap 😉 Also who wouldn't want to stay in Athens a bit longer…)
School/Degree: BFA in Graphic Design from the Lamar Dodd School of Art
Profession (Share your elevator speech): I am the co-founder and Creative Director of Weezie, a luxury direct to consumer towel company redefining the bath towel industry. Weezie was born from my lackluster experience buying towels off my wedding registry. From beginning to end, I found the process confusing, convoluted, and down-right frustrating. Weezie is the company I was looking for and never found– a seamless way to buy the highest quality towels online with quick and easy (but beautiful!) customization options. At Weezie, we encourage customers to #enjoythestay and elevate the every day with moments of delight – and we feel a soft, fluffy, beautiful towel does just that!
Accolades: We sold more than 10,000 orders in our first 10 months, and the majority of our customers discover Weezie by word of mouth. We are so proud that our customers are loving the towels so much that they are telling and gifting their family and friends!
INSPO:
Book: I love a good non-fiction read. I just finished Educated by Tara Westover and Becoming by Michelle Obama. I also always have a work-related book going, and I'm currently making my way through Free to Focus, which is amazing for anyone autonomous over their schedule!
Magazine: I am such a print junkie. I love them all – from People to Southern Living to Elle Decor, Veranda, and Architectural Digest. I travel a lot for work and my favorite indulgence is going to the airport and binging on all the magazines my heart desires.
Podcast: How I Built This, Rebecca Minkoff's Superwomen, Second Life, Glossy, The Happiness Project, The Business of Home, Loose Threads, Inc Founder's Project, Mom Brain…I could go on and on. Podcasts are my favorite way to continue learning as a business owner!
Blog: I don't read a lot of blogs anymore! My favorite newsletters are Girls Night In, Lean Luxe, and ModernRetail.
Instagram: @pencilandpaperco (WATCH OUT she has the best sale picks every day), @jillyhendrix (she is so hilarious), @chrissyteigen (also endless entertainment), and @sarahamandabray
Brand: I have so many brand crushes, I don't even know where to begin! Lake Pajamas is also based in Savannah, and we look up to them as founders and a brand so much! We just did our first brand collaboration with Julia of India Amory. It was such a fun project, and so exciting to see the robe come to life and the customer response it generated! Other favorites include Cuyana, Outdoor Voices, and Margaux. I could really go on and on.
Fashion designer: Loeffler Randall, Marysia, Mi Golondrina
Interior designer: I'm always drawing inspiration from the design world, and have so many talented designers I admire! Robyn Roberts (also a UGA grad!) is slowly but surely helping me work through my house in Savannah. Other favorites include Sarah Bartholomew, Pencil and Paper Co, Ashley Gilbreath, Clary Bosbyshell, Amy Berry, and Becky Boyle. One of my favorite parts of our growing business is working with designers – it's been so fun to be introduced and welcomed into the design community. We're always thinking through creative ways to serve designers, and we're so excited to continue developing our strategy to do so.
Chef: Hugh Acheson – I swear the National is still one of my favorite restaurants in America! Aaron Bludorn, the head chef at Cafe Boulud who has since left to open his own restaurant in Houston! I can't wait to see what he does next.
Historical figure: I'm always so bad at this question because there are too many to pick from but right now… Alexander Hamilton! I saw the musical recently, and I'm on a big kick with the soundtrack.
Quote: "Don't let perfect be the enemy of good enough." This is something my dad has said to me repeatedly my entire life because I am such a perfectionist. These words have never been more important while launching and running our business. There are so many things to get done and so many lessons to be learned, and there is really no time to perfect every little thing. Something you just have to keep the ball rolling and not let perfectionism hinder progress.
ATHENS + UGA:
Describe Athens in five words or less: A little slice of heaven.
Restaurants and bars: Last Resort (my friends and I went so often in college that the AMAZING owner threw us a graduation party–one of my favorite memories of college), The National, Little Italy (extra ranch!!), Georgia Bar, and the Georgia Theatre rooftop.
Shops: Agora Vintage! She had the most amazing Chanel bags while we were in college. I am ready to go back and give myself a little gift.
Athens/campus landmark: I love the Georgia Theatre. Not only do I have so many fun memories there from the college days, but after graduation my now-husband took me on a wild goose chase that started in NYC (where we were living at the time) and ended at the Georgia Theatre (where we met on a Kappa date night), where he proposed! We were the only two in there, and the marquee read "Where It All Began," since we had met there 7 years before!
Gameday ritual/plan: I am the world's worst football fan but I sure do love a game day. My perfect game day starts with a blood orange mimosa from Last Resort (with a delicious brunch of course and maybe a mid-day piece of white chocolate cheesecake), followed by about 15 minutes of the actual football game, and then a cozy bar spot at Gameday Bar!
Memory while in school: I have so many amazing memories from UGA. I just loved every bit of my experience there, and I made some of the greatest friends in the world. We had a group of 15 and we had 3 houses on Hancock Street, right off of downtown. We treated that street like our own personal door hall and were always running up and down it between houses. It was so much fun to be able to walk downtown – we really treated Athens like our little dream world playground! I also have such great memories of the Kappa Kappa Gamma house.
Professor/class: Julie Spivey, my typography teacher in the Graphic Design program, was amazing. We still keep in touch. She laid the foundation for my love of graphic design and taught me a skill set that really changed my career. She teaches typography foundations that really set you up to be an amazing graphic designer.