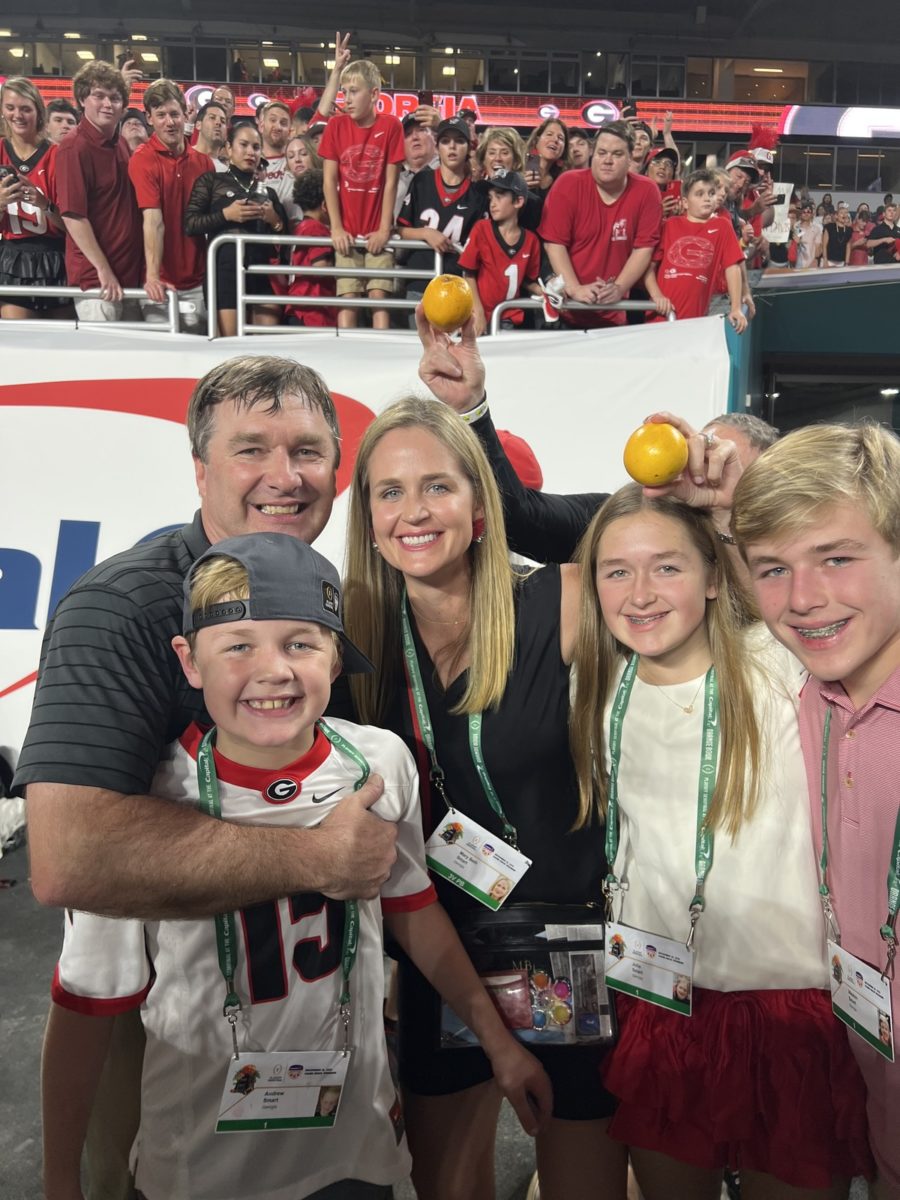 Family: Husband, Kirby; children: twins Weston and Julia (13), son Andrew (9); dog, Bess; cat, Apollo
Hometown: ​Morrow, Georgia
Current Town: ​Athens, Georgia
What Years at UGA: ​1999-2003
School/Degree: Terry College, BBA Finance
Profession: I run and manage (with a lot of help) the Kirby Smart Family Foundation. We focus on helping children and families in need in our community and around the state of Georgia.
Well, I'm obviously most known for being married to Kirby, and I'm super proud of that because I'm very much in love with my husband. But personally would say that I'm proud to be a former Lady Dawg. Named team captain my senior year by Coach Andy Landers and leading the team in minutes that year is my claim to fame.
Book: I love historical fiction and just read A Lineage of Grace by Francine Rivers for the third time.
Magazine: ​I don't read magazines. I do watch a lot of nonsense tv. Mostly Bravo shows. I am currently binging Emily in Paris on Netflix and Just like That SATC on HBO Max. Kirby and I are trying to keep up with Yellowstone.
Podcast: ​The Morning After with Kelly Stafford. She's hilarious. Also love Not Skinny but Not Fat (this one has a lot of my favorite "Bravo-lebrities" as guests. Also love Lipstick on the Rim with Molly Sims for beauty tips and life hacks.
Instagram: ​@livingwithlandyn – for mom tips and fashion inspo; @houseinhabit – love her, she follows news stories like Free Britney, the Brian Laundrie case, and currently the Ghislaine Maxwell Trial; @garyjanetti and @bradgoreski – I think they are just hilarious.
Brand: ​Lululemon, Golden Goose, Zara, MOTHER denim.
Fashion designer: ​Hunter Bell, Mignonne Gavigan (2).
Chef: ​Peter Dale and Hugh Acheson.
Historical figure: Eliza Hamilton, Barbara Dooley ​(she is such an important part of UGA Football's history) (4).
​I had no answer for this. My son googled famous quotes and found this and I thought it was hilarious. "Behind every great man is a woman rolling her eyes." – Jim Carrey. I'm laughing again as I type it because of course I would never roll my eyes at Kirby.
Describe Athens in five words or less: ​HOME.
Restaurants and bars: ​Chuck's Fish(1), Last Resort, Five & Ten, The National. Love them all for different reasons.
Shops: ​Dukes, Heery's (5), Fleet Feet.
Athens/campus landmark: Stegeman Coliseum.
Memory while in school: ​My senior season, the Lady Dawgs upset Rutgers to advance to the Sweet 16 and finish the season undefeated at home. (Dantzler adds, MB played great and had 9 points, 5 assists and 3 rebounds).
Professor/class: ​Dr. Chris Pope FINA 4920 Financial Modeling (I had to look that up). I took it in summer school and learned how to rock an Excel spreadsheet in that class.
Gameday ritual/plan: ​I meet up with some friends at Transfit and do a game day run. We always make sure to run across the bridge. Always gets my day started right. If we are on the road, I'll find a run or a peloton somewhere to sweat out my nerves. (3)
Tailgate Recipe: ​Pretty simple here. Little smokies and crescent rolls. Pigs in a blanket. Can't mess it up and everyone loves them.