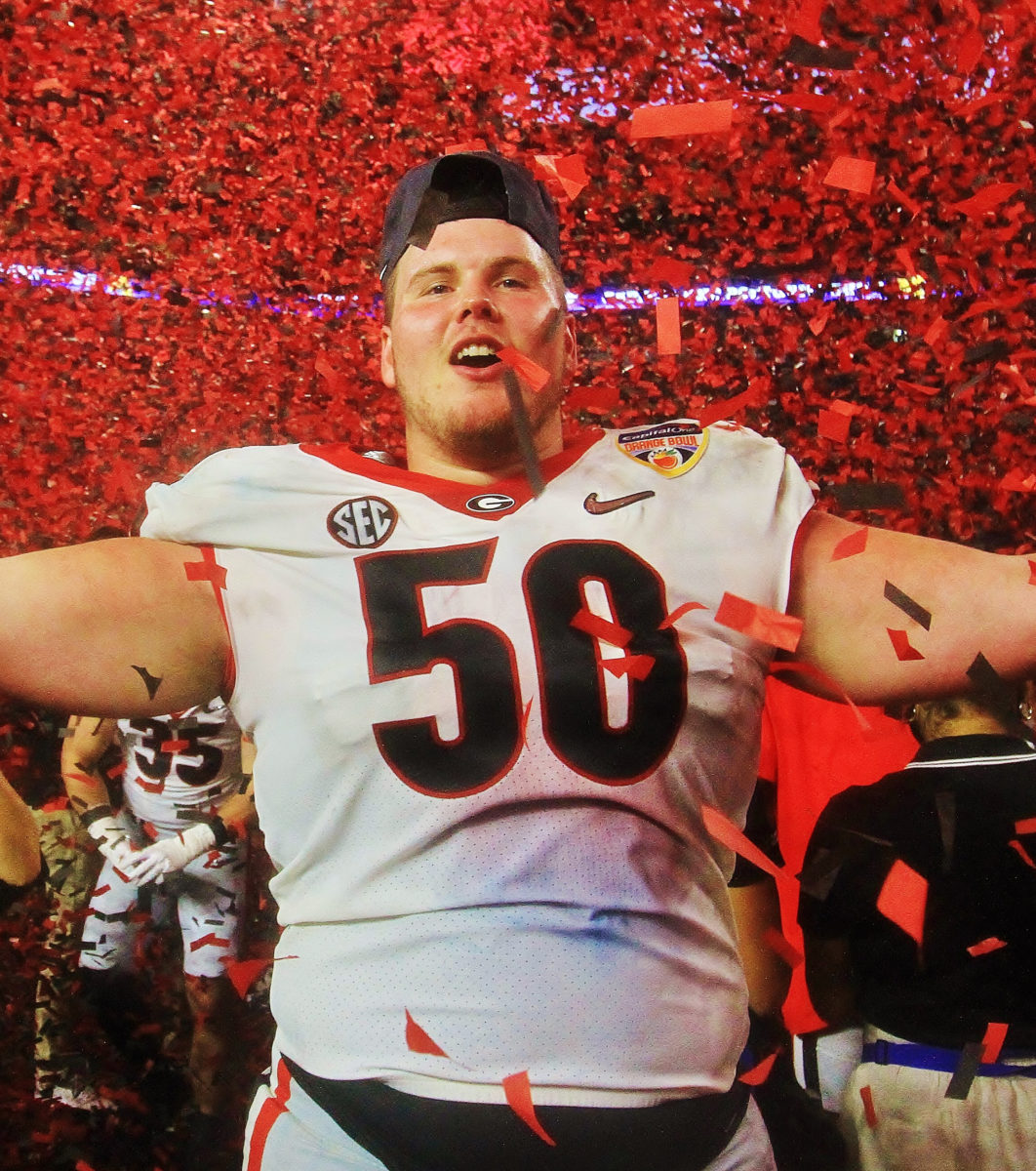 The Georgia Bulldogs have redeemed themselves in the eyes of college football world by defeating Michigan 34-11. This secures a spot for them in the CFP National Championship. Jim Harbaugh and the Wolverines were unable to penetrate Georgia's defense. Michigan could not stop Georgia's high-powered offense. Another all-SEC Championship highlights the difference in quality between the SEC and the other conferences. Without any doubt now, the top two teams in college football are Alabama and Georgia.
The only concern I have from this game is that Georgia was shutout in the third quarter and only scored seven points in the fourth. Michigan made defensive adjustments at half time to counteract the thrashing they received in the first half. Now, Georgia must overcome Alabama in order to win the National Championship. Nick Saban is a master of in-game adjustments. Georgia will need to play consistent high-quality football for all four quarters. Georgia will need to counteract strategic changes and cannot let their foot off the gas.
0
Georgia's offensive line did not allow a single sack. Michigan had quality edge rushers in Aidan Hutchinson and David Ojabo. Neither of Michigan's star rushers were a factor in this game. Georgia's line received a major boost when Jamaree Salyer's injury concerns subsided. Against Alabama, Georgia lost the battle in the trenches. Against Michigan, Georgia dominated the line of scrimmage on both offense and defense. This was the first foundational cornerstone that resulted in a Georgia victory.
313
Georgia beat Michigan with their passing game. Stetson Bennett played exceptionally. Bennett through three TDs and no interceptions. Bennett made some good runs with his legs, his longest being a 20-yard pickup. Kenny McIntosh threw one TD to Adonai Mitchell in a beautiful half-back pass play. James Cook was front and center of the Dawgs passing attack. Cook was targeted for times, with for receptions for 112 yards, and one receiving TD. Brock Bowers and Jermaine Burton also got receiving touchdowns and had some great receptions.
158
Georgia fielded six different guys as rushers throughout the game. Subtracting Stetson Bennett's 32 total rushing yards from the overall total, we get 158 rushing yards. The most utilized rusher was Zamir White, who rushed for 54 yards on 12 attempts. There were also runs by Daijun Edwards, James Cook, Kendall Milton, Kenny McIntosh, and an 8-yard rush by Ladd McConkey. Michigan, in comparison, if you remove any quarterback scrambles from the total, only picked up 61 rushing yards. They had three guys rushing compared to Georgia's six. This highlights that Georgia has weapons that can be utilized anywhere, and this also allows skill players to rest for the next play. The ability to conserve energy and have fresh players is a wonderful commodity and is vital to winning the fourth quarter battle.
3
Georgia's defense managed to get 3 turnovers. This included one fumble, recovered by Devonte Wyatt, and two interceptions by Derion Kendrick. Kendrick played his best game all season. Georgia defensive backs were zoned in. Alabama tore them apart in the SEC Championship, so they needed a well-executed performance to regain their confidence.
4
The pressure was on Michigan quarterback Cade McNamara. Georgia's defense managed to get 4 sacks. Against Alabama, Georgia did not get a single sack. This was a much-needed confidence boost for the defense. Travon Walker, Nakobe Dean, Nolan Smith, and Robert Beal Jr. each got a sack. Nakobe Dean's intelligence was on full display. If you watched Nakobe, would see that he had successfully called the play Michigan was running. He did this at least twice. Nakobe Dean is a 4.0 GPA Mechanical Engineering major and 2021 Butkus Award Winner. Nakobe studies film. His performance against Michigan highlights the importance on intelligence on a football field.