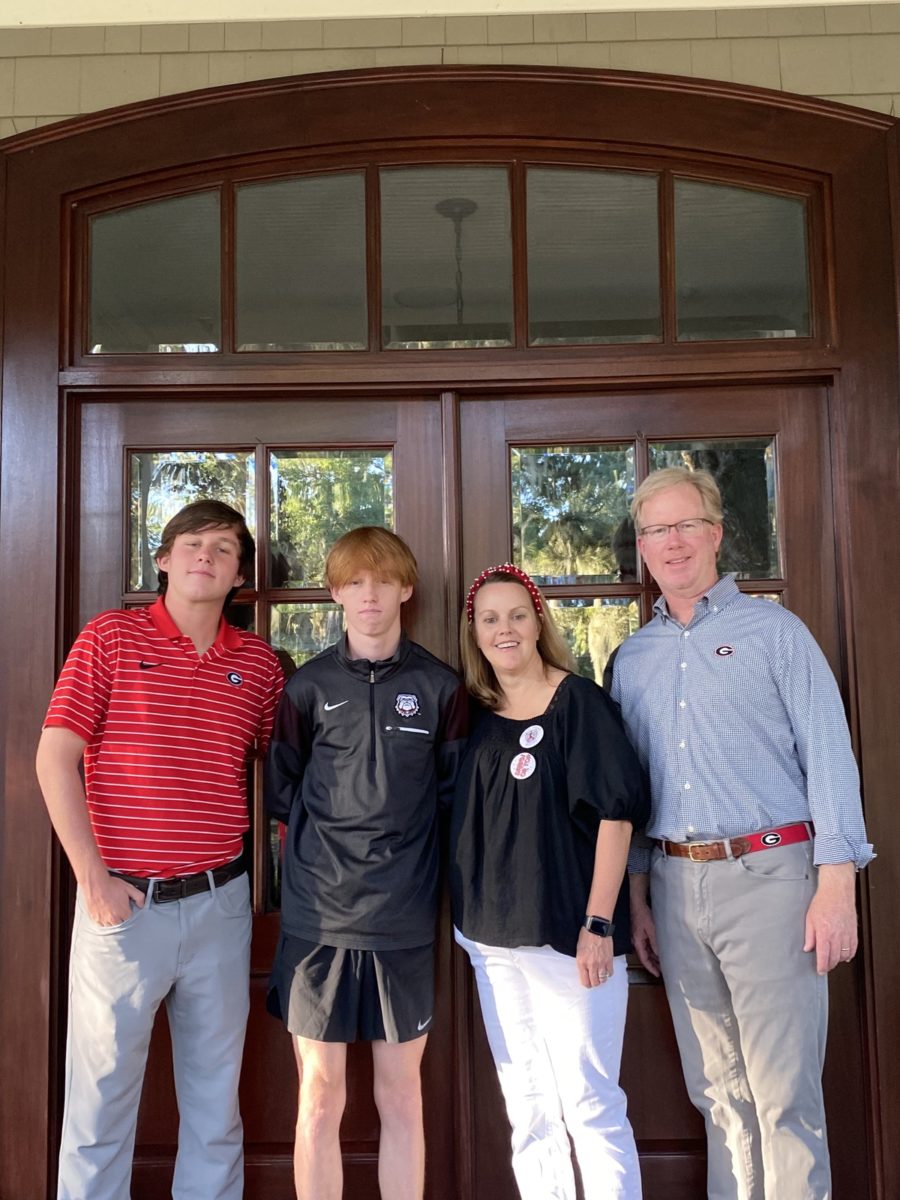 Name: Dan Lovein
Familly: Julie, Allan (17) and Daniel (14)
Hometown: Nashville, Georgia
Current Town: St Simons Island, Georgia
What years at UGA: 1990-1994
School/Degree: Terry College of Business. BBA
Profession: Attorney
Accolades: First Baseman on second place team in 1993 ZTA Diamond Challenge.
What life lessons did you learn while at UGA?
How to use an ATM machine (we didn't have one in Nashville) and that calculus was created by forces of evil. Also, that I was good at making friends. Those I met at UGA remain the best of my life.
What professor did you most admire?
Dr. Fred Stephenson. He was a logistics professor and was very practical. He was accomplished, yet humble and taught by sharing his real-life experiences. I always appreciated him.
Which Historical figure do you most identify with?
I'd have to go with Sir Thomas Carlyle. His philosophy was one of duty, work, and silence.
Who are your heroes in real life?
First and foremost, my dad. Few have experienced and accomplished as much as he has. Also, those who provide healthcare to the elderly and to critically ill children, I cannot think of anything more worthwhile.
Quote to live by:
"A day without laughter is a day wasted." – Charlie Chaplin
What is your idea of perfect happiness?
Well first and foremost, I want my family to be content and for my children to experience all the good that life has to offer. As pertains to UGA, I can't think of anything much better than being in Athens on a perfect fall Saturday tailgating with my friends to include Chad, Carlton, Wes, Phillip, Chitty, Gordon and all my other friends who love the Dawgs. I went to my first game in Athens in 1980 when Herschel burst onto the scene. My dad and Mr. Peddy Parker took my brother Matt, Trip, Parish, and me and I still have vivid memories of that. I've been hooked since.
What do you consider to be your greatest achievement?
Well, my wife Julie has put up with me for 23 years which is quite a feat. I have also been blessed to work with the same wonderful people for 22 years now. We live in a wonderful community where we are loved by special friends. I'd have to say that these are the things for which I am most thankful.
What is your most marked characteristic?
For better or worse, I am stubborn. Sometimes that's a good thing, other times not-so much.
What do you most value in your friends?
Well, Chad has a beach house with free parking, Chitty has a Game Day condo that I can use, Wes takes care of the Florida game parking scenario, David handles my house renovation needs, Justin has a nice pool, Carlton lives near the beach, and Mitchell used to have a nice truck.
If you could change one thing about yourself, what would it be?
It's hard to narrow this down to one thing. I guess I wish I was less risk-averse.
Who are your favorite writers?
Winston Groom and Lewis Grizzard. Groom is best known for Forest Gump of course, but he has also written several historical war novels which are really good. Lewis Grizzard will always be the standard to which others are compared when it comes to southern humor. When I was at UGA, he authored two articles each week in the AJC. I remember folks passing the paper around in class. Perhaps we should have been listening to the professor.
Fave social media and who to follow?
I've recently been into Twitter. My friend Craig turned me on to Club Pro Guy. Now that's a pro with whom I can relate.