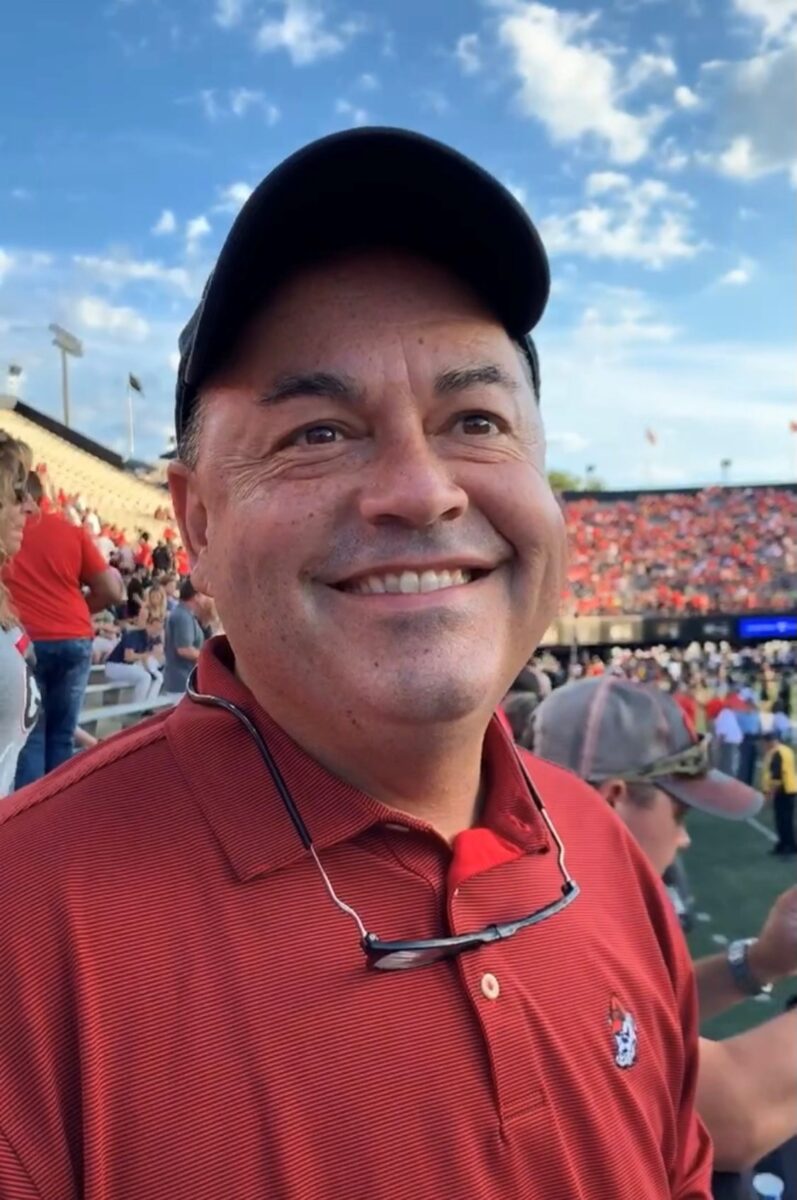 Family: Wife, Susie Brown (UGA '87-'90, VSU '90-'92), daughter Annelise Brown Branham (UGA '17) and son-in-law Dr. Tanner Branham (UGA '17, UGA CVM '21) and daughter Meredith Brown (UGA '23)
Hometown: Homerville, Georgia
Current Town: Homerville, Georgia
What Years at UGA: 1984-1988
School/Degree: Terry College of Business, BBA Risk Management and Insurance
Profession: CFO, Lee Container LLC
Accolades: Phi Gamma Delta, President; Gridiron; Greek Horsemen; UGA Student Affairs Advisory Board; Clinch County Development Authority, Chairman; Clinch County Outstanding Citizen Award.
What life lessons did you learn while at UGA? 
Knowledge comes from inside and outside the classroom. Relationships are everything. My Phi Gamma Delta brothers are "not for college days alone," and the same is true of the vast network of friendships that began when I was a freshman, living in Russell Hall.
What professor did you most admire? 
I had the great fortune to be a student in University President Jere Morehead's legal studies course (which is how I now know that I had time to make the NCAA Tennis Tournament even if I had attended his class that day), and he was a great teacher before he was a great administrator. In addition, all of my risk management and insurance professors were important in molding my career life.
Which historical figure do you most identify with? 
Coach Wally Butts, the "Little Round Man." He was a DGD that had a fighting spirit—and he was a great "Girl Dad!"
Who are your heroes in real life? 
My grandmother, Mary Alice Lee ("Nama"), was my first hero. She was a school superintendent in the 1970s, when few women worked outside the home, and she modeled her conviction that success comes inevitably to those who obtain a great education, work hard, and build their lives on service to others. My wife of 32 years, Susie, has always been a woman of faith and goodness. She has fought cancer for the last six years, and she has a strength that amazes me every day.
Quote to live by: 
"Make yourself an honest man, and then you may be sure that there is one less scoundrel in the world"—Thomas Carlyle++
What is your idea of perfect happiness? 
They say "all good Dawgs go to heaven," so perfect happiness must be a crisp fall day spent with family and 93,000 of our best friends. And living life to its fullest, of course!
What do you consider your greatest achievement? 
My family is my greatest achievement. Together with my fabulous wife, I've built a truly great marriage of 32 years. We've brought up two wonderful daughters, Meredith and Annelise, and are enjoying our first grandchild, Eloise.
What is your most marked characteristic? 
Serving others—"Clinch County Bulldog Club Concierge"
What do you most value in your friends?
The ties that bind—God, family, work, service and college football.
If you could change one thing about yourself, what would it be?
I would be 6'3'' and 200 lbs with a head full of hair.
Who are your favorite writers? 
I especially enjoy the humorist Lewis Grizzard because he tells a heartfelt story in a self-deprecating way and because he understands what it means to be "American by birth but Southern by the grace of God."
Fave social media and who to follow?
I follow all things related to UGA on X on Twitter – including Bulldawg Illustrated!