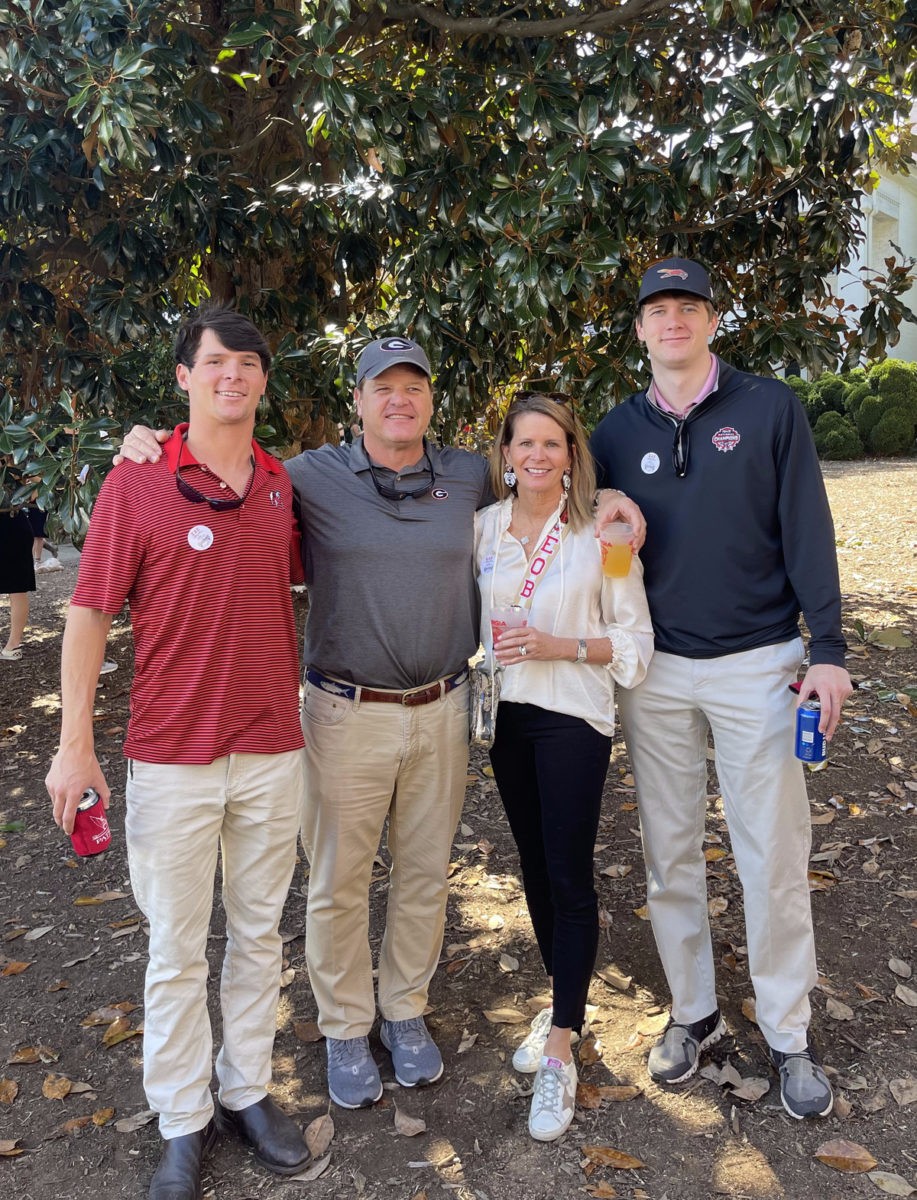 Name: Trey Brunson
Family: Wife Elizabeth O'Callaghan Brunson, Class of 92 and sons Drew, Class of 2020 and Patrick, Class of 2024.
Hometown: Brunswick, Georgia.
Current Town: Saint Simons Island, Georgia.
What Years at UGA: 88'-93'.
School/Degree: BBA.
Profession: Business Owner.
Accolades: My wife still speaks to me!
What life lessons did you learn while at UGA?
Waking up early and hard work trumps brains.
What professor did you most admire?
Too long ago to remember, I am sure they are all dead now anyway.
What do you consider your greatest achievement?
Let three people be wrong each day, sometimes I'm one of the three and sometimes I am all three.
Which historical figure do you most identify with?
The entire cast of the Delta fraternity in Animal House and Bill Murray in Caddy Shack.
Who are your heroes in real life?
Bill Disque.
Quote to live by:
"Live so the preacher won't have to lie at your funeral."
What is your idea of perfect happiness?
I am happiest when my wife and two boys are happy- that's as good as it gets.
What do you consider your greatest achievement?
Hasn't happened yet.
What is your most marked characteristic?
Honesty.
What do you most value in your friends?
Honesty, loyalty and a good sense of humor. I am blessed with a lot of great friends that are better at being a friend than I am.
If you could change one thing about yourself, what would it be?
Live more in the present, quit thinking ahead or reliving yesterday.
Who are your favorite writers?
Edward Deming, 'Out of the Crisis' opened my eyes to bottlenecks in business how to find them and how to overcome them. 'Shoe Dog' by Phil Knight, overcoming personal and professional adversity to become an iconic brand. Monte Burke, 'Lord of the Flats,' just because I love fly fishing and the history of Homosassa fly fishing for record book tarpon and anything Carl Hiaasen has written.
Fave social media and who to follow?
I have a Facebook account and Instagram account. But I am not very active – I don't think anyone cares where I vacation or what I am eating. I like following friends and seeing what they are doing, learning about their kids and what they are excelling at, I like that stuff. The political garbage is a big turn off.