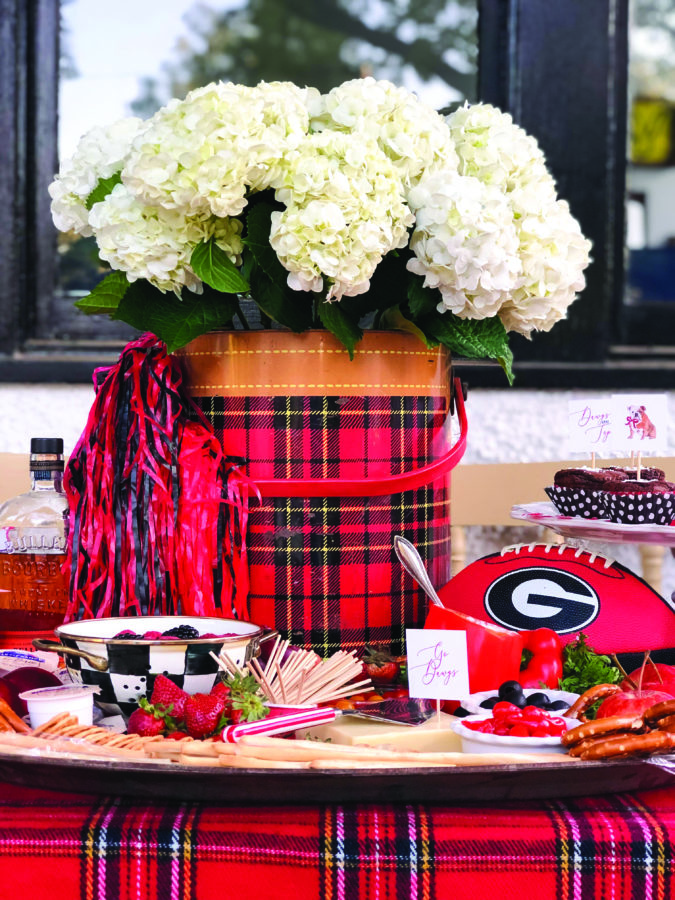 Concept, Content, and Styling by Lydia Menzies of The Party Wagon
Cupcake Toppers, Buffet Signs, and Drink Sign by Oconee Printing
There's nothing like a Saturday in Athens during football season! From the Dawg Walk to the last play of the game, there is an energy in the air that leaves Bulldog fans biting at the chance to cheer on their dogs— and then do it all again week after week year after year. When it's time to fuel up before you cheer on your Dawgs, kickoff your tailgate with these red and black infused recipes and ideas!
Cover the tailgate table with a white tablecloth and then add a red and black plaid blanket or throw. For a centerpiece, I used a potted plant with white blooms and put it inside a vintage ice bucket. Use red and black shakers, footballs, helmets, etc. to add a few decorations and team spirit to the table.
Provide a spirited spread for your guests with these recipes and food ideas…My favorite recipe to serve to a crowd is Black Bean Cowboy Caviar.
COWBOY CAVIAR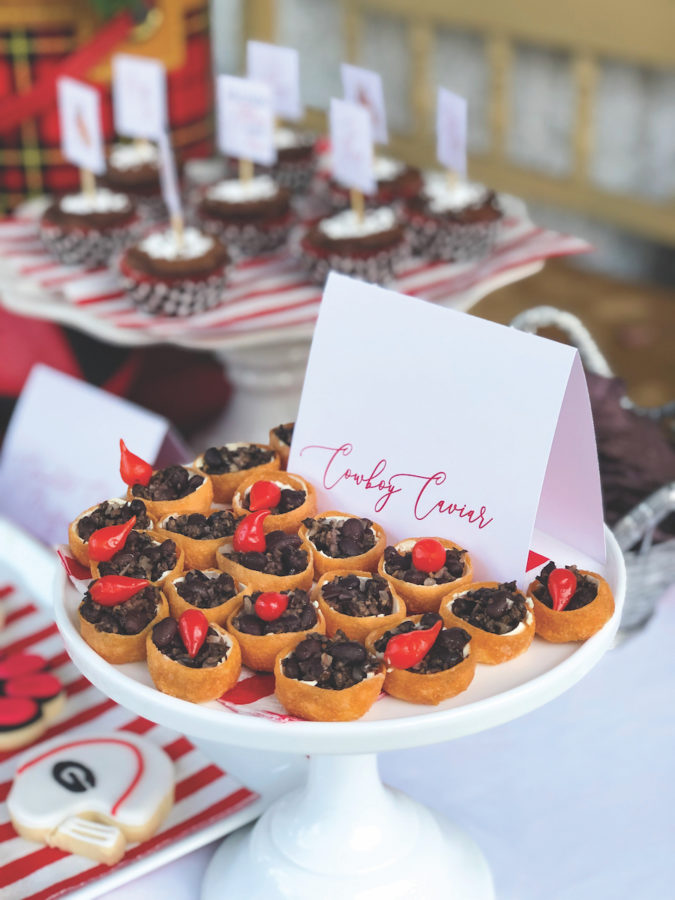 8 oz. block of cream cheese (softened)
15 oz. can of black beans (rinsed and drained)
4 oz. chopped black olives
1/2 small onion minced
1 clove of garlic minced
2 Tablespoons olive oil
2 Tablespoons lime juice
1/4 teaspoon salt
1/4 teaspoon cumin
1/4 crushed red pepper
1/8 teaspoon black pepper

Mix all ingredients (except cream cheese) together in a bowl.
Spread cream cheese on a serving platter.
Add bean mixture to the top of cream cheese and spread evenly to cover.
Garnish with mini red peppers/ lime slices/ cilantro
Serve with blue corn chips or tortilla chips
Serving Options:
To serve individual bites, use mini crisp pastry shells. Use a small spoon and spread cream cheese in shell. Top with black bean mixture. Garnish with mini red pepper. Tip- do not refrigerate pastry shells as they will lose their crispness.
For a sweet treat, I highly recommend UGA-themed cookies from Baylee Bakes. Baylee is a student at UGA who has opened her own baking business. Talk about a DGD!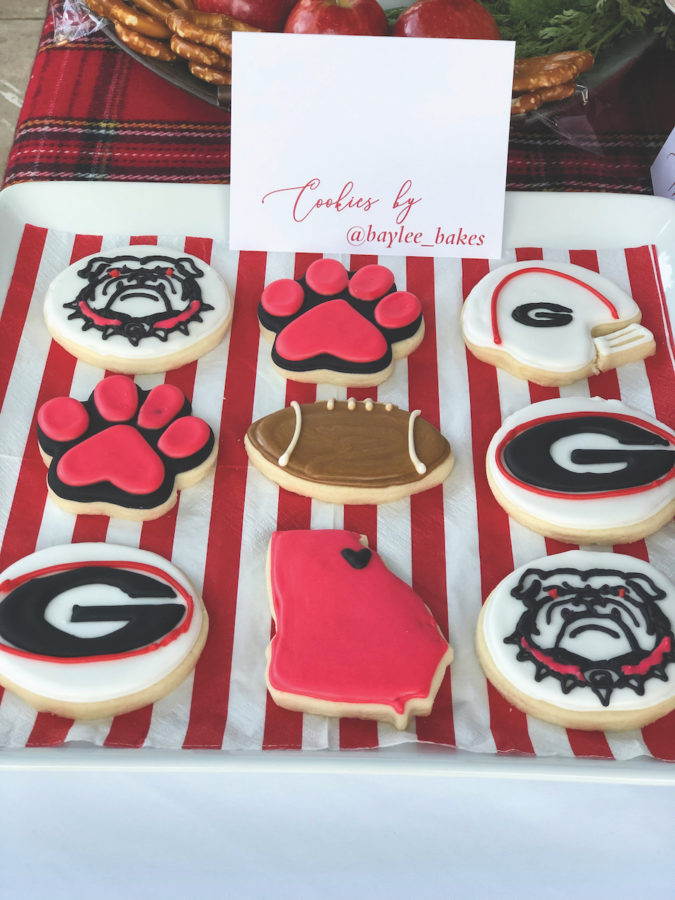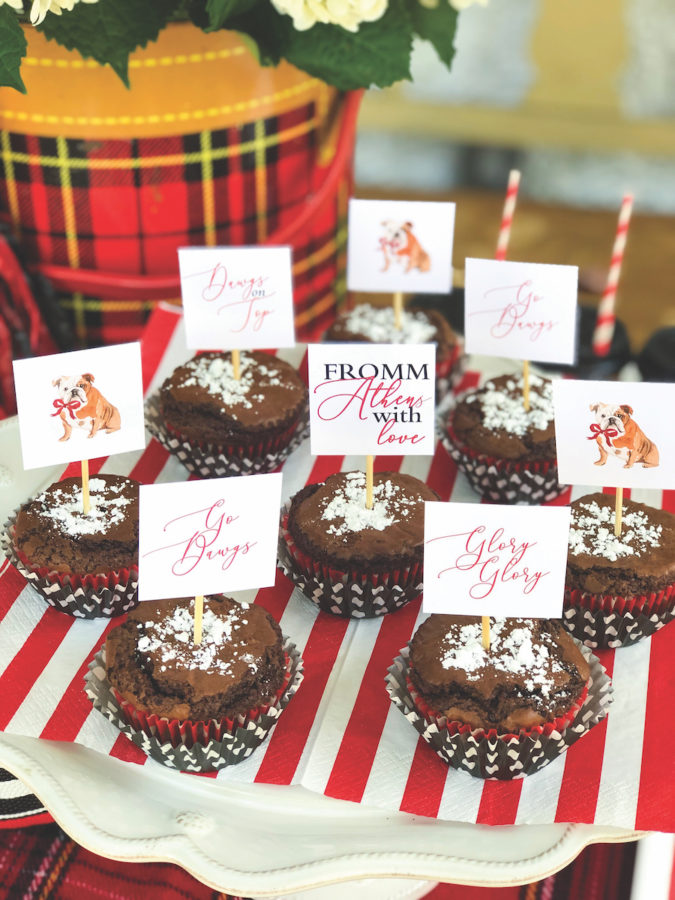 A simple shortcut I like to use for tailgating is to serve chocolate chip muffins (or brownies). My favorite store-bought brand is Ghirardelli and they are a perfect chocolate treat that is easy to serve on a hot or cold day. Here, I added cupcake toppers to each one to show our team spirit. The toppers were designed by Amanda Eldridge of Oconee Printing.
Every good tailgate deserves a signature cocktail…serve up this red and black for a twist on the traditional!
THE RED AND BLACK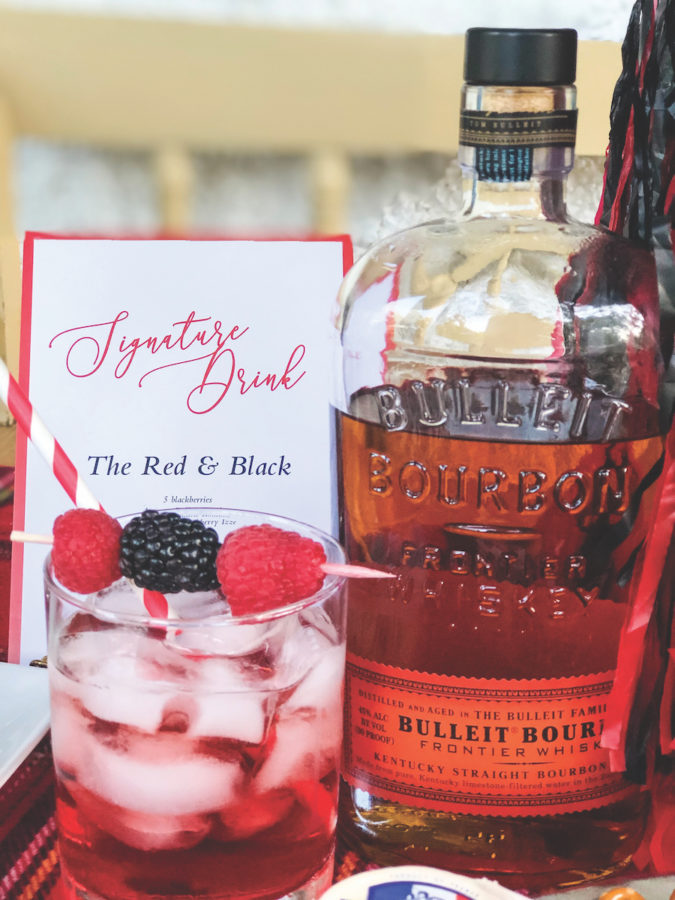 5-6 blackberries
1 ounce Bulleit Bourbon
3 1/2 ounces Blackberry Izze
Raspberries, blackberries for garnish

Smash 5-6 blackberries in the bottom of a glass
Add ice and then pour in bourbon and soda.
Stir well.
Place raspberries and blackberries on a skewer and add to glass.
Cheers and Go Dawgs!