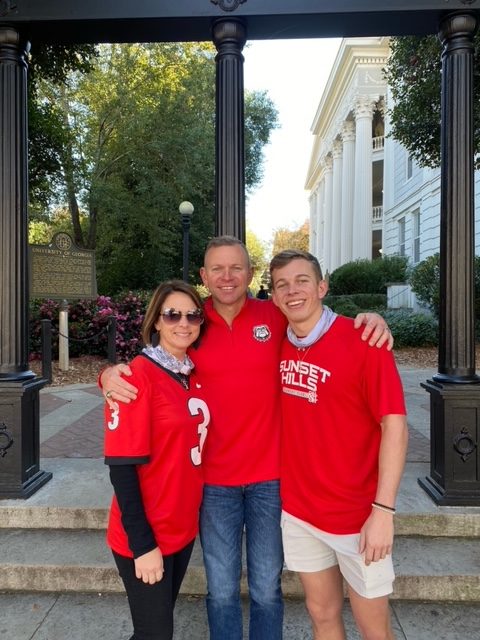 Name: Brian Dill
Family: Carmen and Mason, 19
Hometown: Irwinville, Georgia
Current Town: Carrollton, Georgia
What Years at UGA: 90-94, 2017-2019
School/Degree: BA Political Science, School of Public and International Affairs, MBA, Terry College of
Business
Profession: Vice President, External Affairs for Tanner Health System, Executive Director, Tanner
Foundation
Accolades: President, UGA Alumni Association, Chair, Georgia Public Broadcasting Board of
Directors, Georgia Chamber Board of Governors, Georgia Foundation Board, Georgia Athletic
Association Board

What life lessons did you learn while at UGA? Listen before speaking, humility, leadership.
What professor did you most admire? Charles Bullock was huge influence for all of us who came
through the political science tract. He not only taught us valuable lessons but he helped me get a
legislative internship and always stayed in touch with me and all who needed his help.
What do you consider your greatest achievement? I met my wife Carmen on campus and we were
married at the University Chapel. My family is by far my greatest achievement and it all started at
UGA!
Which historical figure do you most identify with? I've always admired the leadership and tenacity of
General George Patton. He was a straight shooter that made the tough decisions in the face of
adversity and persevered in his goals and objectives.
Who are your heroes in real life? My Mom Nita Dill, she was and is a champion for our family and
lives out the "service above self" in everything she does.
Quote to live by: "If you are gonna be dumb, you better be tough".
What is your idea of perfect happiness? Sitting on a beach with the family.
What is your most marked characteristic? Loyalty.
What do you most value in your friends? Encouragement, loyalty and positive support.
If you could change one thing about yourself, what would it be? Still trying to find my elusive
patience!
Who are your favorite writers? I like the creative historical and biographical perspective books that
Bill O'Reilly and Martin Dugard put out. Their books line up with my love for American history.
Fave social media and who to follow? I'm still learning about the Twitter universe but enjoy keeping
up with fellow alums Maria Taylor and Coach Kirby Smart as well as SPIA and Terry's twitter pages.