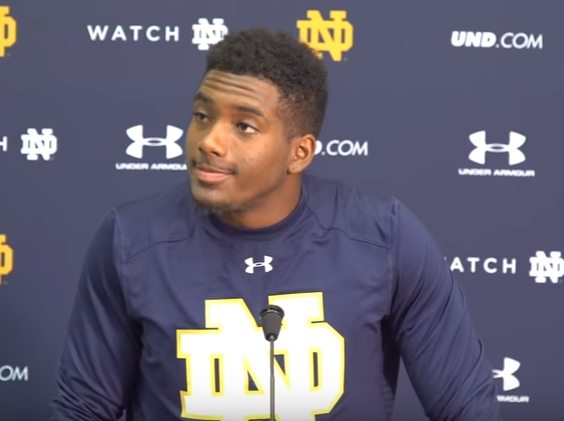 So who are the Fighting Irish to watch in Georgia's big road game versus Notre Dame this Saturday up in South Bend?


BRANDON WIMBUSH (QB, #7)

The 6-1,226-pound junior assumes the reins of the Notre Dame attack after redshirting last season. Wimbush unquestionably has a strong passing arm and quick feet and needs only playing experience to maybe become one of the nation's best at the position. After the Irish opened against Temple last week, Wimbush will certainly be thrown into the pressure cooker against the Bulldogs' veteran defense. Will he handle the spotlight … we'll certainly find out Saturday night!

NYLES MORGAN (ILB, #5)

This 6-1,238-pound senior is certainly the heart and soul of the Notre Dame defensive unit. While the Irish offense is loaded with all-star candidates in the O-line and skill positions, the stop-em unit is in a reconstruction process after struggling mightily last season. That's where Morgan, who had a team-leading 94 tackles in 2016, comes in. He must motivate the Irish's new starters on defense both with his fiery leadership and his performance on the playing field …beginning with Georgia on Saturday night.


QUENTON NELSON (OG, #56)

Nelson is an Associated Press preseason All-America first- team selection and the 6-5, 329-pound senior left guard plays alongside another All-American, preseason second- team selection Mike McGlinchey, a 6-8, 315-pound senior left tackle. So the Bulldogs' defense should be well aware of which side of the line the Irish will be attacking them on. Nelson is up for all the nation's offensive lineman awards this year, as is his buddy McGlinchey.


BRIAN KELLY (IRISH HEAD COACH)

From the famous Kelly coaching tree, Brian Kelly is entering his 8th season as Notre Dame's head coach armed with a 59-31 record during that time. But, no doubt, this is a critical year for Kelly, after watching the Irish flounder to a dismal 4-8 mark in 2016, a record that is simply not accepted in South Bend, Ind. While the winningest active coach in the NCAA Football Bowl Subdivision with a 230-88-2 overall record, Kelly is also the longest tenured Notre Dame football coach in history to have not won a national title. Thus, the importance of beating the Georgia Bulldogs Saturday night.

Did You Know?

Famed for its football lore, the Notre Dame Basketball Team upset UCLA 71-70 to end the Bruins 88-game winning streak on January 19, 1974.

The Fighting Irish won the national title in 1966, 1977 and 1988, the third year for head coaches Ara Parseghian, Dan Devine and Lou Holtz.

Legendary Irish coaches Knute Rockne and Frank Leahy have the two highest winning percentages in Division 1-A college football lore.



---
Recent Articles by Murray Poole


[pt_view id="2fb799183g"]