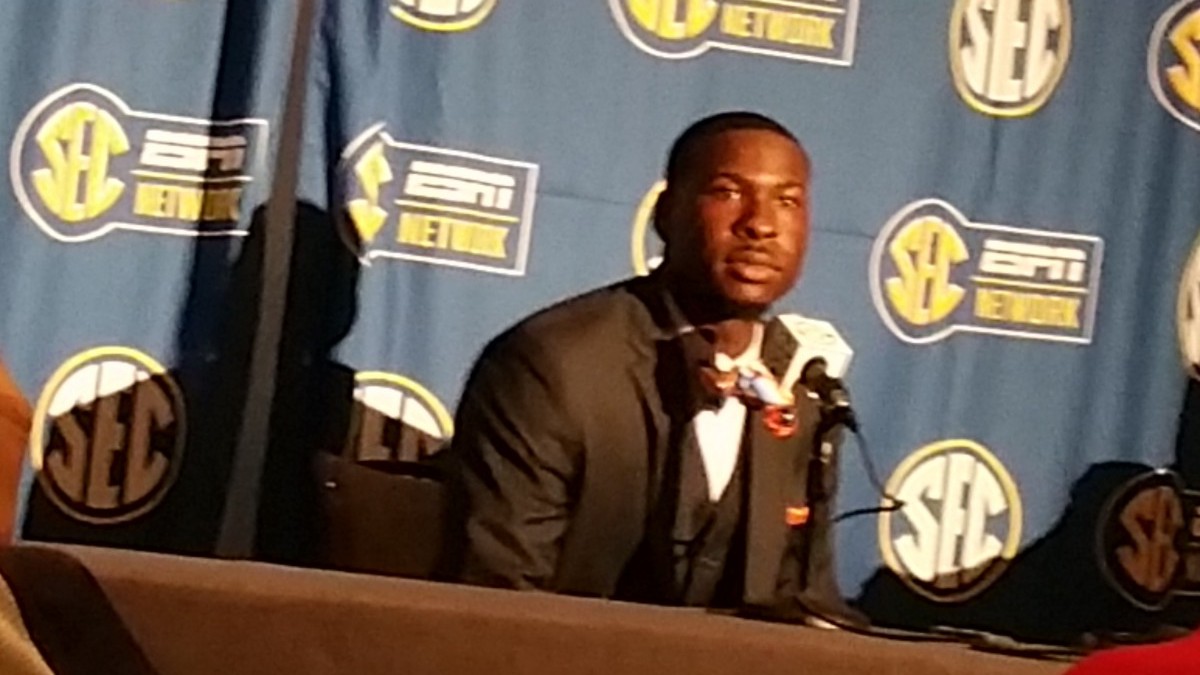 HOOVER, Ala. – Jeremy Johnson has patiently watched from the Auburn sidelines the past two football seasons but in his brief playing time while backing starting quarterback Nick Marshall, the now 6-5, 240-pound junior from Montgomery, Ala. has flashed enough passing potential to make Johnson a bona fide all-star candidate for the upcoming 2015 season.
When starting the opening game last season for a suspended Marshall, Johnson passed for 243 yards and two touchdowns in just one half of action in a 45-21 romp over Arkansas. Now with Marshall having exhausted his Auburn eligibility, it's strictly Johnson's show in guiding the Tiger offense this coming autumn.
"It was a humbling experience for me last season," said Johnson, speaking at SEC Media Days here Monday.  "Sitting back and being the backup was a great experience for me.  It was a learning experience and I feel very comfortable about going into this year."
Johnson, who has completed 73.1 percent of his passes while tossing nine touchdowns to just two interceptions in his Auburn career to date, said the new-found attention he's getting this summer is "fun" but as far as some college football observers already mentioning him as a possible Heisman Trophy candidate, he thinks it's way too early for that sort of talk.
"I'm blessed to be here, not only for myself but for the Auburn family," Johnson said. "Really, I don't want to get caught up in all that (Heisman speculation) right now. I like to control what I can control and that's getting better each and every game. Most of the individual accolades come from winning and if you don't win you're not going to get any individual accolades."
Even though he's known more as a pocket passer, Johnson thinks he can run the football when called upon, although certainly not to the extent of his predecessor, the fleet-footed Nick Marshall.
"I feel very confident running the ball," he said. "I and Coach (Gus) Malzahn, we just take what the defense gives us and if that calls for us to run it, we're going to run it. If that calls for us throwing it, we're going to throw it.  I can run the ball all right. I'm a north and south runner. I can't run east and west but I can run north and south."
Johnson said he thinks he learned a lot while watching Marshall from the sidelines last season.
"I learned how to handle adversity from Nick," Johnson said. "Even when things were going bad, he kept the same facial expression. He handled adversity real well. I'm going to handle that this year because I know my teammates are going to be looking at me whether things go good or bad so I've got to be able to handle myself in the right way.
Johnson said going against Will Muschamp's defense each day in practice is going to elevate his game even more.
"It's fun," he said. "It's way more exciting than watching film, I can tell you that. It just makes football more fun. It really helps you read coverages and break down the defense you'll be facing."
What does Johnson think he's improved on the most over the past several seasons?
"I think I've improved mostly on being a more vocal leader," he responded. "The team has to hear your voice at times. All summer I've just been focused on being a more vocal leader. It's tough, you've got to sacrifice whatever it takes to have a good team and that's what I've focused on this summer."
And, Johnson added, now being the Auburn Tigers' starting quarterback hasn't heaped any extra pressure on his broad shoulders.
"I don't feel no pressure at all," Johnson said, smiling. "I'm here to play football. All I can do is control what I can control, each and every game."