A fellow native Texan UGA product, quarterback Matthew Stafford is now the highest-paid player in NFL history. A number one overall NFL draft pick, he was once fairly successfully teamed with a leaping Knowshon Moreno, in a talented future pro-Georgia backfield.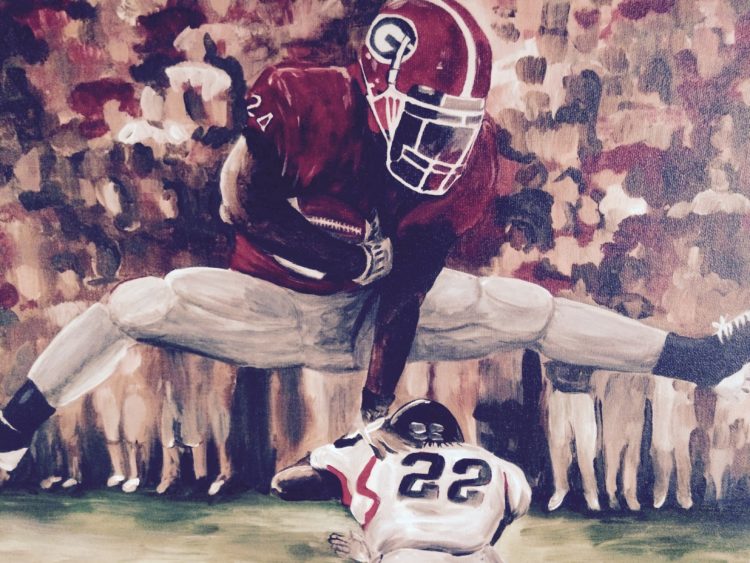 (Impressionist still life by Kari Waltz of Macon)


Garrison Hearst in his twenty touchdown junior year, the 100-year anniversary of Georgia football, stood behind and beside the eventual all-time SEC yards guy, Eric Zeier. He was even backed up at running back by future pro MVP Terrell Davis.


At the time of his matriculation, David Greene won the most football games of any quarterback in college history. Playing in tandem with Musa Smith, he (and actually sometime fullback David Pollack) led Richt's Dawgs to the 2002 SEC crown and the most single season wins (13) in school history.


Way back, Heisman Frank Sinkwich and legend Charley Trippi teamed with two others in the "Dream Backfield" that won it all, in 1942.


Hampton, Hearst, Worley, Tate. We are running back U.


While our Herschel never needed (or had) the big passing game support, or a backup, during the greatest three-year run in school history, which netted three SECs and one national crown.


Sounds nearly blasphemous, but in sheer unfiltered athletic ability, though, Todd Gurley may have been the best of the whole lot. He worked with the all-state SEC guy who passed Zeier, the great tragic hero of recent Georgia lore, quarterback Aaron Murray. Then Gurley's final year he had Nick Chubb and Sony Michel as backfield mates.




Now, Chubb and Michel are set to be the top one-two punch senior running back tandem in the nation. While Jacob Eason was a number one national high school recruit, with the best QB tangibles in terms of arm strength and size, in the SEC.


Stud freshman DeAndre Swift joins a stable of backs that last year saw surprise talent Brian Herrien supplant the more hyped Elijah Holyfield in early playing time. Although Holyfield played infrequently enough to have probably received a medical redshirt had he been hurt, he looked like a future pro to me this year at the G-Day game. And, young Jake Fromm is another five-star quarterback recruit.


Cupboard not bare.


---


Han Vance is a regular contributor to Bulldawg Illustrated, writing on football itself and football culture. We will be publishing his fabled BIG HAIRY BLAWG every Tuesday & Thursday this college football season.


You can follow Han Vance on Twitter at: @hanvance


---
Recent Articles by Han Vance


[pt_view id="9a9402f8n5″]