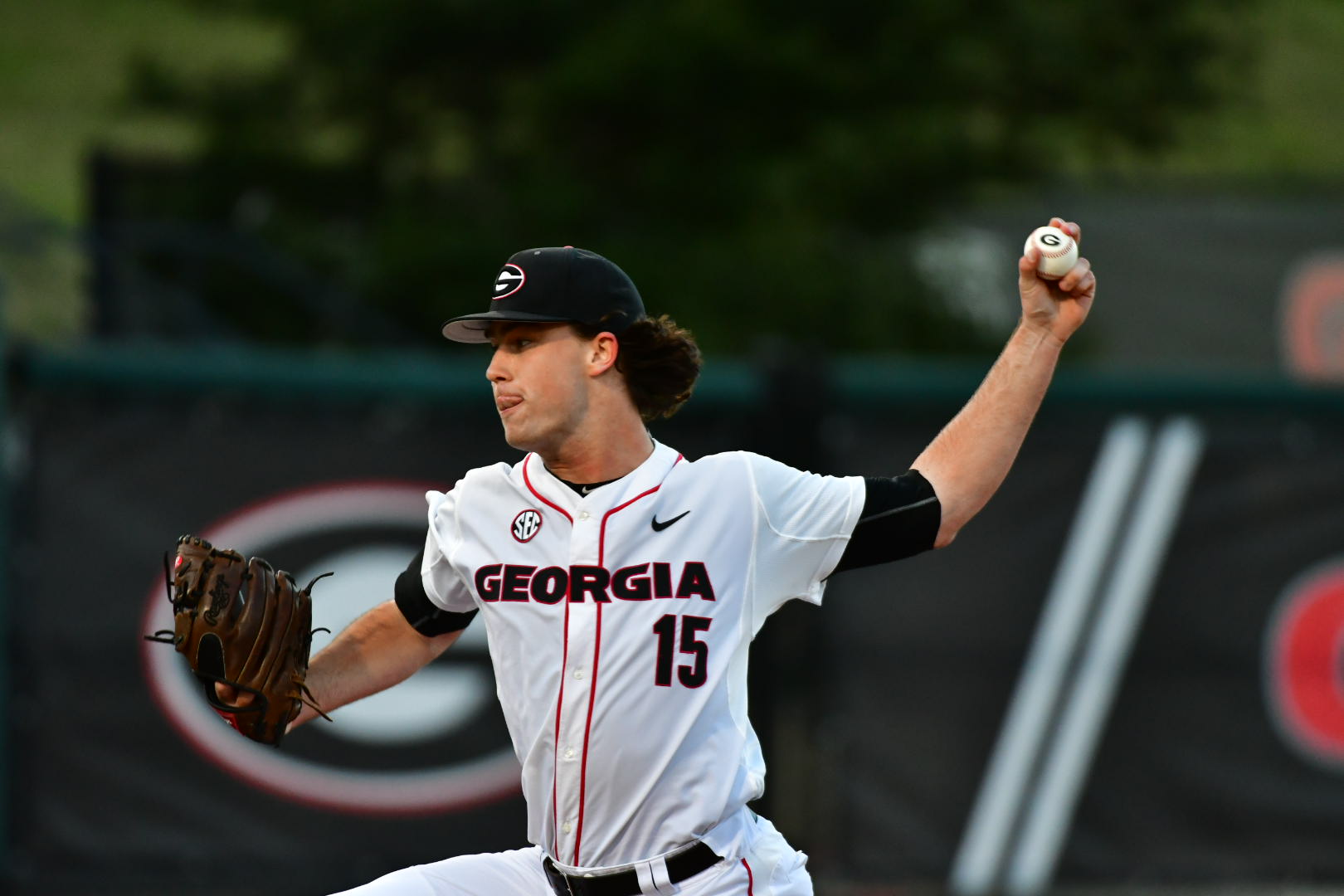 ATHENS—-Georgia starts a three-game set with the Charlotte 49ers (3-1) Friday at 5 p.m., and it will be available on the Bulldog Sports Network from IMG and streamed on SEC Network+. Saturday's game is slated for 4 p.m. with Sunday's first pitch at 1 p.m.
Georgia is 3-1 after winning an opening home series against Georgia Southern and posting a 14-4 road win over Kennesaw State. The Bulldogs will stick with their same rotation from the opening series, going with junior LHP Kevin Smith (0-0, 12.46 ERA), freshman RHP Emerson Hancock (0-0, 0.00 ERA) and senior RHP Chase Adkins (0-0, 0.00 ERA). Smith beat the 49ers as a freshman in Charlotte, going 7.2 innings and scattering three runs on six hits in a 6-3 win. Hancock and Adkins tossed six scoreless innings in their first start last weekend but neither figured in the decision. Meanwhile, the 49ers dropped a 9-6 decision at #12 N.C. State this past Wednesday following a home sweep of Iona to open their season. Charlotte is batting .326 with a 3.60 ERA and a .972 fielding percentage. The Bulldogs are hitting .326 with a 5.50 ERA and a .961 fielding percentage.
The Bulldogs established a school record for most runs in a season opener when they blitzed Georgia Southern 22-9 last Friday. The Bulldogs trailed 7-2 in the fifth before scoring 15 unanswered runs over the next three frames. Georgia claimed the rubber game of the series with a 4-3 walk-off after falling behind 3-2 in the ninth. Georgia senior Keegan McGovern tied it in the 7th with a two-run blast while sophomore Cam Shepherd won it with a sacrifice fly. Against the Owls, Georgia exploded for 11 runs in the sixth inning to erase a 4-3 deficit on its way to a 14-4 victory. It was the most runs in an inning by the Bulldogs since 2004 when it tallied 13 against Liberty in a 24-8 romp.
Bulldog junior Michael Curry (.438-1-10), a preseason All-SEC first team selection, leads the conference and ranks seventh nationally with 10 RBI this year. Hebatted a team-best .455 (5-for-11) with a grand slam and six RBI in the opening series against GSU. He hit his first career grand slam in the season-opener, and it was his 22nd career home run. Then, Curry went 2-for-5 with four RBI in the win over the Owls this past Wednesday. Curry made the 2017 CoSIDA Academic All-District team as a Dean's List student majoring in Computer Science. Curry and senior OF Keegan McGovern (.467-2-6) are the team captains for 2018. McGovern has hit safely in all four games. Also of note, Shepherd is batting .429-1-6.
LAST MEETING & SERIES HISTORY
                Georgia leads the all-time series with Charlotte 3-1. The first-ever meeting came in 1992. The Bulldogs won 13-10 in Athens and won 8-2 in Charlotte. In 2016, the teams met twice in Charlotte, once at BB&T Ballpark, the Triple-A affiliate of the Chicago White Sox, and once on the 49ers campus. Charlotte won 10-5 at the minor league stadium while the Bulldogs claimed the on-campus game 6-3.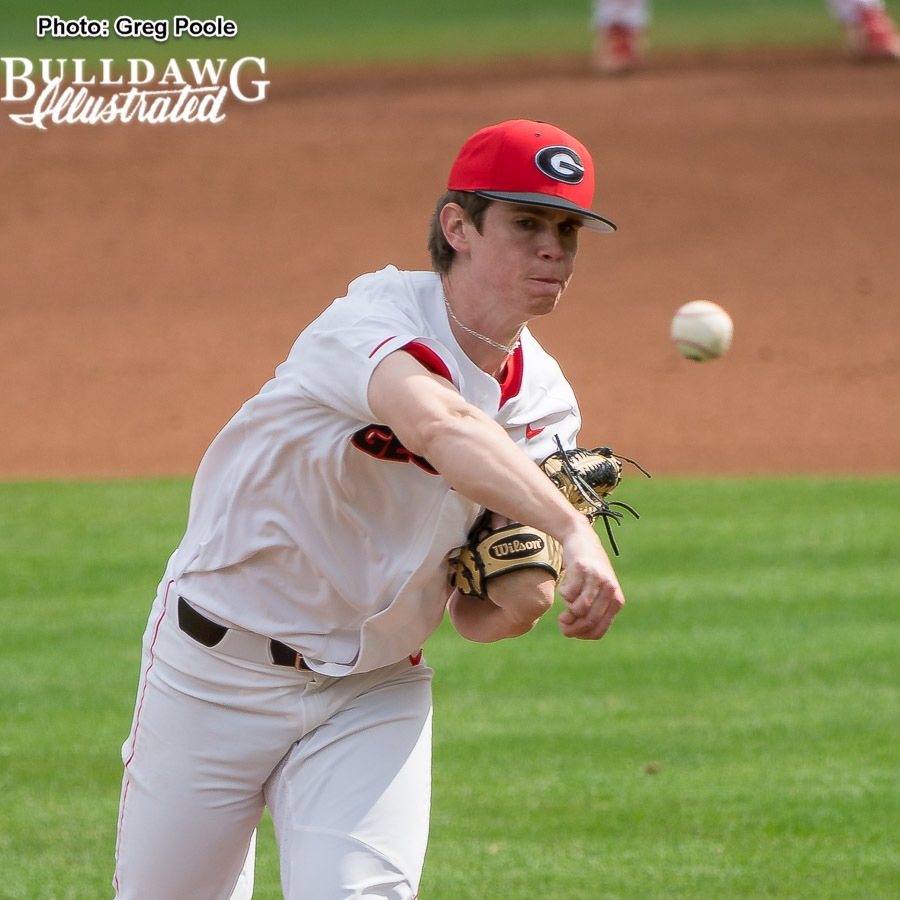 DID YOU KNOW?
                Georgia ranks tied for third nationally in scoring at 10.8 runs a game. This is due in large part to the season opener when the Bulldogs scored 22 runs against Ga. Southern. That was the most by any team last Friday, and the most ever by the Bulldogs in a season opener.
                Charlotte has used the same nine hitters in all four games this year with no subs! They have employed 10 different pitchers in this span.
Pitching Matchups
Fri: #15 Kevin Smith (0-0, 12.46), LHP, Jr. vs. #41 Matt Brooks (0-0, 1.93), RHP, So.
Sat.: #17 Emerson Hancock (0-0, 0.00), RHP, Fr. vs. #38 Josh Maciejewski (1-0, 0.00), LHP, Sr.
Sun.: #23 Chase Adkins (0-0, 0.00), RHP, Sr. vs. #36 Jonah Patten (1-0, 5.40), RHP, Jr.
Television/Radio
TV: SEC Network+
Links:
Fri: http://www.espn.com/watch/_/id/3282011/unc-charlotte-vs-georgia-baseball
Sat. http://www.espn.com/watch/_/id/3281996/unc-charlotte-vs-georgia-baseball
Sun. http://www.espn.com/watch/_/id/3281986/unc-charlotte-vs-georgia-baseball
Radio: Georgia Bulldog Sports Network from IMG College (Jeff Dantzler & David Johnston)
Stations: 960 AM-WRFC and selected affiliates (check your local listings), also via the Georgia Bulldogs app and TuneIn app.
Additional Coverage on Twitter: @BaseballUGA
Tickets/Promotions/Reminder Clear Bag Policy
-Foley Field – Gates/Ticket Booth open @ 3 pm on Fri.; @ 2 pm on Sat.; 11 am on Sun.
-Reserved Seat Tickets: $8; General Admission Tickets:  $5
-Order online or by calling 1-877-542-1231
-UGA Student Tickets: Free Admission with valid UGA Student ID Card
-UGA Student Gate is located off Rutherford Street
Promotions
Friday: National Banana Bread Day; Saturday: National Tortilla Chip Day; Sunday: National Chocolate Covered Nut Day
Sunday Pregame: Anthem Buddies: Kids can stand on the field with the Bulldogs during the national anthem
Sunday Postgame: Kids Run The Bases, Play Catch In The Outfield
Foley Field To Follow SEC's Clear Bag Policy
In order to enhance safety and expedite fan entry at Georgia athletic events, UGA will follow the SEC's Clear Bag Policy at Foley Field and all other athletic facilities. Only one clear bag no larger than 12 inches by 6 inches by 12 inches (gallon size) per person is permitted. Fans are also allowed a small clutch purse not exceeding 4.5 inches by 6.5 inches. Also, Seat cushions/backs should be no bigger than 16 inches and have no arms or pockets.