Welcome to the Bulldawg Illustrated Hoops report. It's like walking the tightrope without a net. And that's what the Dawgs and Mark Fox are doing right now. After their best week in three years with wins in Gainesville and at home versus the Vols, the Dawgs are back in the tournament talk. And as we stated last week, a dance card is much more possible than people would like to be believed. But before we address that, let's talk about what happened at the Steg on Saturday.


UT rolled into town with a chip on their shoulder. They had lost four straight to the Dawgs. So they wanted that monkey off their back. Also, they were playing for one of the coveted Top Four seeds in the NCAA Tourney. Well, unfortunately for them, after they got out to a 2-0 lead it was all Dawgs! Yante Maten and Derek Ogbeide led the way with 19 and 16 respectively. Ogbeide also added 11 bounds for his second double-double of the year and second in as many games. Also, for the second time is as many games the Dawgs had five scorers in double-digits. We've been screaming all year that if the Dawgs can get at least three people in double digits to help out Yante, we'll be tough to beat by anyone because of the defense we play. Well, we've gotten at least three in back-to-back games against top-tier competition and we're 2-0 in that stretch.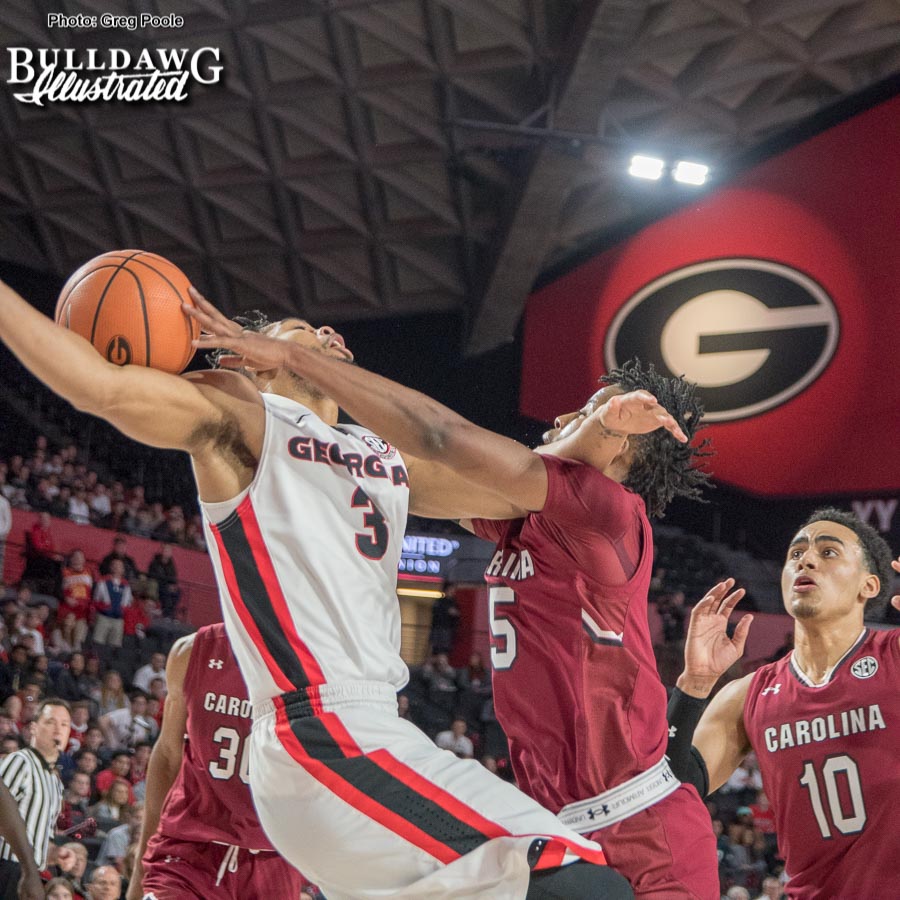 Up next, South Carolina.


The Chickens beat us at home last month in what was a crippling loss to the Dawgs tournament chances. We really needed that win. However, we can live with a season split, so that means all we have to do is win up there tonight. They have a good coach and play well together. However, they lost a lot of talent from last year's team and there's no excuse for us to lose this game. This is a "Who wants it more" type of game and I assure you we've got more on the line. While everyone felt we had nothing to play for a week ago, I begged to differ as I'd rather light a candle than curse the darkness.


So you thought I was crazy when I said we had a chance to make the tournament this time last week. I stated we had to go 5-1 in the last six and we were in. My thoughts were we'd need only one major upset and win all the close ones. We were going to be big underdogs in games in Gainesville and Knoxville. However, the other four would be one of two point lines either way. They're basically pick'ems. While I did think this would be much more difficult by the Jordan Harris suspension, I'm now taking a contrarian view. Maybe that suspension was manna from heaven. Maybe Harris was hurting the team for some reason. I don't know and hate to speculate, but I know we've looked like we wanted to win in the last two games and something has changed for the better.


Now I know the odds are still long to make The Big Dance as we sit at 9% for an at-large bid at the moment, but they've doubled since last Wednesday. Plus, we could end the year with eight wins versus tournament teams, including three of those away from home. That's a solid resume. The only real blemish, or bad loss, people talk about is the loss at UMass. However, that loss is easily explained. We played in Amherst after an 11-day layoff that was made worse by awful travel conditions in sub-zero temps with a foot of snow. So any good storyteller can explain that one away. Also to pad our resume, if we close like we need to we're hot at the right time. That's another thing the committee loves. So let's close 3-1 and strap on those dancing shoes! Go Dawgs!!!