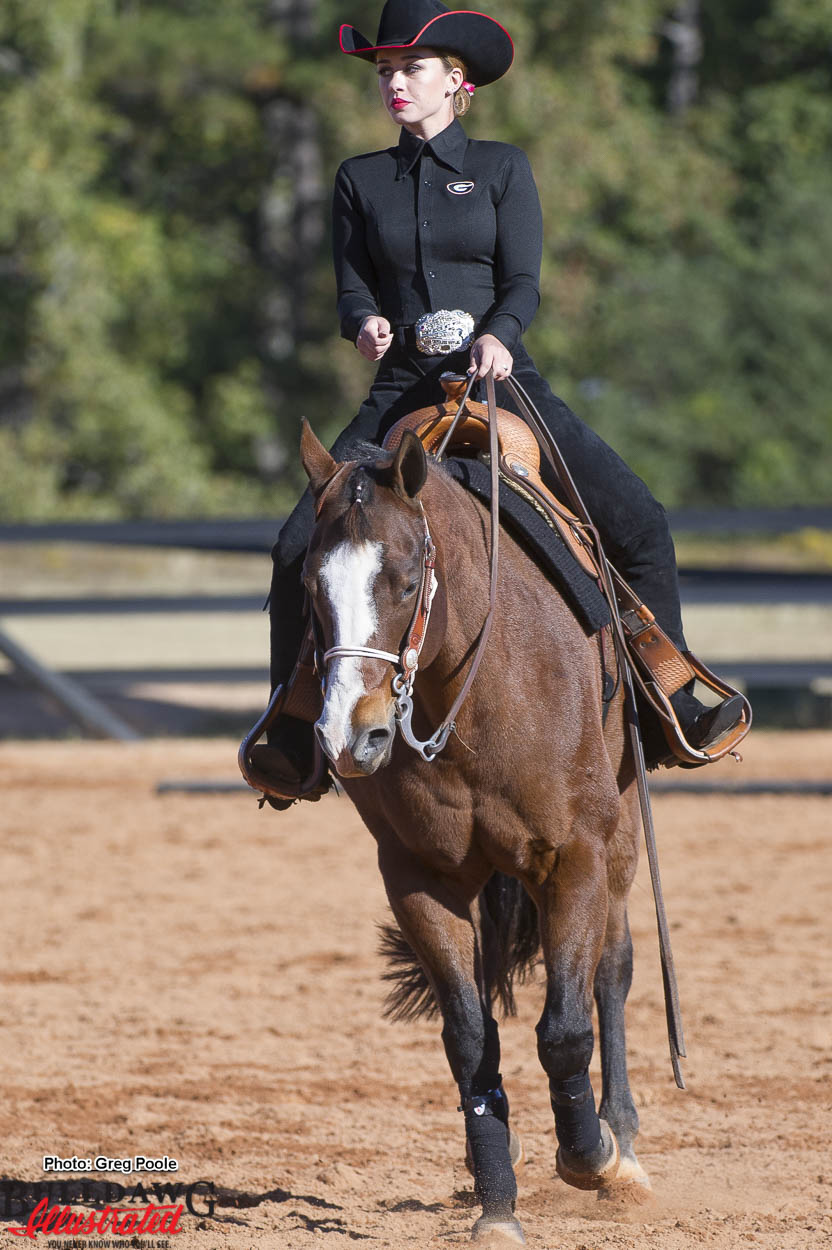 No. 4 Georgia defeated No. 2 Auburn, 11-7, in a high-scoring, back-and-forth battle on Friday afternoon at the UGA Equestrian Complex. The win is Georgia's first Southeastern Conference victory of the season, as the Bulldogs improve to 3-2 overall, 1-2 SEC. Auburn falls to 3-2, 1-1 SEC.


Highlighting the meet was Emma Mandarino (Equitation Over Fences) and Graysen Stroud (Horsemanship) who won MOP honors for their rides. Additionally, Meg O'Mara remains undefeated in both Equitation Over Fences and Equitation on the Flat with a total of ten points won for the Bulldogs this season.


"This was a very good day," Georgia head coach Meghan Boenig said. "What an incredible way to end both events, to start 4-1 in Equitation Over Fences and then end with a 4-0 win in Reining. It was a just a great spirit, you could feel the atmosphere. The girls carried that, never giving up, riding with extremely proficient, great scores, so it was a very exciting day. A lot of things were put to use from our last competition. Sometimes you have to have those reminders and we are looking forward to continuing to build on our hard work."


Georgia jumped to an early 4-1 lead in Equitation Over Fences. Senior Meg O'Mara put the Bulldogs on the board and remains undefeated after an 87-74 victory over Auburn's Caitlin Boyle. After being granted a re-ride, freshman Maddy Darst rode to an 88-86 victory over Ashton Alexander. Freshman Sydney Hutchins followed suit, scoring an 88 to defeat Summer Hill's 83. Emma Mandarino rode to an MOP-earning, 88-82, defeat of Hayley Iannotti to conclude the event.


Georgia dropped a 3-1 decision in Horsemanship. Auburn's Kara Kaufmann was granted a re-ride to lead off the event and rode to a 76-76 tie against Georgia's Sammie Johnson. Graysen Stroud earned the lone point for the Bulldogs with a 78-76.5 victory over Cydney Benes.


The Bulldogs held a 5-4 advantage over the Tigers after two events.


Auburn edged Georgia in Equitation on the Flat, winning the event 3-2.


Liza Finsness earned a point for Georgia with a 77-73 win over Ashley Foster. O'Mara earned her fifth point of the season in Equitation on the Flat in a tight 79-78 matchup against Hayley Iannotti.


Georgia and Auburn were tied at seven heading into the final event. Georgia earned four points in Reining to seal the victory over the Tigers. Graysen Stroud rode to a 78-70.5 victory over Kaufmann, before Charley Thiel earned a point with a 75.5-74 defeat of Alexa Rivard. Claudia Spreng clinched the victory for Georgia with a 76-75 victory over Ali Fratessa. Lindsey Cheek earned the final point of the day with a 74-72 victory over Betsy Brown.