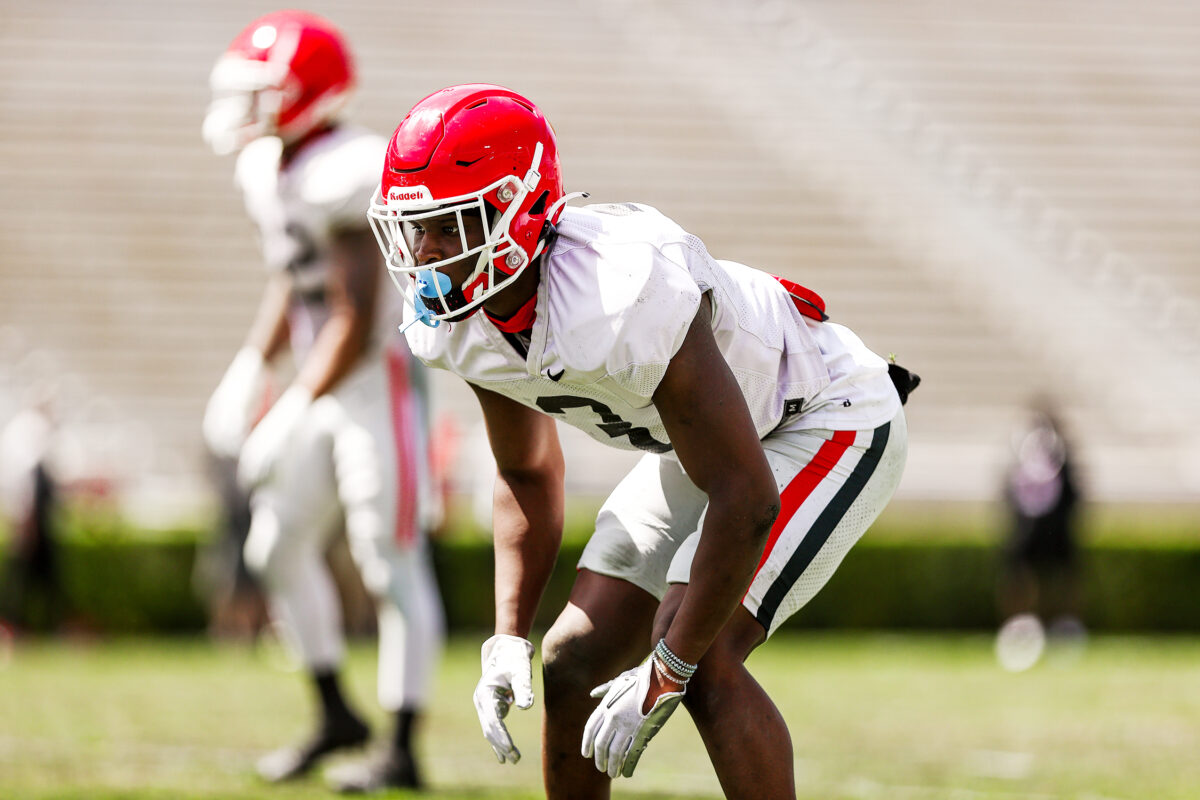 As the new season approaches, excitement and anticipation grows at the prospect of witnessing an array of exciting new and returning playmakers take to the field for the Bulldogs. It is noteworthy that Coach Smart granted multiple players the opportunity to speak to the media this spring (through Thursday, April 6). It is common knowledge that everything Coach Smart does is infused with meaning and purpose, and as such, fans can expect that the players chosen for press conferences will play a crucial role in leading the team toward the start of the 2023 season and throughout its duration. As student interns (myself and Coby Serina) for Bulldawg Illustrated, we have had the privilege of gathering thoughts and opinions from meaningful conversations with these players. The following paragraphs provide insight and understanding into what Bulldog Nation can expect from certain Bulldogs come September.
Carson Beck
Clay – Beck is expected to line up under center for the first snap of 2023. After waiting his turn for three years, the gunslinger from Jacksonville is ready to display why his talent is worth the wait.
Coby – Beck's arm is what stands out the most. He has a cannon with more capability than what we saw from Bennett. It's just about whether or not he can control it in a real-game situation.
Brock Bowers
Clay – Bowers is undeniably the best tight end in college football. This year, the star tight end will be asked to lead a young tight end room that will contribute significantly in Mike Bono's offense.
Coby – Brock is a straight up football player. He's listed as a tight end, but you can catch him catching, running, blocking, and maybe even throwing soon enough. You don't see guys like him often. He's a living nightmare of defenses everywhere.
Javon Bullard
Clay – Bullard possesses every trait Coach Smart could ask for in a defensive back. It is expected that he will be in the running for national awards at the end of the season, given his title as Defensive MVP of both the Peach Bowl and National Championship game.
Coby – Bullard is a bully in all senses of the word. Fast, physical and aggressive— the embodiment of Georgia Football. Now one of the biggest names on this Georgia defense, it's on his shoulders to carry the culture on to this 2023 group.
Chaz Chambliss
Clay – Chambliss is now a veteran in the Dawgs young OLB room. The pass rusher is looking to step up his role as a leader after the departure of two-time, national champions Nolan Smith and Robert Beal.
Coby – Veteran status has been thrown at third-year early, so now it's time for him to show this "green" outside linebacker room how it's done at Georgia.
Kamari Lassiter
Clay – Lassiter was silently one of the best cornerbacks in the SEC last season. This year, he will look to lead a talented but relatively inexperienced DB group after the departure of Keele Ringo and Chris Smith.
Coby – With a whole season of starting experience under his belt, third-year Kamari Lassiter is now the head honcho of the cornerback room. Though he may seem a bit undersized, Lassiter will be a big playmaker for the Dawgs this season.
Zion Logue
Clay – Logue elected to return to the Bulldogs after an excellent 2023 season. The defensive lineman is one of the most respected players on the Bulldog's roster and his leadership skills are essential to another playoff run.
Coby – Size and leadership are two things that come to mind when thinking of Zion Logue. A fifth-year D-lineman Logue has experience that's now a rarity on this team. Combined with his massive frame, he should be scary come fall.
Ladd McConkey
Clay – McConkey was the Bulldogs most productive receivers last season. The pass catcher is one of the best route runners in the SEC and will undoubtedly make life easier for whoever is playing quarterback for the Dawgs.
Coby – McConkey is probably one of Georgia's most clutch receivers, and though that's not a statistic you can objectively measure, the proof is most definitely in the pudding here.
Kendall Milton
Clay – Milton is expected to shoulder a heavy load this season, following the loss of Kenny McIntosh. Milton has been touted as the most talented back on the Dawgs' roster for the last few years. If he can avoid injuries, the bell-cow back will undoubtedly have a massive season.
Coby – Milton came in with high expectations, endured some injuries, and it took a while to get a big role given UGA's depth chart. But in the little opportunities he's had, he's flashed. He just needs to stay healthy.
Amarius Mims
Clay – Mims has every trait you could dream of in an offensive tackle. He'll be looking to use his elite pass blocking ability to create time for a new Georgia QB this fall.
Coby – Elite potential. With a starting role that's really his to lose, Mims will be putting his 6-8, 330-pound frame to work. He's an established part of an offense that's still trying to find itself.
Smael Mondon
Clay – Mondon is one of the most athletic players to ever come through UGA according to Kirby Smart. With a full year of experience as a starter under his belt, Mondon will look to establish himself as one of the premier ILB in the country.
Coby – The team's leading tackler last year and one of the defense's most experienced players, Mondon is set to have another productive season in 2023 in what will be his second year starting for the Dawgs.
Tate Ratledge
Clay – Ratledge brings a vibrant personality to the Bulldogs' locker room. He returns, along with Sedrick Van Pran and Xavier Truss, to create the best interior offensive line in the nation.
Coby – Ratledge offers a versatility that this O-line will need in 2023. UGA likes to rotate guys around up front and given Ratledge's experience at both tackle and guard, he'll help them do just that.
Arian Smith
Clay – Smith is one of the fastest players in college football. This year, the speedster is looking to improve his route running and pass catching ability to become an every-down weapon for a loaded Bulldog offense.
Coby – Speed. If speed isn't the first thing that comes to mind when thinking about Arian Smith, you're doing something wrong. He hasn't been healthy enough to produce for an entire season, so he's primed and ready to make the most of this opportunity.
Tykee Smith
Clay – Smith is a veteran leader in the Bulldogs' locker room. Having dealt with a multitude of injuries since his arrival in Athens, the former All-American is looking to breakout in a big way by imposing his physical style of play on SEC opponents this season.
Coby – Smith brings a fearless physicality to the defense. He never let's his size get in the way. Big, tall, short, small, Smith is ready to the lay the lumber on anyone in sight. Injuries have kept him from the field, but he's had a healthy spring so far.
Nazir Stackhouse
Clay – Stackhouse is looking to become a force as pass rusher in 2023. The talented defensive lineman is already an elite run stopper and will play a critical role clogging the middle of the field with the departure of Jalen Carter.
Coby – Stackhouse was a quiet season-long starter for the Dawgs in 2022. He specializes in run-defense, but with Jalen Carter gone, he knows he needs to step it up to become a well-rounded player for the Dawgs in 2023.
Xavier Truss
Clay – Xavier Truss offers loads of experience that is invaluable to an offense that will feature new faces. The offensive lineman has played in four positions across the line since his arrival in Athens, but will look to solidify the guard position he excelled in last season.
Coby – Truss is a major part of this veteran offensive line. Not only does he bring leadership and trickle down culture and experience from successful o-line grouping, he brings much needed size in the trenches as well.
Brock Vandagriff
Clay – Vandagriff is off to a great spring and is challenging Carson Beck to be the starting quarterback in 2023. The Georgia QB has a cannon of an arm and has added significant weight this offseason. Watch out for No. 12 on G-Day.
Coby – Vandagriff's claim to fame is his running ability. We haven't seen much of it because of his limited reps over the past couple years, but all the players and coaches say it's there. As he continues to compete for a starting position, only time will tell if we see it for ourselves.
Sedric Van Pran
Clay – Van Pran's return to the Bulldogs is one of the more slept on moves of the offseason. Van Pran is an undisputed leader of the entire team and the anchor of the Bulldogs talented O-Line.
Coby – Leadership. Leadership a thousand times over. Van Pran will begin his third year as the starting center of this UGA offensive line. Arguably now the most experienced player on the team, expect nothing short of greatness from this young man.