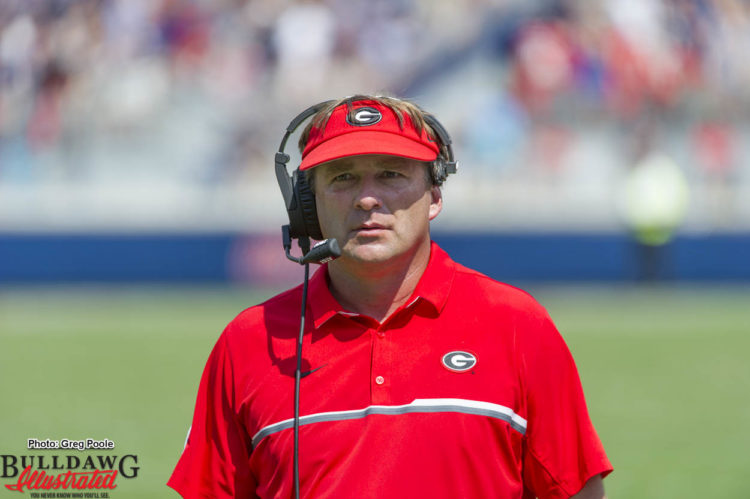 "Hiring Kirby Smart was a huge mistake!! #Muschamp2.0 #FireKirby".
"Let's burn it all to the ground and start over because a loss to Vanderbilt is completely unacceptable". 
"How many coaches are going to get fired at the end of this season?"
That is a very small sample of my Twitter timeline after the Bulldogs came up short against the Vanderbilt Commodores on Saturday afternoon.  The most common tweets were one that indicated that hiring Kirby Smart was a mistake. 
First off, I agree, the Georgia Bulldogs should never lose to the Vanderbilt Commodores – especially at Sanford Stadium.  Vanderbilt had no business being in this game but the Dawgs made critical mistakes that handed the Commodores points.  Somehow, someway Georgia found a way to lose this game and that is unacceptable.
Unacceptable, YES!  Unexpected?  NO! I have said time and time again this season the Bulldogs are going to have growing pains this season.  The two most critical individuals in a college football program are the Head Coach and the Quarterback and Georgia has a "true freshmen" in each role.
As we have seen, Eason is going to have his ups and downs in his freshmen campaign.  Last week, he played his worst game of the season and this weekend he arguably played his best game in spite of a poor game plan.  There is absolutely no denying the game plan was not only poor on the offensive side of the ball but the staff was much too slow to make adjustments.  Coach Smart needed to step in much earlier in the game and tell Coach Chaney to open it up and throw the ball more often on 1st and 2nd Downs.  The gameplan was far too conservative and it allowed Vanderbilt to stay within striking distance.
Much like Eason, Coach Smart is having his ups and downs in his first season as head coach.  He has had issues with clock management, questionable decision making and an apparent lack of involvement with the offense.  We saw an example of the questionable decision making at the end of the first half when he opted not to give that bad, bad man in Rec Specs (Rodrigo Blankenship), who was absolutely crushing the ball, an opportunity to kick a 54-yard field goal to end the half.  Rodrigo's confidence was high and the way he was kicking the ball it was well worth a shot but instead he elected to throw a Hail Mary to a group of receivers that included the 5'8 Isaiah McKenzie (who is not going to win any jump balls).  Also, we saw his lack of involvement in the offense.  I understand Coach Smart's background is in defense but he needs to step out of the defensive huddle and spend more time consulting with Chaney and perhaps make a decision to loosen the reigns on Eason earlier in the game.  There is a lot of room for Coach Smart to be introspective and evaluate himself during this bye week.
Besides the inexperience at the head coach and quarterback, there is one more issue that is causing the Bulldogs to struggle this season.  Simply put, the Bulldogs do not have any dynamic, big play threats on the offensive side of the ball that can take over the game.  McKenzie can do it in brief glimpses while Chubb and Michel are both dependent on a Jekyll & Hyde offensive line.  There is not a single receiver on the perimeter that the Dawgs can throw a quick slant to that will shrug of a tackle and take it the distance.  Therefore, the Dawgs have to depend on a true freshmen QB to consistently drive the team the length of the field with 10-15 play drives to get points on the board.
Put all of that together and that is the perfect recipe for a team to be in a lot of close games and unfortunately for the Dawgs they have come up on the wrong side of those close games against Tennessee and Vanderbilt.
I know what many of you are thinking – Excuses!  Excuses!  These are not excuses, this is reality.  So let's live in reality for a minute:
#1 – Mark Richt is not coming back.  Even if he could, why would you want him to?  He led the Miami team to a nice start but then lost the big rivalry game against a team from the state of Florida (sound familiar??) and then had his team come out completely flat against the Tarheels at home to lose a second game in a row.
#2 – Tom Herman is not going to be the Head Coach at the University of Georgia.  Kirby Smart is going to be the Head Coach of the Georgia Bulldogs for the foreseeable future and Tom Herman will be somewhere like Texas and Southern Cal.  And what has he proven?  He has proven that he can win games in a below average conference against teams with inferior talent and get his team up to win 1 or 2 big games each year.  He has also proven that he can lose to Navy.  He is going to have his growing pains when he gets into a "grown man conference".
#3 – Kirby Smart could be Will Muschamp 2.0.  Kirby Smart could also be the next Nick Saban.  Simply put, we don't know.  We don't have any clue.  Odds are he will be somewhere in between (hopefully closer to Nick Saban).
So where does that leave us?
It is a question for the coaches to decide.  It is a question for the players to decide.  It is a question for the fanbase to decide.  Each and every person needs to make their own decision.  In case you want to hear it, I'll tell you exactly where I stand.
I am disappointed.  I am angry.  I am optimistic.  I believe Kirby Smart has made some terrible decisions.  I believe he will learn from his blunders and get better.  I believe Jacob Eason is going to be an elite quarterback.  I believe Georgia will continue to have growing pains this season.  I believe Kirby Smart will relentlessly recruit the players Georgia needs. I believe Georgia's best days under Coach Kirby Smart are ahead of them.  I will continue to believe.
Now you know where I stand, how about you??