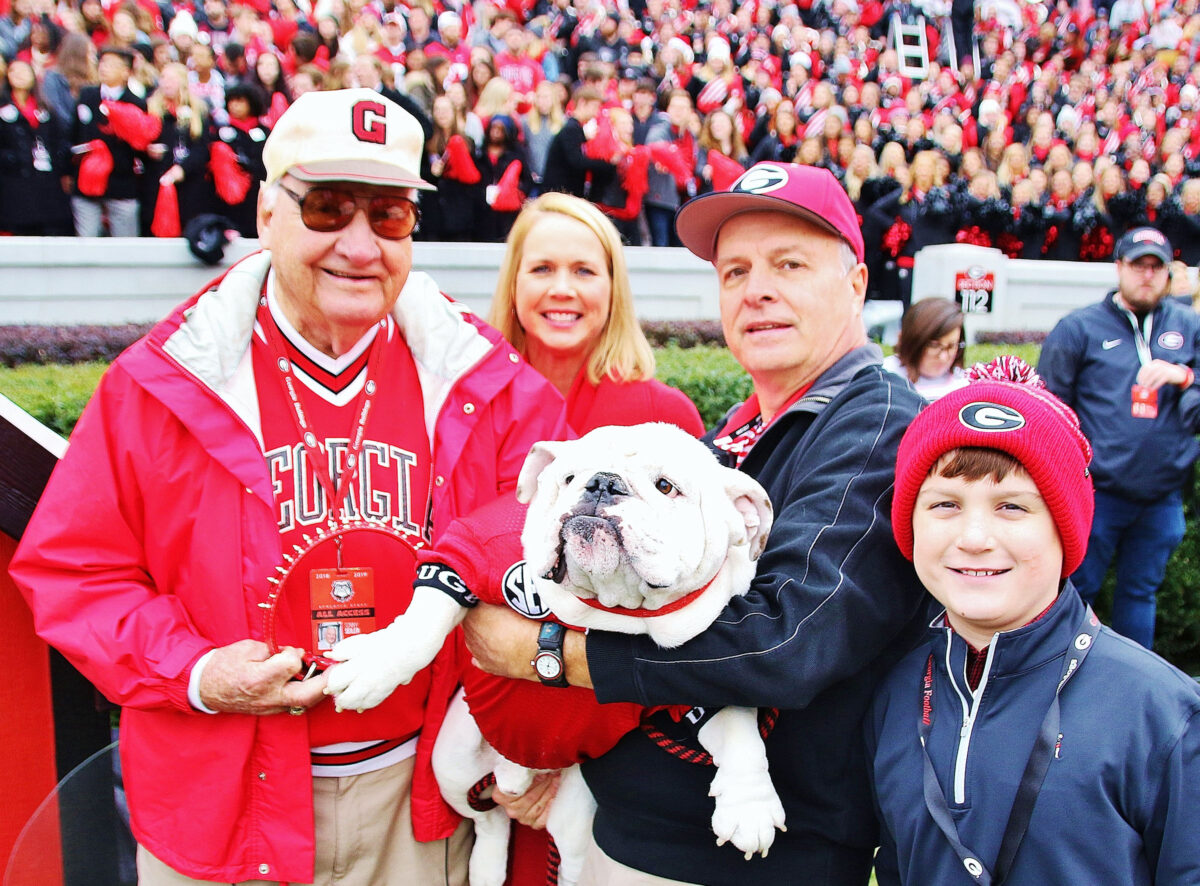 A legend graced the field before us, but not one wearing silver britches; rather, a pearly white K-9 with a spiked collar came, saw and conquered, passing on that collar as the winningest Uga in history. Thank you, Que. Now, here comes the "BOOM", but first a final look at ten of Uga X's best moments.
Kirby Smart Hired, 2016
Que was named the official Uga in the "Passing of the Collar" ceremony during the Georgia-Georgia Southern game in 2015. Entering 2016, Georgia football named Kirby Smart the head coach … the rest is history. Que truly began his reign as Uga X alongside Smart, and a new age of the Red and Black began.
13-7 win over Auburn, 2016
2016 bore many moments of heartbreak for the Georgia faithful, but Smart and Que needed a staple victory to cement the beginning of their reign. Who better to do it against than ninth ranked Auburn? No one gave the Dawgs a chance, but a third quarter pick-6 by Maurice Smith helped seal Smart's first top-10 win at the helm of Georgia and added a little bite to Que's bark.
Dawgs "upset" No. 1 Vols, 2022
Josh Heupel and Hendon Hooker came to Athens on the No. 1 ranked high horse, but the loudest Sanford atmosphere showed the country the Dawgs still sat atop ole Rocky Top (and everyone else). Despite heavy showers, the loyal Dawg people stayed 93,000 strong around those hedges. Alongside plays like Jalen Carter's near safety and Stetson Bennett's "call me" touchdown, Que's cute yet mean mug flashed on the jumbotron, and Sanford reached unprecedented 130 dB surges. In the words of Nolan Smith, "This place [was] rocking!"
Dawgs take over South Bend, 2017
Jake Fromm and Que traveled to South Bend, both looking for a win that would put them on the national stage. Fromm made his first collegiate start in a hostile environment underneath the arms of "Touchdown Jesus" and did not disappoint the thousands of traveling Dawgs. The remarkable one-handed stab by Terry Godwin and the savage Georgia defense showed these Dawgs were ready to compete with the big dogs as Georgia vanquished the Fighting Irish 20-19.
Georgia goes 13-0 and wins SEC title, 2022
The Dawgs returned to Atlanta for the fifth time with Que in tow. The Dawgs secured an undefeated regular season and stayed perfect with a 50-30 win over the Bayou Bengals. The job wasn't finished, and we will get to those later wins, but it was still another huge addition to Que's résumé and the Dawgs' 2022 campaign. As Jalen Carter raised his finger with Jayden Daniels in his arms, I'd like to think Que raised a paw to show the world that Georgia was No. 1, and Uga was (and still is) the greatest mascot in college football.
Que and Smart claim their first SEC title, 2017
When D'Andre Swift "ran it back to Philly," Georgia ended its 12-year drought of an SEC title in Smart and Que's second full season. The two clinched a College Football Playoff berth with the 28-7 win over Auburn, proclaiming a new dawn of Georgia football for years to come.
"Sony Michel sends the Dawgs home to the championship game," 2018
The Dawgs performance in Atlanta in the SEC championship sent them to the Rose Bowl, and their win over Oklahoma in Pasadena sent them right back to Atlanta for the national championship. A second overtime 54-48 win in Georgia's first playoff game would give Que his first shot at a national title. We know what happened to Alabama, but Que's outing in the Rose Bowl cannot be diminished. To date, it stood as one of the most electrifying Georgia wins in history and demonstrated that Georgia "wasn't going anywhere."
Back-to-Back, 2023
Que closed his Georgia reign out on top. After winning his second straight national title in dominating fashion, the bulldog dropped the mic on a historic tenure. The 65-7 victory over TCU in Los Angeles is the most lopsided win in both national championship and bowl game history. Although Que did not travel west for the game, his presence was known, and the four-legged beast etched his name in the history books.
"At the stroke of midnight," 2023
In the first second of 2023, ole "Lady Luck" shone down on Que and blew a slight breeze to the left, veering Ohio State kicker Noah Ruggles' 50-yard attempt way left. Those Dawgs hunkered down one more time and kept the hopes of going back-to-back alive. With the 42-41 comeback win over the Buckeyes, Que finished his career 2-0 in the Peach Bowl and had another shot at a banner in Sanford.
The first Natty in 41 years, 2022
A seeming unconquerable foe, a teacher unyielding to his pupil, Nick Saban and the Crimson Tide haunted Georgia for many years prior, but on that fateful Monday in January of 2022, the student surpassed his master. Que, Smart and the Dawgs traveled to Indianapolis with the opportunity to rewrite the narrative that we knew all too well, and rewrite it, Que did. A 40-yard dime from Stetson Bennett gave the Dawgs the lead 19-18, a Brock Bowers score extended it 26-18, and a 74-yard pick-6 from Kelee Ringo proved to be the straw that broke the camel's back (33-18), giving Georgia its first national title in 41 years, Smart's first one at Georgia and Que's first one ever.