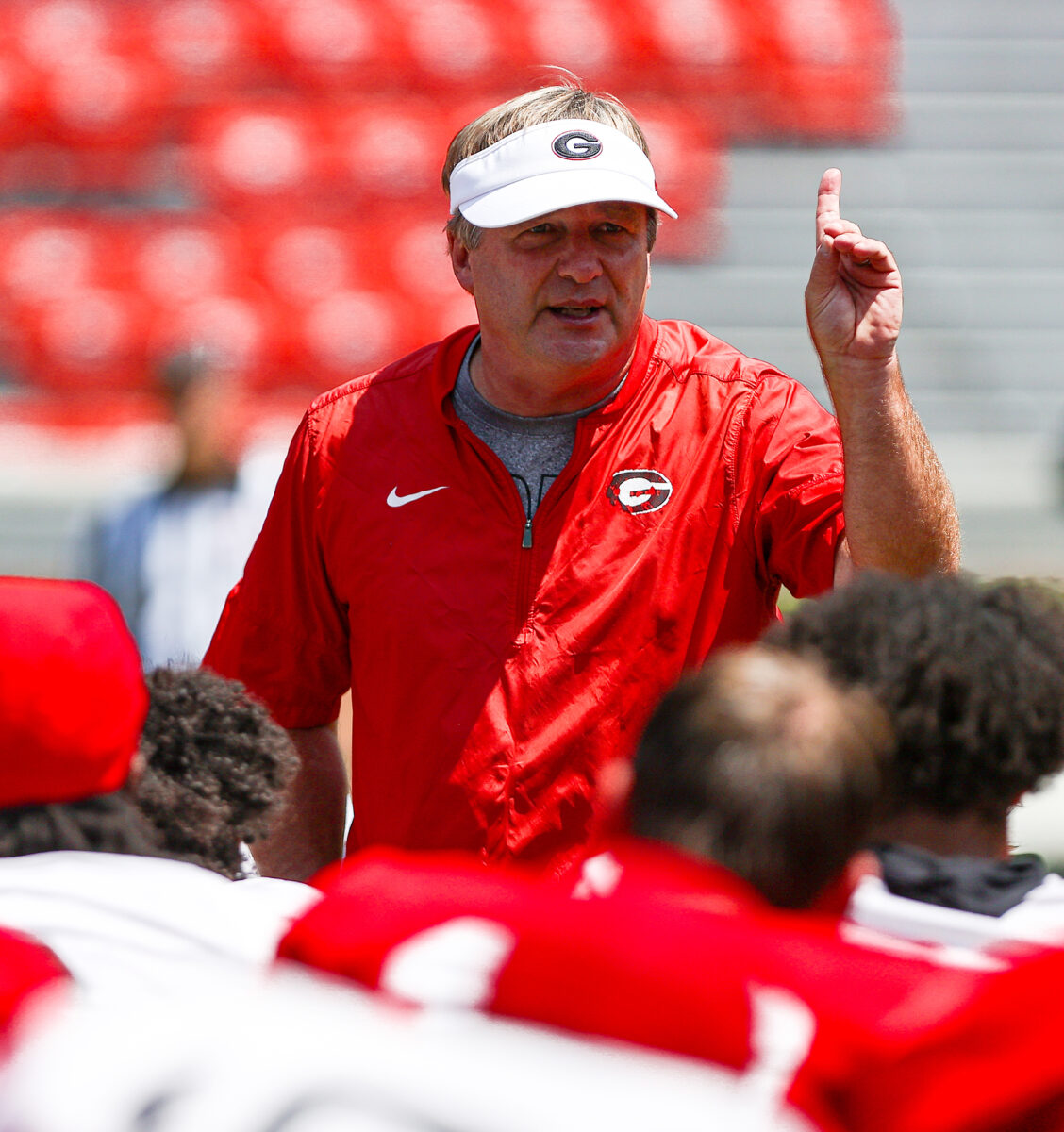 1. The Quarterbacks – Carson Beck makes his first start for the Bulldogs. Presuming things are going well over these first two weeks, Kirby Smart and Mike Bobo will figure the formula to balance maximizing Beck's snaps to prepare for South Carolina with getting playing time for Brock Vandagriff and Gunner Stockton. Both are talented and vying for playing time in the battle to be the No. 2 QB.
2. Running Back Rotation – Injuries hit the position in both spring and the preseason practice. Losing sophomore Branson Robinson for the season with a foot injury is a huge loss. He was impressive as a freshman, particularly against Auburn and then putting the finishing touches on TCU in the National Championship Game. Robinson will redshirt this season and have three years of eligibility remaining, with all expectations that he'll be back at 100 percent. So who's ready to go? Daijun Edwards has been terrific and reliable. He's a hard runner with a nose for the end zone. Kendall Milton has been battling the injury bug, and Andrew Paul is back after missing all of last season due to a preseason knee injury. Milton has shown the flashes. With the injury to Robinson, Georgia needs a big year and a healthy season from Milton. Cash Jones and Sevaughn Clark are high end walk-ons who could factor, as could true freshman Roderick Robinson, especially if lingering early season nagging injuries are an issue. Len'neth Whitehead, out of Athens Academy, transferred in and is also fighting for snaps. Over the past decade, since Todd Gurley was a freshman in 2012, Georgia has arguably – we hear you Alabama – produced the most outstanding to great tailbacks of any school in the country. If everyone is healthy, the Bulldogs should once again be in good shape at running back. But the depth isn't what Kirby Smart ideally wants. The Bulldogs, by the way, have verbal commitments from three blue chip prep running backs.
3. Depth on D – Georgia's first and second strings are the deepest and most talented in the country. That's just the returnees, not counting the newcomers. There is a highly touted, extremely talented group of true freshmen fighting to climb the depth chart and earn some snaps. If things are going well and the Bulldogs are rolling along, Kirby Smart and the defensive snaps won't expect much of a drop off. UT Martin scored 24 points in Knoxville last year in a 66-24 loss to Tennessee. The Dogs will be eyeing a significantly smaller total on the Sanford Stadium scoreboard Saturday.
4. Welcome Back (18 to Party) – It's the season opener and the home opener. This is the first time that Georgia has opened a campaign Between the Hedges since 2018 when the Bulldogs beat Austin Peay 45-0. Georgia opened the 2019 campaign at Vanderbilt, 2020 at Arkansas, and the last two years it was neutral site games to crank up 2021 and 2022 national championship seasons – beating Clemson in Charlotte and Oregon in Atlanta. No, this isn't a high profile openers like those two or an SEC foe, but there is excitement for Game No. 1. Sanford Stadium will be rocking, at least early. A win, and the Bulldogs will establish a new school record winning streak of 18.
5. The Standard – There is always respect for the opponent. Smart and the staff will have the Bulldogs prepared, and the Bulldogs will be focused and prepared. Yes, UT Martin is the opponent, and winning is the top priority. But playing to a standard is a constant priority for Smart's Bulldogs. There is an expected level of excellence every Saturday, no matter the opponent. Over the last two years, en route to those two national championships, Georgia is 29-1, with 26 of those victories coming by double digits. There is a very high bar of excellence that Smart drives the Bulldogs to clear every time they take the field.