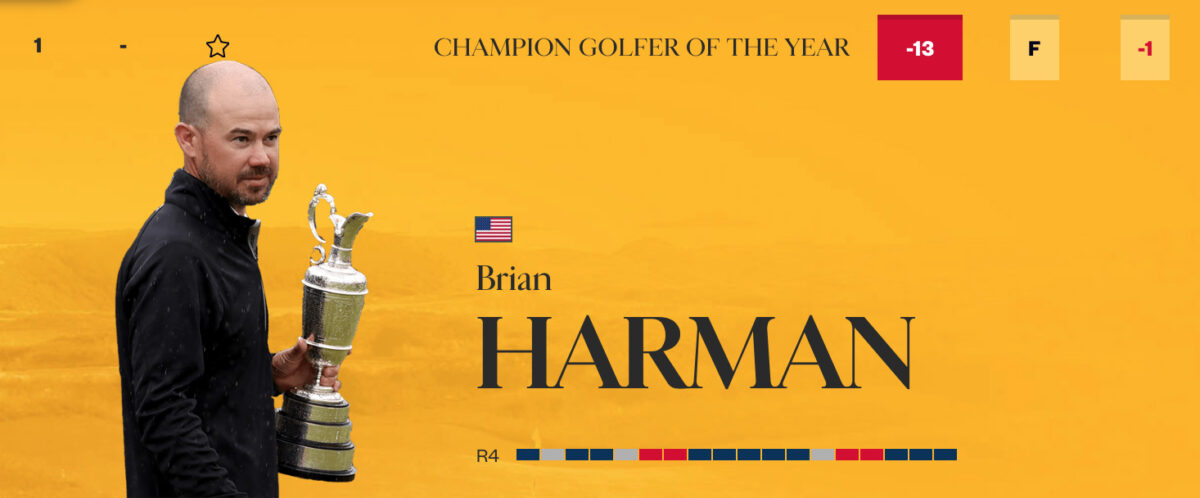 They're gonna go nuts when he hits this thing…" We've all heard this broadcast call or seen the ensuing Tiger Woods hole-in-one at the 1997 Phoenix Open, but for Brian Harman it's a moment that sparked his love for golf.
After missing school on a random day in February, 10-year-old Harman was flipping through the channels and happened upon the famous shot that shook TPC Scottsdale. Harman watched Tiger "raise the roof" after drilling an ace on the staple 16th hole. He thought to himself, "Man, I want to try this."
A baseball player at heart, Harman started biking to the nearby golf course in Savannah, his hometown, and the spark for golf was kindled into a raging fire. The now Champion Golfer of the Year made a pretty good decision years ago to drop the bat and pick up the club.
The offers began rolling in as Harman grew a little older than 10 and his golf game improved. It was only two visits that he took: Clemson and the University of Georgia. Harman said, "[Clemson] is kind of a dump," and, "I wasn't a hard sell on Georgia. My friend Kevin Kisner was in charge of my recruiting, and anyone that knows Kisner knows that he knows how to have a good time."
The decision was made, and Georgia was Harman's next stop.
The legend, head coach Chris Haack, alongside Coach Jim Douglas have built a program unlike any other in Athens, putting more golfers on Tour than any other school, but how? Well, it's not easy to even make tournaments as one of the five starters, so the Tour competition is forced upon each Bulldog golfer the minute they arrive on campus.
"It took action…" said Harman. "While we were here, we played against each other. Qualifying at Georgia was really hard, and we hated Haacker for the qualifiers. I've called 'Haacker' and told him that many times. But, those guys who have made it on Tour, it's because of those qualifiers. It builds a foundation of 'can't quit.'"
To the surprise of myself and probably many of you, Hudson Swafford, Harris English, Chris Kirk, Brendon Todd and more, missed tournaments while they were here, but for Harman and the other Georgia golfers, a standard of excellence was forged on the UGA Course; within the Georgia golf program and within themselves, they only strive for excellence as they compete with the best golfers in the world on Tour.
The competition factor brought upon at Georgia along with a dedication to his craft finally paid off on July 23, 2023. One of the most dominant performances in Open history, an absolute putting spectacle, and sheer determination granted Harman his first major win at the prestigious Royal Liverpool Golf Club links at Hoylake.
With 24 top five finishes, 51 top 10s, and two prior wins on Tour, Harman had been at the cusp of winning the big one for years, even finishing second at the 2022 Open. However, entering the Open in July, a newfound determination to stick to his game despite ups and downs brought a confidence that showed up on the grueling course in 2023.
"I started feeling this really peaceful feeling of if I do these things, I know it will be successful at some point. I was ultimately committed to that, and I had a really good weekend of putting. It wasn't a different kind of week; it was just every week leading to it, I was getting more and more committed to what I was trusting in my game."
The putting was, indeed, "really good," nearly perfect. Harman broke the record of least number of putts needed to win the Open with 106, going 58-for-59 on putts inside 10 feet. His game was unmatched. As Harman raised the Claret Jug, he had wiped the field, stealing the title of Champion Golfer of the Year as a winner by six strokes.
It wasn't just a first major or a big paycheck, it was a tournament that would lock Harman in as a member of Team USA in the Ryder Cup.
Harman and I met at my apartment prior to the Ryder Cup, so forgive me for the lack of "evergreen" this article perceives, but it is still amazing to hear Harman's words prior to his first rookie experience.
"Heavy lies the burden," said Harman. "You can't control what the other guy is doing. It's all cliche, but the more you get married to the process, the better off you'll be. So, I start at the end result then work backwards. We want to win the Ryder Cup, right? How? We have to win more matches than they do. How do we win more matches? Well, if I win all of my matches, then we're one step closer. How do I win all my matches? Well, I have to win more holes. How do I win more holes? Well, it all goes back to the first tee box. How goes my mindset? Am I prepared? And then, how many times can I do that throughout the day? I have to do it more times than that guy does."
The individual aspect of golf is not completely ousted the week of the Ryder Cup, but a team comes to play more so than any other tournament as seen this weekend. Storylines surrounded the tournament all weekend as Patrick Cantlay refused to wear a hat. Assumptions of lack of camaraderie for the Americans came to be, but Harman confidently said they had an amazing connection throughout the process.
"If a guy is willing to do his best and not quit," said Harman. "Then I will go to war with him, and I think every guy on that team is ready to do that… We're going to do our best, and we're not going to lose for a lack of chemistry because it's fantastic."
The Savannah native and St. Simons resident has taken the crown at the Open Championship, and alongside 11 other Americans, he represented the entire United States. Unfortunately, the Europeans took the Cup, but it was an honor beyond comparison for Harman to play this weekend, and an even higher honor for me to talk with the one, and current Champion Golfer of the Year, Brian Harman!
Please go listen to the pilot episode of the Hammy Show on YouTube. The entire interview can be found there, and thank you, Brian for traveling to my little apartment and chopping it up for one of my favorite conversations!