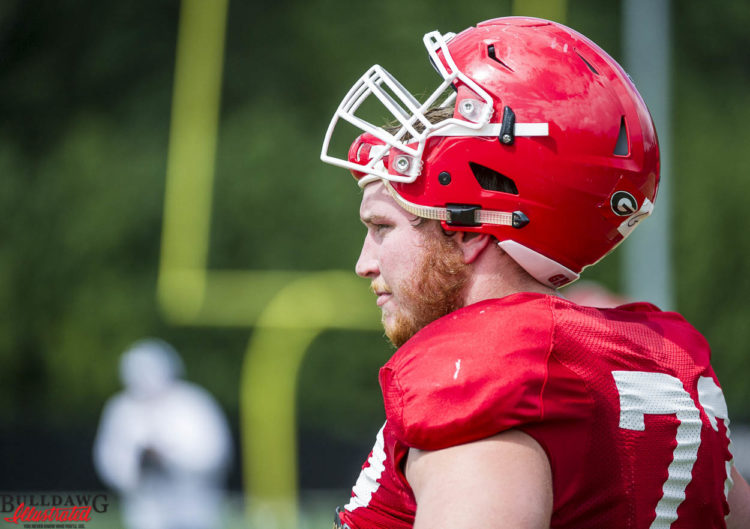 The Bulldogs practice saw offensive line coach Sam Pittman being one of the most vocal coaches today and he really could be heard all throughout the practice. There was also a few notable absences today but other than these few guys, practice seemed to run very smooth today.
Starting with the offensive side of the ball, there were no major players missing from practice. Isaiah Mckenzie was at practice in a black non-contact jersey, but Kirby stated in his post practice conference that this was just the staff being precautionary after Mckenzie took a shot in practice yesterday and got a shoulder bruise. Kirby also commented on Jacob Eason saying that he threw on the side with the trainer because he was not able to participate in his normal pre practice routine and needed to get warmed up. Also, Sony Michel and Shaquery Wilson continue to look good in practice, but Michel still has a way to go.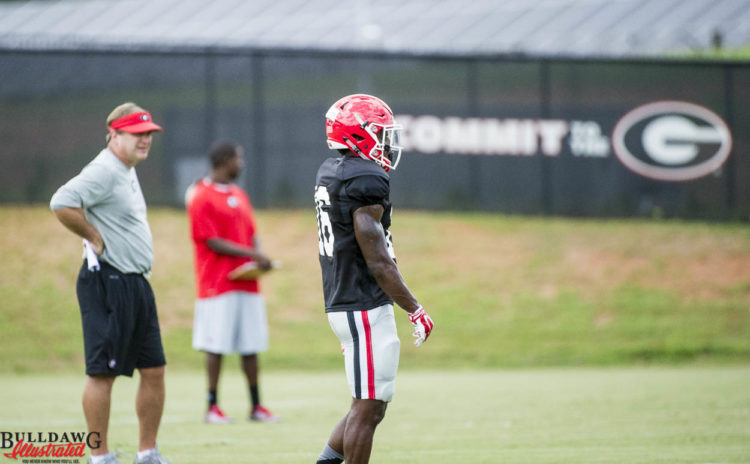 Today offensive line coach Sam Pittman really got after guys today and called a lot of the second and third team guys "soft." However, the first team guys gained praise from Pittman and he even rewarded the first team offensive line with some rest after having a great rep. Pittman is really pushing these guys and the offensive line is really starting to gel. As practice continued, Pittman began to see more of what he wanted out of his guys and instead of voicing his displeasure, he started voicing compliments to his guys.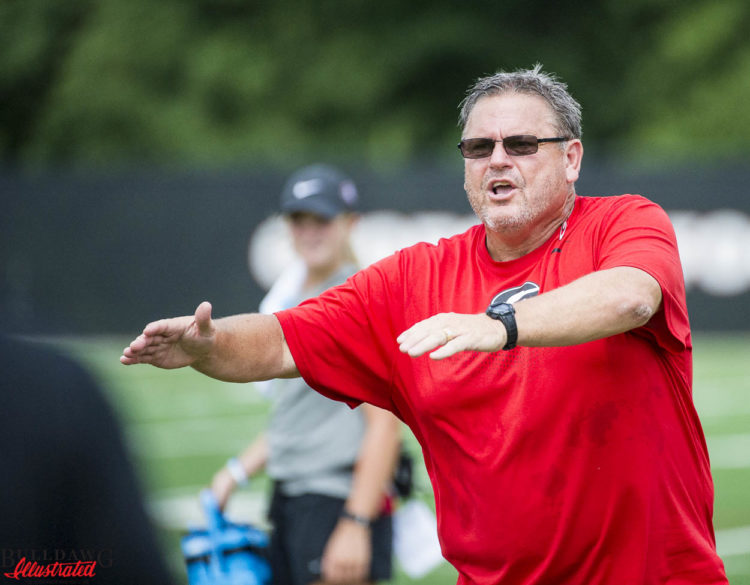 On the defensive side of the ball, there were a few more people missing. No surprise here but John Atkins is still nursing his hyper extended knee and he missed practice today yet again. Jonathan Ledbetter was also missing practice today, but Kirby mentioned that Ledbetter had some other things he had to take care of first. Natrez Patrick was back participating in practice today, but another fellow inside linebacker was missing from the Bulldogs practice. This other inside linebacker is Tim Kimbrough Jr., who it was just announced will be transferring from Georgia very soon.


Kimbrough was thought by many to be a potential key piece to the Bulldogs defensive success this season but he has found himself on the second team for a lot of practice thus far. There is no word on what may have pushed Kimbrough to this decision and there is only speculation on the matter right now. Kimbrough would have been a nice role player for the Bulldogs to have and his absence could cause a huge hole in the Bulldogs depth chart. Replacing Kimbrough on the inside linebacker depth chart will be a story line to watch for the remainder of the practices.