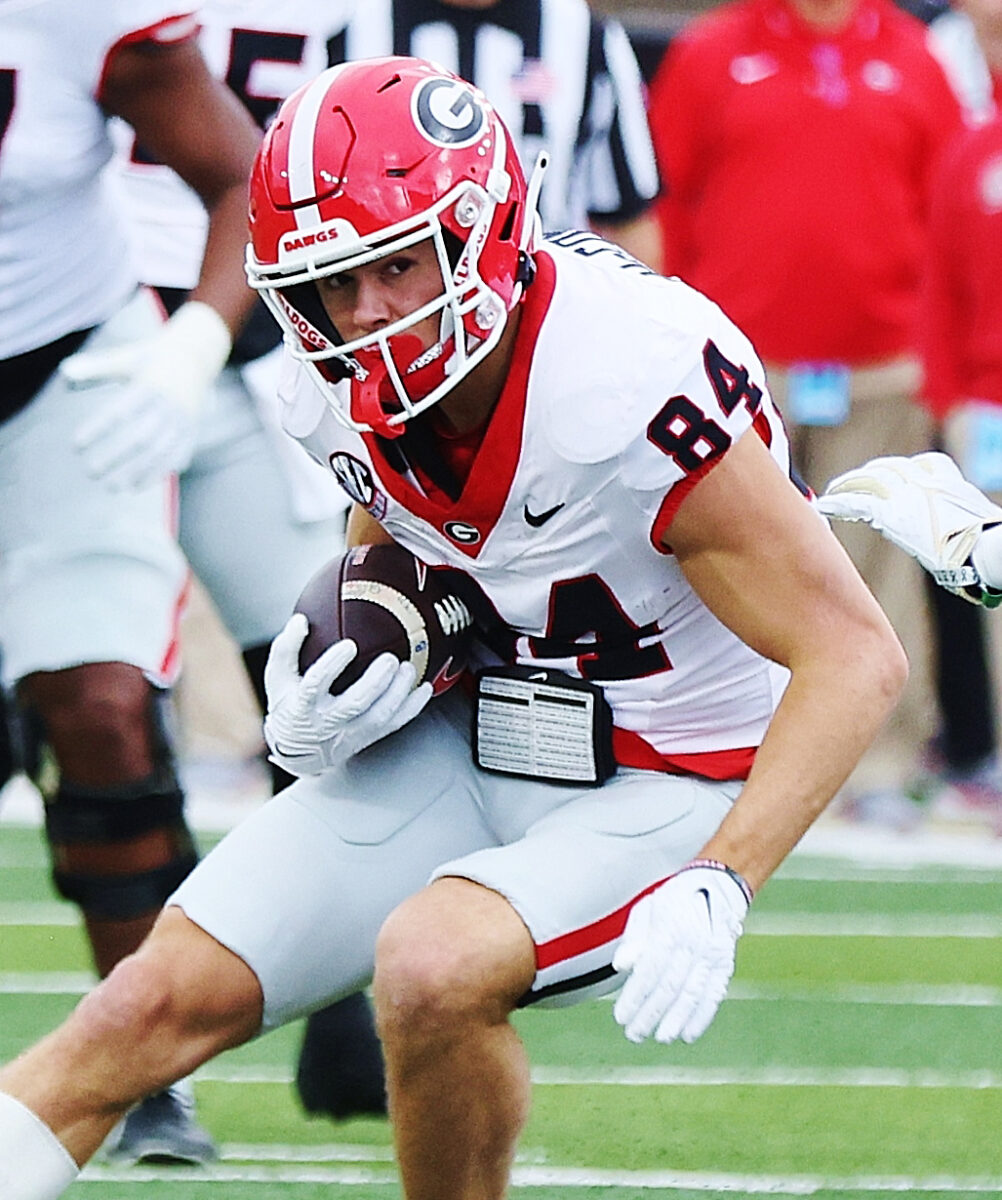 Kirby Smart (HC) – Nobody understands the magnitude of the Georgia-Florida rivalry game better than Georgia's head coach. Having played in the game himself, he now leads the Bulldogs into Jacksonville looking to win three in a row against the Gators. Due to numerous injurie the Bulldogs are dealing with across the board, Coach Smart will have a difficult task on his hands ensuring Georgia emerges victorious. Regardless, expect Coach Smart and his staff to have his Bulldogs fired up and ready to go come Saturday in Jacksonville.
Carson Beck (QB #15) – At this point in the season, it's been established that Carson Beck can put a game away in the first half. We've seen him walk into games with guns a blazing, and we've also seen him start games where it looks like his gun is jammed. At his worst, Beck is an efficient game manager who can do what you need—nothing more, nothing less. At his best, he's a Heisman candidate. Starting for the first time in his hometown of Jacksonville, hopefully we see the latter from Beck.
Kendall Milton (RB #2) – In just one half of a football game, senior running back Kendall Milton ran for 53 yards on five attempts. That's not bad for a guy coming off an MCL injury. Now, to be fair, it was that same MCL that had him on the sidelines for the second half of the Vandy game. Coach Smart said his MCL was giving him some trouble, which led to his benching, but the action appeared to be precautionary. With an entire two weeks away from live, tackle football, Milton should get the treatment he needs to give the Gators a proper rundown once the Dawgs get going in Jacksonville.
Ladd McConkey (WR #84) – As if this guy didn't have a chip on his shoulder from working his way up the depth chart, now Chatsworth, Georgia's favorite wideout has to play in the absence of fellow receiver Brock Bowers. Keep in mind that McConkey is coming off an injury himself, and it was his back that was keeping him from seeing the field early in the year. Everything is pointing to McConkey getting back to full speed, though. Four catches for 58 yards against Vandy is definitely telling that McConkey is well on his way back to show up and show out against the Gators' secondary.
Javon Bullard (S #22) – "Big-time players make big-time plays in big-time games," as the saying goes, and that's exactly the kind of business Javon Bullard should be tending to in Jacksonville on Saturday. The third-year safety is going to make some big-time hits to assert his dominance. The Gators have two backs who've each gone for over 400 yards, in addition to their quarterback amassing almost 2,000 yards this season so far. This year, the Dawgs are hard to predict, but one thing is certain: Bullard is going to find a way to make his presence felt one way or another.
Malaki Starks (S #24) – Arguably one of the best covering safeties in America, Malaki Starks never ceases to amaze when he puts his pads on. He is a certified ball hawk, and the numbers don't do him justice; two picks and four pass deflections on the season don't feel like nearly enough from this true sophomore. If Billy Napier and his team play their cards right, Starks shouldn't be anywhere near the ball, but with certified track speed and blue-chip athleticism, there's not a lot you can do to keep this young man away from the ball.
Mykell Williams (DE #13) – Almost all football games are dictated by the trenches, and that's precisely what defensive line coach Tray Scott and Georgia's star defensive end, Mykel Williams, should have planned. Now, understand that in order to be different, you have to play differently. So, rather than prioritizing sacks, Georgia's defensive line focuses on creating pre-planned pressure. If Williams finds himself on top of the quarterback, know that he's gone the extra mile. With just two sacks on the season thus far, Williams is a bit behind his goal of one sack a game that he set at the beginning of the season. He should be quite hungry in Jacksonville, and he'll be looking for Gator tail.
---
In Georgia's 27-10 victory over Florida in 1966, the Bulldogs shut out the Gators offense in the second half and All-American Lynn Hughes intercepted Spurrier and returned it for a 39-yard TD.
Georgia's early 80s victories over Florida featured three memorable, long touchdown marches to give the Bulldogs leads: 93 yards in 1980, 95 yards in 1981 and 99 yards in 1983.
The Bulldogs upset the top-ranked Gators 24-3 in 1985, as Keith Henderson had scoring jaunts of 76 and 32 yards, then Tim Worley delivered the knockout blow on an 89-yard TD romp.