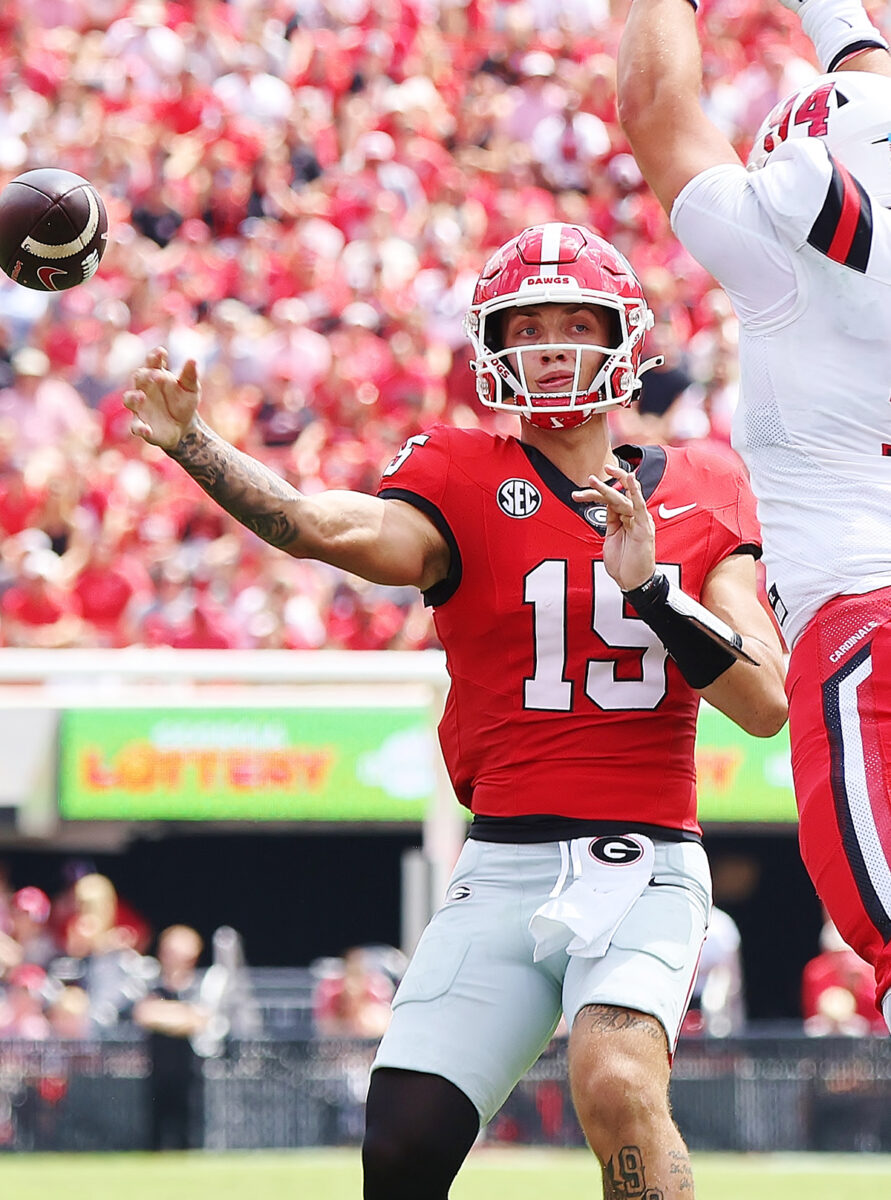 Kirby Smart (HC) – As if he hasn't one already, this game could really be the moment for Coach Smart. College football is up for grabs right now. College football titans like Dabo losing to Duke and his mentor Nick Saban losing to Steve Sarkisian have experienced some pretty intense losses and guys like Coach Prime in Colorado are riding the highs of their wins. There's plenty of eyes watching Georgia to see what they do next. A lot of people are hoping they lose for the sake of losing. It's Kirby's job to make sure that this pressure isn't felt by his staff or his players. He shoulders a good bit of it in coaching the best college football team in America.
Carson Beck (QB #15) – As the new face of the offense, if you're not keeping an eye on this guy you're doing yourself a disservice. In the past two weeks Beck has quietly put up about 300 yards in each of his games, while only playing three quarters. He has also shown some sneaky quick feet in the process. Conference play against South Carolina isn't a "prove it" game per say, but it's definitely an opportunity to get serious and get after it. The Dawgs will be favored going into this one, but now it's real. The road to the SEC Championship begins Saturday and the Dawgs have Beck behind the wheel.
Kendall Milton (RB #2) – The Georgia running back room has been questionable the past two weeks, so hopefully Kendall Milton is the answer. He hasn't had a glamorous past two games on paper, but that's because the Georgia staff is getting experimental with the touches given the injury situation in that position room. There has been no feature back yet this season, but that may start against South Carolina where the Dawgs will be playing against an SEC defensive front for the first time this season. Heading into this Saturday, amongst the backs that have taken snaps thus far this season, only Kendall Milton and Cash Jones have experience running against SEC opponents. Daijun Edwards may finally be able to go, but that's not for certain. Expect No. 2 to be toting the rock against the Gamecocks.
Brock Bowers (TE #19) – Five catches. 121 yards. Two touchdowns. That's what this beast of a man was able to do against South Carolina in Columbia last year. This go 'round Bowers is back home and should be primed to do something similar Between the Hedges. Against UT Martin Smart admitted to limiting Bowers to some capacity saying, "We could have certainly got it to him even more but we wanted to… get the ball to other guys." Against a team like South Carolina, that shouldn't be the case; Bowers should boom against the Gamecocks. Playing against the athleticism of SEC defenders for the first time this season, Beck may have to rely on some guys more than others, and Bowers should be one of them.
Malaki Starks (S #24) – Big time games call for big time plays from big time players, and Malaki Starks is one hundred and ten percent BIG TIME! Eight tackles Week 1 versus UT Martin and an elite interception against Ball State. Who knows what's in store for this sophomore safety. Starks is known for running sideline to sideline and playing against a quarterback like Spencer Rattler who has the potential to get it done with his feet. The Dawgs may need Starks to run around more than he's done so far this season since Javon Bullard was seen on the sidelines last week wearing an ankle brace.
Jordan Hall (DL #44) – Arguably the most talented interior defensive lineman on the team, there's a lot of hype for true freshman Jordan "Big Baby" Hall this season. He has a big 6-4, 320-pound frame that has proven hands at the point of attack and enough size to get into gaps and disrupt the run game. He's already been on the field for meaningful playing time against Georgia's last two opponents, so that indicates he has a rotational role with the starting group of d-line. Spencer Rattler is going to be a different beast in terms of pocket mobility, but looking at the numbers the Georgia's trench mob should be in for a treat. The Gamecocks have allowed nine sacks on the season already, so that should mean that Jordan Hall has a good day in his first time playing against the SEC.
Chaz Chambliss (LB #32) – Now Georgia's eldest outside linebacker presence on the edge, there's going to be a lot riding on Chaz not just in terms of play, but leadership and poise. Chaz has grown a good bit in this Georgia system, and you could really see it last year in flashes with a sack here and a sack there after Nolan went down. But, now you can really feel his presence on the defense and the role he plays in this scheme. Just look at last week, when he managed to snare himself an interception off an errant pass. Something in Chaz has been brewing and hopefully we see it come together against Beamer and Company this weekend.
---
One of the premier running backs in Georgia history, Nick Chubb has had a stellar career with the Cleveland Browns and ranked third last season in the NFL in rushing yards with 1,525.
Sony Michel, who teamed with Chubb on Georgia's 2017 SEC Championship team, scored the lone touchdown in Super Bowl LIII, as the New England Patriots beat the L.A. Rams 13-3.
Another of Georgia's great backs, Todd Gurley ran for 1,106 yards and scored ten touchdowns in 13 games in 2015, earning NFL Offensive Rookie of the Year honors and a Pro Bowl berth.