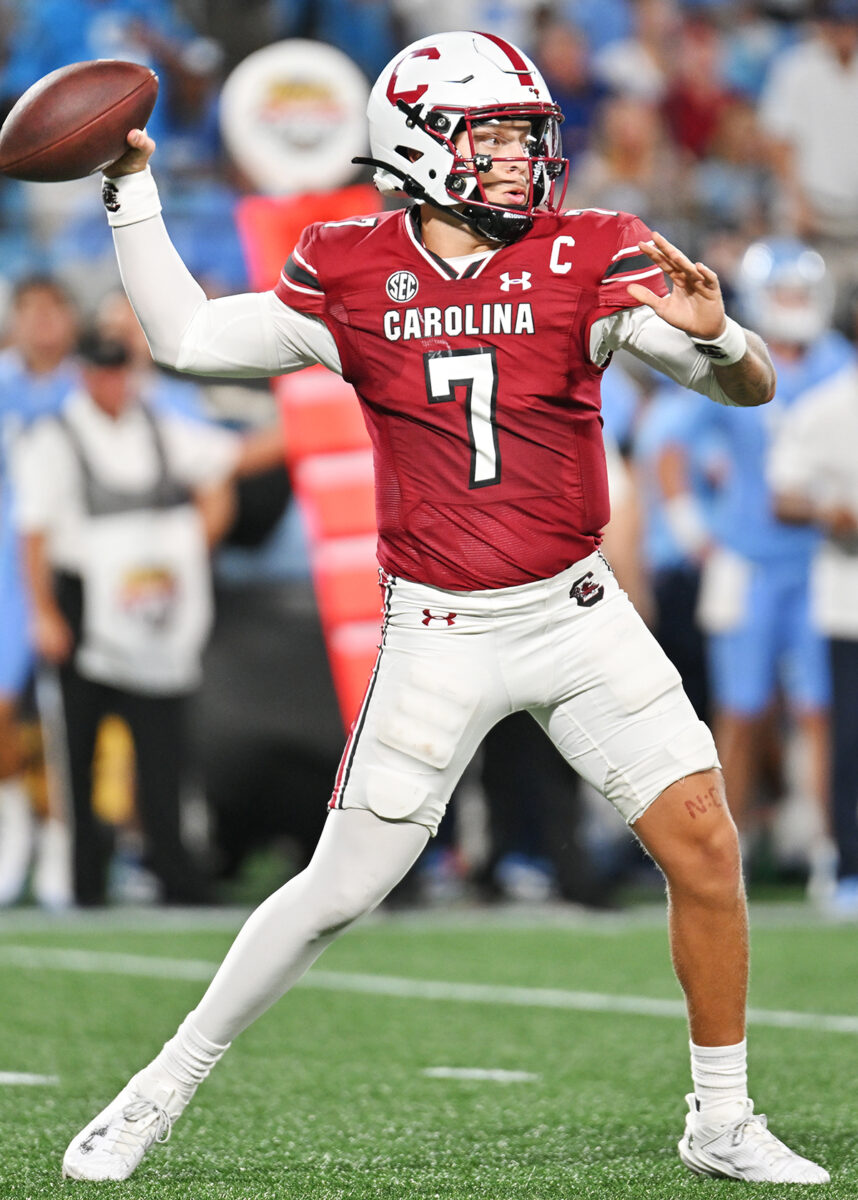 Shane Beamer (HC) – Beamer has brought a certain energy to Columbia, South Carolina that hasn't been there in years. The head coach, similar to his quarterback, has shown flashes of how good this Gamecock team has the potential to be, but inconsistent performances have led South Carolina into a tier of mediocrity. Beamer and the Gamecocks struggled significantly in their season opener against their border rival Tar Heels, but the head coach is desperate to pick up a program altering win. The chance of an upset in Athens starts with Beamer.
Spencer Rattler (QB #7) – Rattler is the key to unlocking the Gamecock offense. The quarterback is an anomaly, truthfully. He is as talented as anyone in college football, and Rattler shows it in flashes, but you just never know what performance you are going to get from the Gamecock quarterback. This season, Rattler has struggled to stay up in the pocket due to Carolina's horrendous offensive line, but he has still managed to throw for 698 yards, three touchdowns, and no interceptions. Expect Rattler to air the ball out if South Carolina wants to have any hope of winning this Saturday.
Antwane Wells Jr. (WR #3) – Antwane "Juice" Wells Jr. is an absolute stud at wideout. The Gamecock receiver has accumulated a hefty trophy cabinet of SEC accolades, and in his first year with Spencer Rattler, went for over 1,000 yards receiving. Wells Jr. has struggled with injury through fall camp and missed the Gamecocks clash against North Carolina; however, Wells Jr. managed to return against Furman where he caught one pass for 5 yards. Wells will be a difficult early season task for the Bulldog's secondary.
Dakereon Joyner (RB #5) – South Carolina is looking to fill the running back void left behind by MarShawn Lloyd, who elected to transfer to the real USC after the end of the 2022 season. Joyner is a physically imposing runner standing at 6-1, 229-pounds. Running at Georgia's stout defensive line is a challenge, but a necessity in order to take some of the pressure off Rattler and the Carolina passing game. Joyner will be a pivotal factor on Saturday in Athens.
Xavier Legette (WR #17) – Legette had a monster Week One against North Carolina where he reeled in nine grabs for 178 yards. The senior receiver followed that performance with 6 catches for 118 yards and a touchdown against Furman this past week. Legette is another Gamecock who has great size standing at 6-3, 227-pounds. The star receiver is looking to add a third straight 100 yard game this Saturday in Athens.
Debo Williams (LB #0) – The redshirt junior has been a reliable figure for the Gamecock football program having played in all 13 games last season. Williams was the leading tackler in Week One against UNC with 14 total tackles. The Gamecock is a downhill linebacker who seeks contact. Williams' ability to make plays all over the field makes him a player to watch against Georgia.
DQ Smith (DB #1) – Smith is a physical corner who is an exceptional tackler. In two games, Smith has recorded 13 total tackles while accounting for half a sack. South Carolina's corners are going to have to play a huge game against the Bulldogs as Georgia has one of the most talented receiver rooms in the country. Stopping the Dawgs aerial attack is a key area to watch this Saturday.