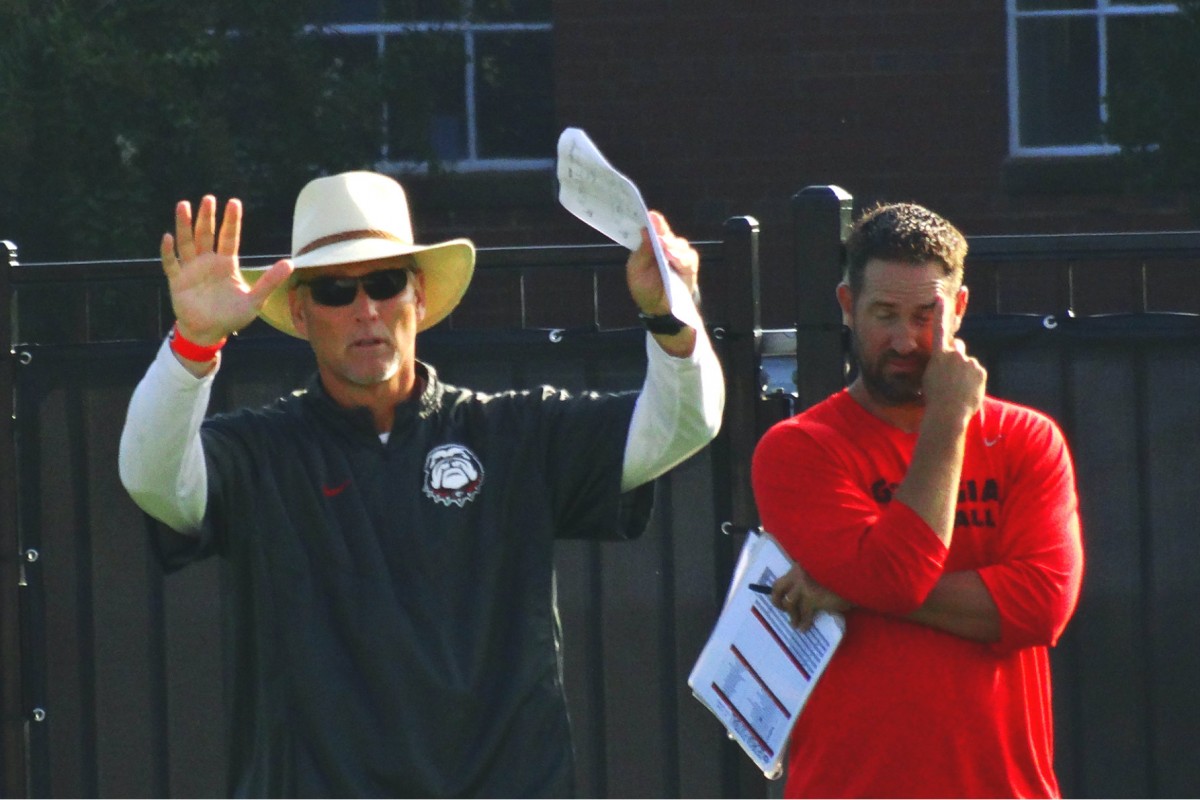 [su_spacer size="20″] The Georgia Bulldogs have had to answer a lot of tough questions this offseason and have had to address many position battles, as well. Coach Richt addressed the media concerning his views on their upcoming game against the Louisiana-Monroe Warhawks.
[su_spacer size="20″]
The starting quarterback was most recently named by Mark Richt and his staff but that does not mean he expects newly named starter, Greyson Lambert, to have zero mistakes. When asked if Lambert would be put on a short leash this is what Coach Richt had to say:
[su_spacer size="40″]
If there's somebody coming in early in the game, first half, it would be by design. It wouldn't be an indication of somebody getting yanked. I've never been quick to yank a quarterback out of a game; I'm a patient guy.
[su_spacer size="40″] This quote is interesting because it supports what many people believe, in that Mark Richt will most likely play either Lambert and Ramsey, Lambert and Bauta, or he will play all three quarterbacks in the season opener against the Louisiana-Monroe Warhawks.
[su_spacer size="40″] Coach Richt also addressed his thought on this Warhawks team that is coming into Sanford Stadium and why the Bulldogs will not be able to intimidate them and write them off. It should be noted that the Warhawks' biggest win in the past few years actually came on a season opener two seasons ago when they upset the number 8 ranked Arkansas Razorbacks. Although this is a different team from the team that upset Arkansas, Coach Richt knows that they will come in playing their hardest and will look to upset this young Georgia team.
[su_spacer size="40″] Richt also mentions how this Warhawks team produced 36 sacks last season, which put them in a tie with Rice, Arizona State, and even the eventual national champions Ohio State as the 13th best sack defense. They also were ranked 10th in the country for tackles for loss with 90 total tackles for loss.
[su_spacer size="40″]
They've got nine returning starters on defense. They've got ten of their defenders that are either Juniors or Seniors. I mean these guys are not gonna be intimidated; I think we'll have more butterflies than they do, as far as guys doing it for the first time.
[su_spacer size="40″] This veteran Warhawks team will challenge this young Bulldogs team and many players will be looking to establish their starting roles on this Georgia roster.
[su_spacer size="40″] [su_youtube_advanced url="https://www.youtube.com/watch?v=9foX0zvJgFo" autohide="no"] [su_spacer size="40″]