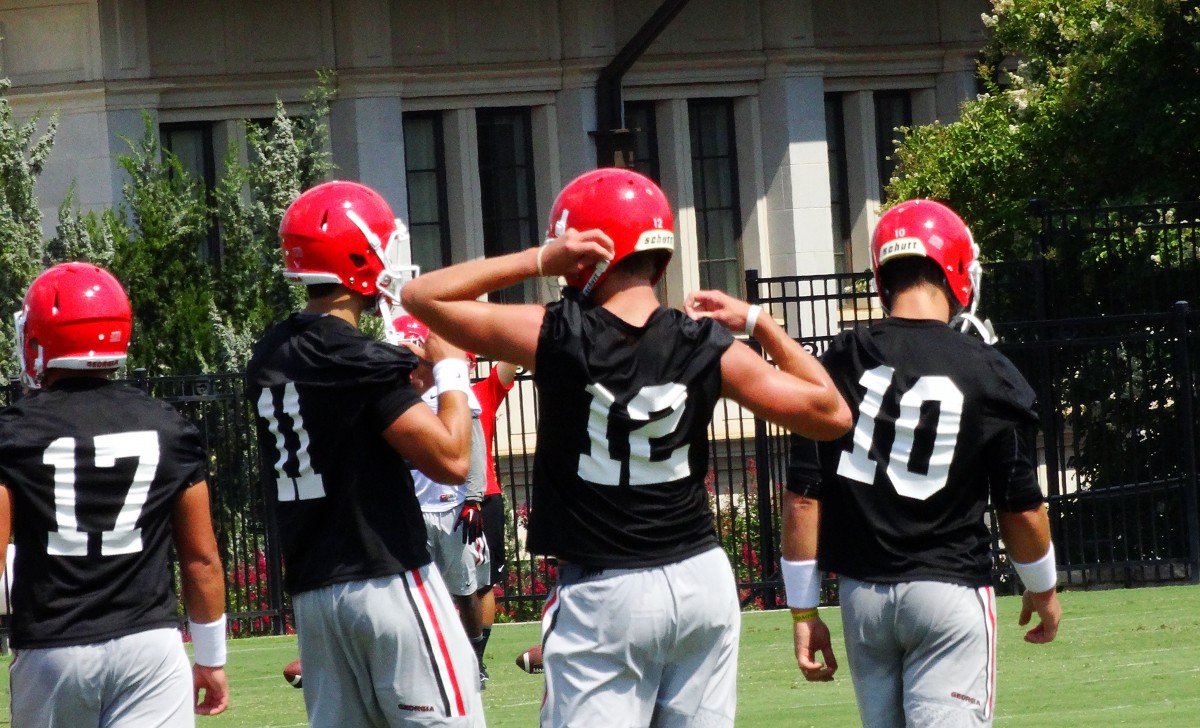 [su_spacer size="20″] The Georgia football players were coached very well during this year's preseason camp.
[su_spacer size="20″] Not talking about on the field – of course, let's hope that's the case also when the Bulldogs open the new season Saturday against Louisiana-Monroe – but in the area of keeping their lips sealed on references to who might emerge as Georgia's starting quarterback in the season debut against the Warhawks.
[su_spacer size="20″]
[
NOTE: Murray Poole wrote this article and it was published in the Bulldawg Illustrated 2015 Season Opener edition on Sunday night before UGA and Coach Richt made the announcement naming Greyson Lambert the starting QB for the game versus ULM on Saturday
] [su_spacer size="40″] Following the guidelines of their head coach, Mark Richt, the Bulldog players – to a man – took the "all are looking good" standard line when questioned about the quarterbacks after daily camp practices. In no way, shape or form were the players going to say one sign was perform better than the other two … the QBs in question of course being redshirt sophomore Brice Ramsey, junior Faton Bauta and junior transfer Greyson Lambert.
[su_spacer size="40″] For example, here are some of the comments derived from the final practice sessions leading up to Game Week:
[su_spacer size="40″] Junior wide receiver Reggie Davis:
[su_spacer size="10″] "All of them are doing fine right now. This is a coach's decision. I like all of them right now."
[su_spacer size="40″] Redshirt sophomore tackle Aulden Bynum:
[su_spacer size="10″] "I don't really know. I'm looking the other way. My job is just to keep them on their feet. Most of the time we don't even know who's in there behind us. They all do good things. Whichever one we go with, we're going to be all right."
[su_spacer size="40″] Sophomore guard Dyshon Sims:
[su_spacer size="10″] "All of them are really good, obviously. All of them take a bunch of reps so I'm really comfortable with any one of them playing."
[su_spacer size="40″] Junior wide receiver Kenneth Towns:
[su_spacer size="10″] "We've got faith in any quarterback that goes out there.It's not my decision — it's Coach Schotty's decision but all of them will be great. (on Bauta having more running ability) That's his style but he has a great arm, too."
[su_spacer size="40″] Redshirt sophomore tight end Jordan Davis:
[su_spacer size="10″] "They've all got good attributes. All of them are doing well. I'm catching balls from all of them and they're looking great. All of them throw a good ball."
[su_spacer size="40″] But despite the players and Richt's penchant of not hinting at any kind of rotation between the three quarterbacks whatsoever, there have been signs of what the UGA offensive staff plans to do here at season's beginning.
[su_spacer size="40″] With Ramsey and Lambert each guiding the No. 1 offense for a quarter in this past Thursday's final scrimmage and Bauta playing only with the No. 2's, it appears that both Ramsey and Lambert will see action in Saturday's 12 noon opener. At least, that's as of Sunday night when this Game Week issue of Bulldawg Illustrated went to press.
[su_spacer size="40″] "We'll watch what happened today, and then I think we'll have to look at the total body of work from the beginning of camp and probably put a little more weight on what's happened of late and try to decide if it's time to nail it down or let's keep going," Richt said following the scrimmage. "I think that's going to be the decision. I don't think we're bent to say 100 percent we're going to name a starter after this thing. We'll either probably decide do we keep it going or do we make a decision and go with a guy. My gut is we'll keep going in some way, shape or form and it will probably roll into the game. There may be more than one guy playing. If it was today, my feeling would be I'd probably play more than one guy."
[su_spacer size="40″] Richt did make it a point to emphasize that Bauta is still right in the three-man race. "Everybody is still being evaluated," he said. "Our twos are getting to the point where they function pretty good. Even the twos versus the one defense, they had success. Faton moved them, and they did legitimately score a touchdown. They had a long touchdown drive with Faton leading it, so there was a lot of good evaluation on Faton as well."
[su_spacer size="40″] What Richt was willing to do the day before the final scrimmage, as requested by Bulldawg Illustrated, was to break down the positive attributes of each of his signal-callers. Here is what the coach said on Greyson Lambert, the 6-5 transfer from Virginia:
[su_spacer size="40″] "Lambert's tall," Richt mused.
[su_spacer size="20″] "I'll say this, a lot of y'all might have been out there when he started throwing it Day 1, and I got a little nervous for a minute there because he struggled. I think he was nervous; maybe had a little nervous energy but he's throwing the ball well as far as fundamentally. I'd say for the amount of time he's been here and been in the system, he's really done a good job of learning what to do and got himself in the competition. If he was slow process guy and a high rep guy, couldn't figure things out, it would be hard for him to be in the race. I think he's done a good job with that."
[su_spacer size="40″] On Brice Ramsey:
[su_spacer size="10″] "Brice has a live arm and good athleticism, but he has really improved his preparation skills. Starting in the spring I saw a difference with him, and I think that had a lot to do with him thinking, 'Hey, I'm in this thing.' I don't know if he was mature enough before to really be preparing for the moment because he was like 'Well, it's Hutson's (Mason) job.' At least I saw that. But I saw a big difference in the spring and how he's prepared."
[su_spacer size="40″] And, on Faton Bauta:
[su_spacer size="10″] "Faton is a preparation machine. He may be the hardest-working guy I've ever seen. He really cares about his team, his teammates and he really cares about making people better around him. He's probably made the least amount of mistakes than anybody out there. He's been very good about having a good purpose every time he throws the ball. That's what I appreciate about him."
[su_spacer size="40″] So, we'll all see which quarterback takes the bull by the horns in the first two games against La-Monroe and the Vanderbilt Commodores … which QB doesn't turn the ball over, is on target with his passes and runs this Nick Chubb-led offense in the most efficient manner possible. Then, when the ol' ball coach and South Carolina rolls between the hedges in game No. 3, all Bulldawg Nation will know whose Georgia's 2015 starting quarterback will be.
[su_spacer size="40″] For more articles like this, including player and fan photos as well as videos, check out Bulldawg Illustrated's 2015 Season Opener digital issue:
[su_spacer size="40″]
Bulldawg Illustrated