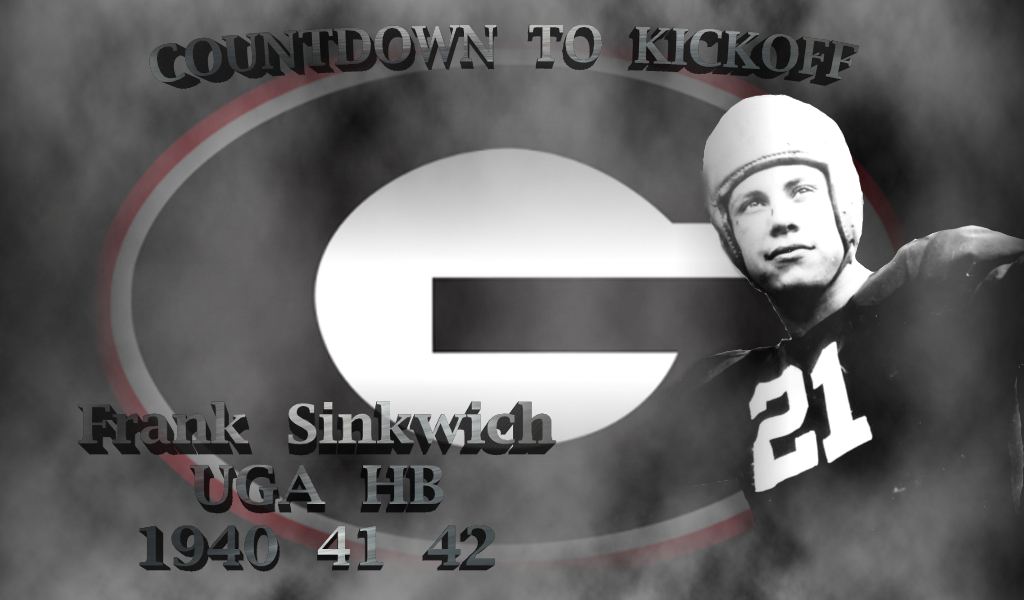 We have arrived at just 3 weeks to go on Countdown to Kickoff 2016, and the No. 21, to none other than "Flat Foot Frankie" the legendary Frank Sinkwich. By the way, you'll learn later on down the reason behind the nickname. He played at half-back for the Dawgs varsity football team in 1940, 1941, and 1942 for Coach Wally Butts. During his career at UGA, the fleet and flat footed Sinkwich rushed for 2,271 yards and 30 touchdowns. He also passed for 2,331 yards and 30 yards through the air.


Sinkwich was not only light on his feet, but he was also as tough as nails and then some. Early on during Georgia's 1941 season, he broke his jaw; so, he played the remainder of the season from the 3rd game on with his jaw wired shut and a large "jaw protector" on his helmet. In fact, his jaw was still broken and wired shut when the Dawgs received their first bowl bid to the 1942 Orange Bowl versus TCU. To this day, many believe that Sinkwich's bowl performance against TCU was one of the greatest of all time in Orange Bowl history. He helped lead UGA to a 40-26 win over the Horned Frogs by rushing for 139 yards on the ground and passing 243 yards through the air, scoring 3 touchdowns to help seal the victory.


He would again show his tenacity and toughness during the 1943 Rose Bowl where he played on two sprained ankles. He along with Charlie Trippi helped the Dawgs to a 9-0 win over UCLA, with the lone touchdown of the bowl game being scored by Sinkwich.


Frank Sinkwich was named an All-American and All-SEC in 1941 and 1942. He is the University of Georgia's first Heisman Trophy Award winner, which he earned for his performance during the 1942 season. He is also one of only four players in the history of University of Georgia football to have his jersey number retired. Which for some of you younger pups who might not know, is the reason why you haven't probably ever seen a player don that good 'ole No.21 in the modern era here at the University of Georgia.




After graduating with a Bachelor of Science in Education degree from Georgia, Sinkwich joined the United States Marine Corps but was medically discharged due to his flat feet. He entered the 1943 NFL Draft and was selected by the Detroit Lions first overall where he was an All-Pro in 1943 and 1944 and NFL MVP in 1944. He was accepted into the United States Army Air Force after the Lion's 1944 season and played football for the US Armed Forces on the 2nd Air Force Service team. Unfortunately, Sinkwich suffered a knee injury in 1945 that would eventually lead to the end of his football playing career after the 1947 season.


Frank Sinkwich was inducted into the National College Football Hall of Fame in 1954 and the State of Georgia Sports Hall of fame in 1964. He was inducted as a member of the University of Georgia Circle of Honor in 1996 posthumously after his death in 1990. Sometimes, though, I swear when the light is just right on an evening in Sanford Stadium, you can almost catch a glimpse, a twinge if you will, of No. 21 juking and jiving, dancing left and right, and performing heroic feats between the hedges.