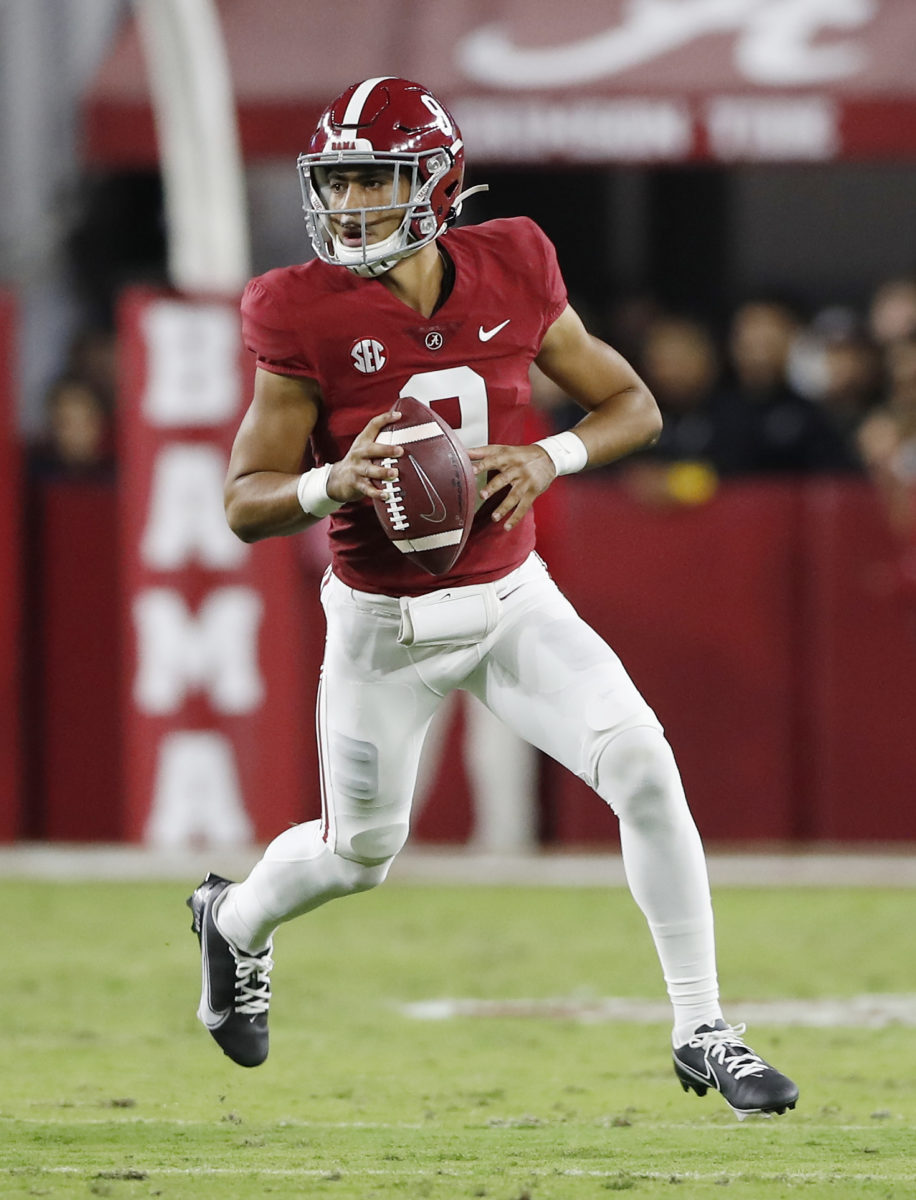 PETE GOLDING (DEFENSIVE COORDINATOR) – Golding is now in his third year as Alabama's defensive coordinator. While he has a lot of talent on that side of the ball it has not been all smooth sailing. Alabama gave up 41 points to Texas A&M and 35 points to Arkansas. It will be interesting to see how his scheme stacks up against Todd Monken's creative play-calling for Georgia. Alabama's defense ranks eighth nationally in total defense, so even though they have not always been stout, they should not be underestimated.
BRYCE YOUNG (QB #9) – Young is coming off his worst game of the season in a near loss against Auburn but overall he's had a terrific first season starting. With almost 4,000 yards passing this season and 38 touchdowns to just three interceptions, he is undoubtedly the best quarterback Georgia has faced this year. The key to stopping Young seems to be bringing pressure, so look for the Dawgs to do a lot of that.
BRIAN ROBINSON JR. (RB #4) – Robinson is a very physical back so the Georgia defense will need to be sound in the tackling department. Unlike Georgia, the Tide do not rotate running backs as much. Robinson has over 1,000 rushing yards on the season with 14 touchdowns as well. It appeared Robinson was a little banged up at the end of the Iron Bowl, so it will be interesting to see what coach Saban says about Robinson in practice this week.
JAMISON WILLIAMS (WR #1) – Williams has proved to be the best pickup from the transfer portal this past offseason. After coming from Ohio State, Williams has been a tremendous spark for the Tide, and has created one of the best receiver duos in college football between himself and John Metchie. Williams is a big-play threat and can stretch the field vertically with 13 touchdowns on the year. Georgia's secondary has to keep him in check if they want to win.
EVAN NEAL (OL #73) – Neal could be the first offensive lineman taken in the 2022 NFL Draft. He's a physical freak at 6-foot-7, 350 pounds. He will have to matchup against a defensive line that most consider the best in the country. Alabama's interior offensive line was shaky against Auburn, so Neal will definitely need to hold his own on the edge against Nolan Smith and Robert Beal.
WILL ANDERSON JR. (LB #31) – If you look up "modern edge rusher" in a football dictionary, you would see a picture of Will Anderson Jr. His strength and speed off the edge is elite and are contributing factors to his 14.5 sacks this season. He also has 86 tackles, including 30.5 tackles for loss. He has the potential to be a game-wrecker and is the type of player that can ruin a drive in just a few seconds. Georgia's offensive line will need to know where #31 is at all times.