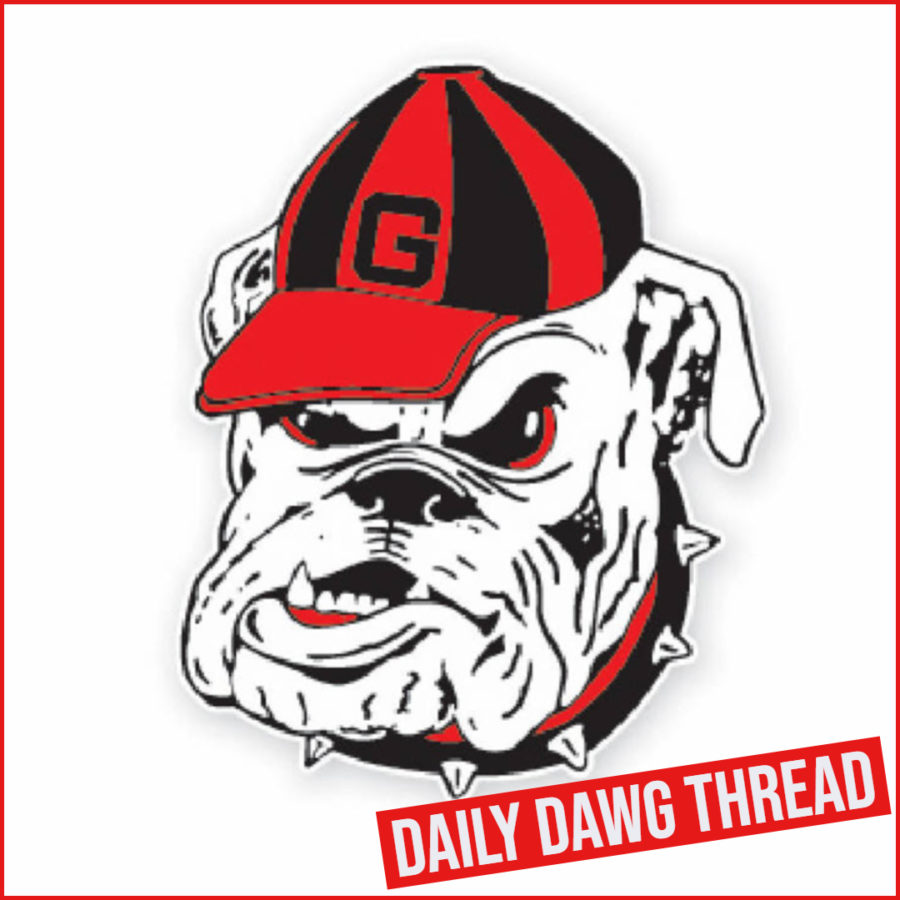 Daily Dawg Thread – 14May2019 – Class Of 2020 4-Star OG Sedrick Van Pran – By Matthew Hall
The beginning of the week was ushered in a via a positive way for UGA Head Coach Kirby Smart, Offensive Line Coach Sam Pittman, the rest of the Dawgs' coaching staff, and the faithful of the "Bulldog Nation". On Monday morning the Dawgs received a commitment from Class of 2020 4-Star OT Tate Ratledge of Darlington High School in Rome, Georgia. With his commitment the Georgia Football program now has 9 overall commits for the Class of 2020 and have made a leap to the #5 overall slot of recruiting classes per 247Sports Composite Rankings. It should further be noted here that UGA is the only program within the top 5 that possesses less than 14 commitments in total.
With Ratledge now in the fold of the "Great Wall Of Georgia" of offensive linemen that is being compiled within the Class of 2020, Georgia O-Line Coach Sam Pittman is still not sitting on his heels. His presence and relationship are some of the main factors as to why Ratledge chose to commit to Georgia over Tennessee even with his and his family's statuses of being lifelong fans of the Volunteers. As so, Pittman notches another major target under his belt of the massive and athletic offensive linemen that he has been able to reel in to play for the Dawgs in Athens and further solidifies himself as a major player in the world of recruiting elite prospects.
Even as Ratledge was getting prepared to commit on Monday morning, Pittman was a visitor to Lithonia to check in on Class of 2020 5-Star UGA Commit Broderick Jones who is another recruiting victory attached to the offensive line coach. He will also purportedly be traveling on Tuesday to the bayou lands of New Orleans, Louisiana, to visit another recruiting target of the Georgia Football program that could become a member of the Dawgs' "Great Wall". That target set in his sights is Class of 2020 4-Star OG Sedrick Van Pran of Warren Easton High School in New Orleans.
Van Pran is currently rated the #2 overall offensive guard in the nation and the #3 overall player in the state of Louisiana for the Class of 2020 per 247Sports Comosite Rankings. Van Pran is a unique offensive line player. Highly emphasized as one of the best centers of the Class of 2020, the Louisiana product can also shift around and play other spots on the line. This is one of the most important factors in Pittman's scope of the New Orleans lineman. Van Pran has stated that Pittman has taken part in discussions about his versatility with him in the past and that the Georgia O-Line coach was very interested in having him play for the Dawgs in the future.

"Coach Pittman thinks that I can be a heck of a center. But also he does like the fact he can throw me elsewhere on the line. He kind of likes me because I have the ability to snap the ball but he kind of wants to use me as a Swiss Army Knife wherever he can use me and plug me in along the future.

Class Of 2020 4-Star OG Sedrick Van Pran Via DawgNation
Sedrick Van Pran possesses a nice stature and frame standing in at 6-4 and 305 pounds. As previously aforementioned, he is very versatile having the ability to play center and other spots on the line. He has been a visitor to Athens on more than one occasion and has been a target for the Dawgs for some time now.
The 4-Star target has stated that his most recent visit to Athens was both "amazing" and "eye-opening". He has let it be known that he initially believed that other programs wanted him more than Georgia did as it seemed to him that they were recruiting him harder. After his most recent visit to "The Classic City", that mindset and mode of thinking changed as he said that Georgia was very acute to details with everything surrounding the elite offensive line target (even his style of music choice). If Pittman and the Dawgs are going to land this O-Line target and add him to the "Great Wall" of Georgia, they will have to do so over a number of other Power 5 programs that have been actively courting and pursuing him. Van Pran currently has 21 offers including ones from Alabama, Auburn, Florida, and Oklahoma among others. Could Sedrick Van Pran be the next offensive lineman to "Commit To The G" and play for the Dawgs? If Sam Pittman has anything to do with it, Van Pran could very easily be suiting it up in the "Red and Black" on Saturdays "Between The Hedges" in the near future. With that said, stay tuned to find out and Go Dawgs!!!