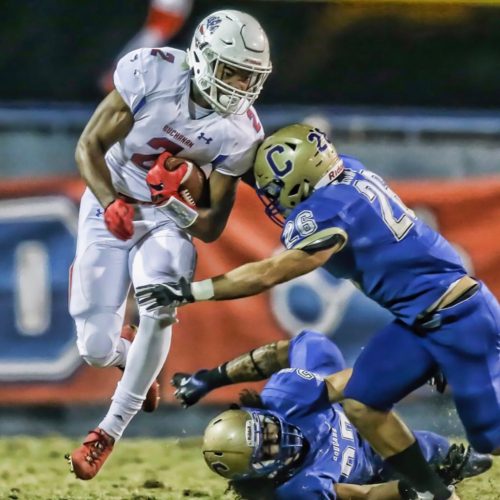 Daily Dawg Thread
TODAY'S FEATURED PROSPECT
Kendall Milton is a five-star 2020 running back from Clovis, California. He's 6-2 210 pounds and runs 4.5 forty-yard dash. According to the latest 2020 247Sports Composite rankings, he ranks as the No. 12 overall player, the No. 2 RB and the No. 4 player in California. Milton currently holds 41 offers as a junior and will be one of the most sought-after prospects for the 2020 class. The latest to offer him was Auburn.
Last season, Milton ran it 175 times for 1,514 yards and 23 touchdowns. This year the Buchanan Bears are 6-2 on the season. Milton leads the team with 103 carries for 697 yards and 16 touchdowns. He averages 6.8 yards a carry and has had four 100+ yard games.
Milton plans on enrolling early and to have his decision made before his senior year starts. On July 9, he released a top-10. Those top ten schools are Georgia, Alabama, Fresno State, Flordia State, Miami, Ohio State, Oklahoma, Penn State, Texas, and USC. There still is a long way to go before he makes his decision, but at this moment, Georgia has a great shot at landing one of the top backs yet again.
Kendall Milton Interview
Q: What's the football atmosphere like in Cali?
A: "It's a lot different. There's a lot of things to do out here and not everybody has the same interests in sports. Some people like other things. Football is a thing that a select group of people that are into but the people who do play are serious about it."
Q: Have you taken any visits since we spoke last?
A: "The only visits I've taken is Fresno State because it's right down the street. They played  UCLA. I'm planning on making it to the other side of the country in January where I  hopefully make a big game. "
Q: What are your thoughts on Georgia?
A: "I  love Georgia and the program and football tradition. Coach McGee and Coach Smart are both great dudes and have had some great conversations. I  have nothing but love for Georgia." 
Q: Which SEC Schools talk to you the most?
A: "Right now with SEC school and reach out the most are Georgia, Tennessee, Alabama, Florida, and Mississippi State. Those are the ones who reach out the most."
Q: Do you have a Timeline of when you will make your decision?
A: "Right now I'm weighing out my options. After the season I  want to be able to take all my unofficial visits and see all the schools and narrow down from there. Establish a top five and take all my official visits during the spring and then late in the summer I  want to be able to make that commitment and enjoy my senior year."
Q: What are some of your key factors?
A: "Playing time is a big thing. I  want  to be one of those athletes that are able to go into the league in three years and not have to do that extra year. So getting those extra stats and extra playing time that helps with that. I  also want to go to a school that has a strong business program because I  want to major in business and finance. That would help if a school had great experience in that. And how the alumni base and how the school takes care of its athletes after football is all done." 
Q:  Has Coach McGee gotten to come to see you play or visit you yet?
A: "Last year toward the end of my sophomore year, he came out and saw me work out.  We had a good talk and a good visit. But he did tell me he's coming for the last game of the season. "
Q: Well, what does Dell McGee think of you?
A: "He said I  have a very different running style than Chubb did and Sony did. So he said that I  would be one of those backs that's a special type of back that would be able to fit in their offense."
Q: What would it mean to you to play in the SEC
A: "It would mean a lot going to a conference that produces a lot of the top running backs in the NFL right now. Especially since they have that reputation for producing lots of running backs and developing them as young bucks you know that strong NFL talent. It would mean a lot to go down as one of those players."
Q: What's it like being a top prospect in the country?
A: "It feels great but at the same time  you have to stay humble because all of this can be taken away real fast. So it motivates me to keep working hard, stay true to myself and keep balling."
Q: What are your views on competition?
A: "I  love competition and love being able to battle with the man next to me. Him making me better and me making him better. So competition is a big thing for me."
Kendall Milton Film
---