Today's Contents – Click to Read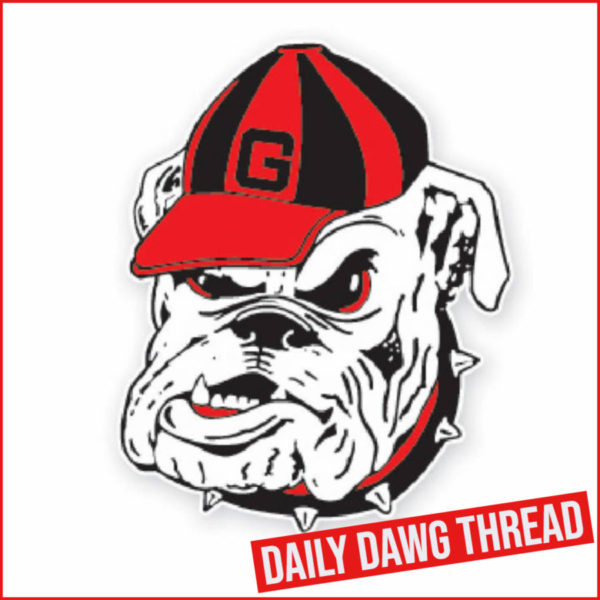 ---
BASEBALL: Georgia Falls Sunday, Wins Series
Alabama avoided a Bulldog series sweep by posting a 3-0 win over 18th-ranked Georgia Sunday in front of a crowd of 3,129 at Sewell-Thomas Stadium.
In the series, Georgia's starting pitchers combined to toss 13.2 scoreless innings before allowing a run Sunday. Senior first baseman Drew Williams led off the fourth with a solo home run to give Alabama its first lead of the series. His seventh home run of the year put the Crimson Tide up 1-0. In the fifth, Andrew Pinckney collected his third hit of the afternoon, a two-out, two-run shot to make it 3-0. Georgia had won seven straight in the series.
Bulldog sophomore left-hander Liam Sullivan provided 5.2 innings, allowing three runs on seven hits with no walks and six strikeouts in the loss to fall to 3-2. Alabama starter Grayson Hitt (4-1) earned the win, tossing six scoreless frames with seven strikeouts. Alabama improved to 24-17 overall and 9-8 in the SEC.
"We got quality starts from all three of our starters in the series, and they gave us a chance to win, and today, it was just two pitches that left the park and that was the difference," said Georgia's Ike Cousins head baseball coach Scott Stricklin. "The pitching the entire weekend was very encouraging. Your goal is to win every series, and obviously you want to win every game you play. Realistically, it's to win every series especially on the road. We came in today with a chance to sweep. It's disappointing to lose but I thought they pitched really well. They won the battle today, and we won the war."
Will Pearson got the final out of the sixth and then Davis Rokose took care of the next 1.2 innings with Max DeJong getting the last out of the eighth for the Bulldogs. Meanwhile, Brock Guffey and Dillon Ray handled the final three frames for the Crimson Tide. Ray picked up his fifth save.
In the series, the Bulldogs (28-12, 11-7 SEC) allowed just five runs, and they all came on home runs, three solo and a two-run shot. Also of note, Georgia scored in just two of 27 innings and still won the series. On Friday, they scored four runs in the first in a 4-2 victory and three in the third inning of a 3-0 shutout.
Georgia will return to action Tuesday when it plays host to Georgia State. First pitch will be at 6:02 p.m., and it will be available on SECN+ and the Georgia Bulldog Sports Network.
Today's Contents – Click to Read
---
SOFTBALL: LSU Gets a Sunday Win, Takes Series
The 21st-ranked LSU Tigers came back to win Sunday's series finale over No. 14/13 Georgia 9-5 in eight innings at Jack Turner Stadium.
This is only Georgia's second SEC series loss this season. The Bulldogs fall to 37-11 and 10-8 in conference play.
A trio of Bulldogs recorded two hits each in the contest including Sara Mosley, Lacey Fincher, and Aniyah Black. Ellie Armistead and Black each knocked two-run home runs for the Dogs.
With two homers on Sunday, Georgia has hit 87 on the season. That number ranks fifth-most all-time in program history. The record, set in 2010, is 99.
Madison Kerpics (16-5) suffered the loss in her start. Kerpics pitched a career-long 7.2 innings, allowing all nine runs. Britton Rogers worked a third of an inning out of the pen.
The Bulldogs broke through with a five spot in the bottom of the second. A pair of two-run home runs from Black and Armistead at the bottom of the order put Georgia ahead 4-0. Mosley's hot hitting continued when she drove in fellow junior Sydney Kuma with a base hit back up the middle to widen the lead to 5-0 after two innings.
LSU (30-17, 10-8) responded with a grand slam from Georgia Clark in the top of the third to slice Georgia's lead to one, 5-4.
The 5-4 score held as the game went to the seventh inning.
Kerpics retired 10-straight Tigers into the top of the seventh until a one-out hit and an error in center put the tying run on second. A stolen base and a single back up the middle knotted the game at 5-5.
Georgia was retired in order in the seventh to send the game to extra innings.
LSU pushed four runs across in the top of their eighth to go ahead 9-5 in the finale.
UGA put a pair of two-out runners on in the bottom of the inning but the final out comeback attempt was cut short as the Bulldogs fell 9-5.
Georgia's five-game homestand will wrap up with the final midweek game of the season Wednesday evening when Furman comes to town. The first pitch at Jack Turner Stadium is set for 6 p.m.
Head Coach Tony Baldwin
On Sunday's game…
"I thought it was a great game. I thought Madison [Kerpics] fought really valiantly in the circle and gave us the opportunity to win the game. We got off to a fast start and then after that we didn't win enough of the chances to take control of the game. We didn't have good enough at-bats with runners in scoring position. There were a couple of opportunities for us to extend our lead and then we didn't come up with a couple of plays that weren't easy plays, but they are plays that if you make them, they can change the outcome of the game. I thought the difference in the game was LSU's small ball. I thought their ability to play the bunt game and slap game created some challenges for our defense. I thought it was a great weekend – I am really proud of the way we competed, and we will get back to work this week."
Today's Contents – Click to Read
---
WTENNIS: Dawgs Lose in SEC Final, NCAA Tournament Next
The 14th-ranked University of Georgia women's tennis team fell to the sixth-ranked Texas A&M Aggies 4-0 Sunday afternoon, in the finals of the 2022 Southeastern Conference women's tennis tournament. Junior Ania Hertel and freshman Mell Reasco earned All-SEC Tournament team honors.
Reasco, a native of Quito, Ecuador, went 2-0 in singles over the tournament with wins over No. 5 Sarah Hamner and No. 34 Rebeka Mertena at the top spot, while Hertel, a native of Warsaw, Poland, went 2-0 with wins over Misa Malkin and Daria Kuczer at the No. 5 spot.
"We wanted to leave it all out there this whole week and I think we did just that," said Georgia associate head coach Drake Bernstein. "I think we showed a lot about who we are as a team and we're excited to carry some momentum into the NCAA tournament."
In doubles, Texas A&M (30-1, 13-0 SEC) swept Georgia (17-6, 10-3 SEC). The duo of Meg Kowalski and Mell Reasco dropped the first match of the day to No. 47 Carson Branstine and Mary Stoiana 6-3. After taking a 4-1 lead on court one, No. 14 Morgan Coppoc and Ania Hertel fell to No. 3 Jayci Goldsmith and Tatiana Makarova 6-4. The freshmen duo of Mai Nirundorn and Dasha Vidmanova went unfinished 6-5 after being down 4-1.
In singles play, No. 24 Reasco took the first set in dominating fashion over No. 15 Carson Branstine 6-1. The match would go unfinished in the third set. Hertel and Nirundorn also forced third sets. After dropping the first set 6-4, Hertel responded with a 6-4 second set. Nirundorn dropped the first set 6-2 before rallying back to win the second set 6-3.
No. 120 Kowalski fell to Jayci Goldsmith in straight sets 6-2, 6-1, while No. 84 Vidmanova lost to No. 20 Tatiana Makarova 6-2, 6-3. The Aggies clinched the match on court three, with a 6-2, 6-2 win over Morgan Coppoc.
Up next, The first and second rounds of the NCAA Tournament on Friday through Sunday, May 6-8.
Today's Contents – Click to Read
---
Jump To Comments