Jump To Top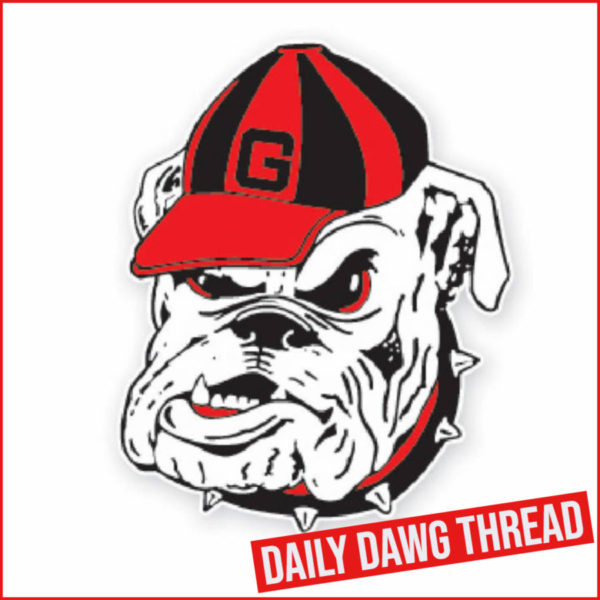 Darnell Washington selected by Pittsburgh Steelers
Watch a fullscreen slideshow
HERE.
The University of Georgia had one player taken during the second and third rounds of the 2023 NFL Draft Thursday outside of Union Station, giving the Bulldogs a total of four players over two days of selections.
With the 93rd, the Pittsburgh Steelers selected tight end Darnell Washington. Georgia has now had a tight end drafted in five consecutive drafts – the only school to do so in the previous five years. Washington will join teammate Broderick Jones who was selected by Pittsburgh in the first round. Jones and Washington mark the second and third Bulldogs to be taken by the Steelers in the last two drafts and the 19th and 20th Georgia players to be taken by Pittsburgh since 1948.
Washington, a native of Las Vegas, Nevada, provided one of the country's most unique combinations of catching ability and blocking prowess to become a 2023 Mackey Award semifinalist. The 6-foot-7 tight end hauled in 28 catches for 454 yards and two touchdowns last season. Washington also acted as a sixth lineman for the Bulldog offense that averaged 41.1 points per game in 2022 (fourth nationally) and helped spring the team's top two running backs for more than a combined 1,600 yards. For his career, Washington had 44 catches for 765 yards in three seasons.
The NFL Draft continues on Saturday with rounds 4-7 slated to begin at 12 p.m.
---
Baseball: Georgia falls to Ole Miss in series opener
Ole Miss posted a 7-3 win over Georgia Friday in front of a crowd of 9,788 at Swayze Field.
In the seventh, Ole Miss second baseman Peyton Chatagnier broke a 3-3 tie with a solo home run and the Rebels (21-21, 3-16 SEC) added three insurance runs in the eighth for the final.
For the second straight game, Georgia (23-19, 7-12 SEC) missed numerous opportunities for a big inning and finished 2-15 with runners in scoring position. The Rebels walked eight and struck out 14 as the Bulldog stranded 12 on the night. On Tuesday, Georgia was 2-for-14 with runners in scoring position in a loss to Georgia State.
"We had guys in scoring position all night long, and we couldn't get the big hit to break it open," said Georgia's Ike Cousins head baseball coach Scott Stricklin. Their first baseman (Anthony) Calarco made a great play in one inning to keep us from a big inning. Bottom line, we didn't play well enough to win. We made a couple errors, bobbled a few others and could've have had four or even five errors and just didn't play very clean. I thought Luke Wagner pitched well enough to get the win. He gave us a chance coming in from Kolten (Smith) in the fourth."
The Bulldog took a 2-0 lead in the second inning as Mason LaPlante and Ben Anderson collected an RBI apiece. The Rebels tied the game in the third as freshman Kolten Smith issued a pair of walks to start the bottom of the inning and Ole Miss registered a pair of stolen bases, a throwing error and a sacrifice fly by Jacob Gonzales and a run-scoring single by Ethan Lege. Ole Miss had a chance for more as Kemp Alderman laced a ball to the hot corner that third baseman Will David snagged a threw to second to complete an inning-ending double play. In the bottom of the fourth, Georgia turned to Wagner. In the sixth, Georgia tied the game on a run-scoring double by Fernando Gonzalez. Georgia loaded the bases with one out but Rebel reliever Brayden Jones got Charlie Condon to bounce into a double play to keep it a tie contest.
Wagner (1-3) had allowed just two runs in four innings of work before leaving with the bases loaded in the eighth. Dalton Rhadans finished the game for the Bulldogs but not before the Rebels stretched their lead to 7-3. Ole Miss right-hander Mason Nichols picked up a win to even his record at 3-3 while Jack Doughtery pitched two scoreless frames with five strikeouts for this second save. Georgia turned three double plays on the night while the Rebles turned two.
Graduate Connor Tate finished 3-for-4 as the Bulldogs finished with nine hits.
Game two of the series will be Saturday, and it has been moved up to a 1 p.m. ET start. The game will be available on SEC Network+ and the Georgia Bulldog Sports Network. 
Box Score
---
T&F: Georgia travels to Baton Rouge for LSU Invitational
A mixture of 33 competitors are slated to make the trip to preview the facility that will also serve as the spot for this year's Southeastern Conference Outdoor Championships on May 11-13.
Latest Rankings: The Georgia women are ranked eighth in the latest U.S. Track & Field and Cross Country Coaches Association (USTFCCCA) national rankings while the Bulldog men are holding down the 12th spot.
When Do The Bulldogs Start Competition? Ana da Silva, Elsie Igberaese and Mia Anderson will start the action on Saturday at 11:30 a.m. ET. Georgia is entered in the women's 4×100-meter relay at 2:30 p.m., which would mark UGA's first event on the track. Bella Witt is the first individual scheduled to run for Georgia in the 100m hurdles at 4 p.m.
Live Results: http://gado.gs/ahk
Bulldogs Competing: In addition to those listed above, Charlotte Augenstein, Aaliyah Butler, Kenondra Davis, Julia Harisay, Kaila Jackson, Elena Kulichenko, Titiana Marsh, Madison McConico, Erin McMeniman, Dominique Mustin, Brandee Presley, Mikeisha Welcome and Autumn Wilson are expected to compete for the Lady Bulldogs.
Gavin Beverage, Keshaun Black, Matthew Boling, Caleb Cavanaugh, Alejandro Collins, Johannes Erm, Kyle Garland, Elija Godwin, Marc Minichello, Christopher Morales Williams, Clay Pender, Alencar Pereira, Alon Rogow, Will Sumner, Zack Truitt and Nikolai van Huyssteen are entered for the men.
Last Time In Baton Rouge: It has been 13 years since Georgia competed in Baton Rouge during that year's SEC Outdoor Championships. The Bulldog men scored 109 points to finish third while the Lady Bulldogs piled up 108 points for fourth. Both performances were bolstered by six individual conference titles and nine runner-up finishes.
Here were the men's highlights at that meet:
Bahamian Aaron Evans (1:49.61) edged Arkansas' Leoman Momoh (1:49.67) for the 800m crown.
Matt Cleaver grabbed top honors in the 3000m steeplechase while also scoring in the 5000m.
The late great Torrin Lawrence ran a 45.55 for silver medal honors in the 400m.
Brandon Lord earned runner-up honors in the 5000m.
Caleb Whitener started his series with what would end up as the meet's second-best shot put mark.
Continuing the trend, Justin Welch was second in the hammer throw after working up to his best effort on his fifth try.
Another second-place finish came from the Bulldogs in the 4x100m relay on a team that featured football receiver Justin Scott-Wesley.
Here were the women's highlights at that meet:
Competing in her home state, Morgann Leleux snatched the SEC title in the pole vault thanks to earlier misses from her nearest competitor.
During her span of three conference championships, Nikola Lomnicka blasted the competition in the hammer throw for first place.
Allison Updike continued Georgia's strong showing in the throws as she won the SEC javelin title as a freshman.
Kristie Krueger collected a gold medal in the 10,000m after being the only competitor to break 35:00.
Saniel Atkinson reached 6 feet in the high jump to snag a silver medal while also scoring in the triple jump.
Colleen Felix was one of three scorers in the triple jump, thanks to a sixth attempt that gave her second. Felix completed a rare double feat, scoring in the triple and the javelin.
Hilenn James allowed only one competitor to finish ahead of her in the shot put and the discus.
Next Up: Following the conference meet during the second weekend of May, the NCAA East Prelims will arrive in Jacksonville, Fla., on May 24-27, Georgia's qualified teammates will then travel to Austin, Texas, prior to the NCAA Championships (June 7-10).
---
Jump To Comments