Today's Contents – Click to Read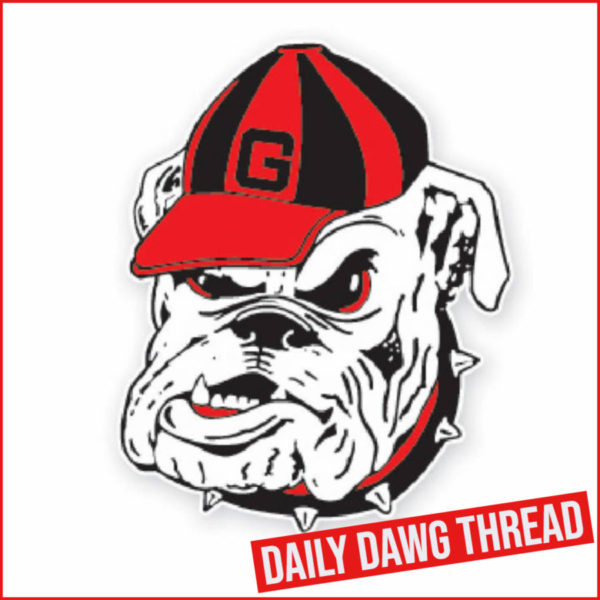 ---
Jarryd Wallace Running for Paralympic Glory
Jarryd Wallace, a Georgia alumnus, takes aim at Paralympic glory when he competes in the 100-meter and 200m races starting Sunday at the 2020 Paralympic Games.
This year, he ran a world-best time of 10.99 in the 100m at the U.S. Trials. Wallace, who is a four-time world record holder and three-time world champion in various races, will be competing in his third Paralympic Games. He finished fifth in the 100m in Rio in 2016 and sixth in the 400m in London in 2012.
The 100m prelims will be this Sunday at approximately 8:23 and 8:29 a.m. EST. The 100m final is slated for Monday, Aug. 30 at 7:43 a.m. EST. The 200m prelims will be Friday, Sept. 3rd at 10:28 or 10:34 p.m. EST. The 200m final is set for Saturday, Sept. 4 at 7:15 a.m. EST. All events are scheduled to be live on the NBC Sports App with additional coverage available on either NBCSN or NBCSHD.
Wallace, a graduate of Oconee High School and the University of Georgia, lives and trains in Athens with his wife Lea, and son, Levi. He is the son of Georgia women's tennis head coach Jeff Wallace and the former Sabina Horne who was an All-SEC distance runner for the Bulldogs.
Following a standout prep career which included state titles in the 800m and 1600m, Wallace enrolled at UGA and planned to run for the Bulldogs. Then, he was diagnosed with compartment syndrome in his right leg, a condition that causes decreased blood flow to the tissues. After numerous surgeries, he made the decision to have his leg amputated and then focused on competing as a Paralympian sprinter. He has run the 100m, 200m, 400m and been on relay teams. Along with his record-setting time in the 100m at this year's U.S. Trials, he qualified in the 200m after running a 23.55.
Off the track, Wallace has helped empower disabled athletes with his "Leg in Faith Foundation" that he started in 2012. Most recently, he is a part of Toyota USA's initiative to support Team USA's Paralympic athletes in Tokyo and the 2022 Paralympic Winter Games in Beijing.
Today's Contents – Click to Read
---
WBB: Non-Conference Schedule Announced
Eight home matchups, two road contests, and a Thanksgiving tournament will open the University of Georgia women's basketball team's 2021-22 non-conference schedule, head coach Joni Taylor announced Friday.

"Each year, it is our goal to build a strong non-conference schedule that will prepare our team for SEC play," Taylor said. "We have done that once again with some really great matchups against quality opponents. We are also excited about our new season ticket plan, and I encourage everyone to go ahead and purchase their tickets today. We can't wait to see you in The Steg!"

One-third of Georgia's non-conference schedule features four 2021 NCAA Tournament participants, with two Sweet Sixteen reaches. Also included are traditional national powerhouses in Notre Dame and Texas Tech.

Georgia will kick off the season with a four-game homestand on Thursday, Nov. 11 with a matchup against Gardner-Webb. During the run, the Lady Bulldogs will face Furman (Nov. 15), Mercer (Nov. 18) and Alabama State (Nov. 21) in the Classic City.

Georgia will trek to Daytona Beach, Florida from Nov. 26 through Nov. 27 to face off against the Fighting Irish and Marquette for a Thanksgiving tournament. The Lady Bulldogs will remain on the road to play at Texas Tech on Dec. 2, followed by two home games against Georgia Tech (Dec. 5) and North Florida (Dec. 8). Georgia will hit the road one last time for a matchup against defending ACC Champions NC State (Dec. 16) before returning to Stegeman Coliseum for its last two non-conference meetings against St. Francis (Dec. 19) and South Alabama (Dec.21).

Today's Contents – Click to Read
---
Today's Photo Gallery – Kearis Jackson
Career Highs
* 9 receptions vs. Auburn, 2020
* 147 receiving yards vs. Auburn, 2020
* Long catch of 49 yards vs. Auburn, 2019
* Long punt return of 52 yards vs. South Carolina, 2020
* Long KO return of 56 yards vs. Florida, 2020
2021: Pre-Season All-SEC Third Team as a return specialist, as voted by the league's 14 head coaches.
2020: Georgia's leading receiver, with 36 catches (tied with G. Pickens for team honors) for 514 yards and three TDs…also the Bulldogs' leading punt and kickoff returner…his career-best 52-yard punt return vs. South Carolina put him atop the SEC rankings in that category…set career highs in receptions (9), receiving yards (147) and long catch (49) in win over Auburn…four catches for 91 yards and a 21-yard TD catch vs. Tennessee…four receptions for 55 yards, including a 40-yard TD grab, vs. Miss. State…caught a team-best, six passes for 62 yards in season-opening win at Arkansas…also had a pair of punt returns for 34 yards, including a 19-yarder…named one of three student representatives on the UGA Athletics Board of Directors…also UGA's representative at the SEC Football Leadership Council…named one of three team captains for the Tennessee and Mississippi State games.
2019: Played in 11 of 14 games, with seven starts…had five catches for 79 yards…started the season opener at Vanderbilt and caught two passes 31 yards before leaving the game with a hand injury…also had two punt returns for 11 yards…missed three contests because of injury…had a 13-yard reception and a punt return of five yards vs. Missouri…caught one pass for 22 yards vs. Texas A&M.
2018: Saw action in four of 14 games…had one carry for six yards in the MTSU game…missed the season opener vs. Austin Peay due to injury…Enrolled at UGA in January of 2018 and participated in spring drills.
Source: georgiadogs.com
Watch a fullscreen slideshow
HERE
.
Click
HERE
for our mobile photo app.
Today's Contents – Click to Read
---
Jump To Comments