Jump To Top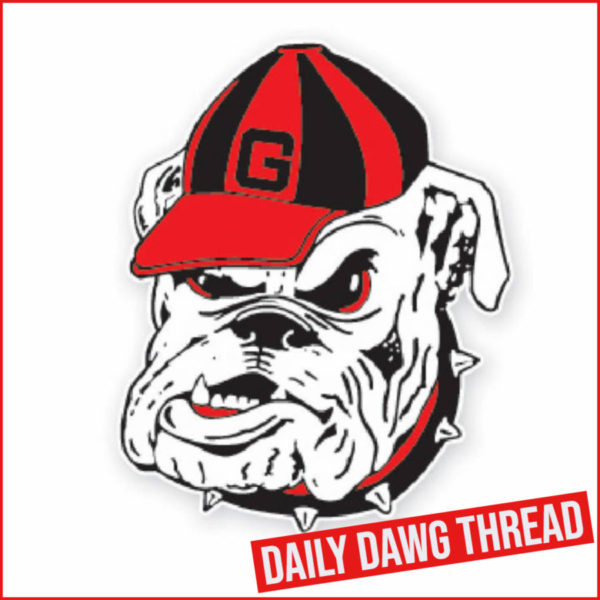 BASEBALL: Georgia vs. Princeton suspended in the top of the sixth inning
 The series opener featuring Georgia versus Princeton was suspended in the top of the sixth inning due to rain Friday at Foley Field. The Bulldogs lead 7-2.
Play will resume Saturday at 1 p.m., with game two of the series to follow 45 minutes after the completion of the opener. 
There will be no admission for the completion of the first game. However, Foley Field will be cleared once the series' opening game is final. Fans will need a Saturday ticket to attend game two of the series.  
Fans holding tickets for Sunday's action will be treated to a doubleheader. Sunday's action will begin at 11 a.m. The first game will be a seven-inning contest. If this game goes extra innings, then the final game of the series will be seven innings. If not, the series' final game will be a nine-inning contest.  
In Friday's action, three home runs highlighted the Bulldogs' offense to help build a 7-2 advantage. Redshirt freshman Charlie Condon picked up his first career home run in the second inning. Junior Corey Collins and graduate Connor Tate followed suit with homers of their own.
Junior Jaden Woods got the start for Georgia and registered a career-high 11 strikeouts over 4.2 innings in a planned split start. Freshman Jarvis Evans made his debut and allowed a pair of home runs in one inning of relief. Senior Pace Mercer came on for Evans with one on and two outs in the sixth when play was halted due to rain.
In the first, Georgia junior Parks Harber extended his hitting streak to nine games with a two-out single. Condon stepped into the box and blasted his first career home run to left center for a 2-0 lead. Collins smashed a solo shot in the second. With one out in the bottom of the third, Tate was hit by a pitch, stole second, and scored on a base hit by Condon for a 4-0 lead. 
A lead-off double from Cole Wagner bounced off the right field wall to start the Bulldogs' offense in the fourth. A flyout from Collins advanced Wagner to scoring position on third. With two outs, junior Sebastian Murillo sent a single to right field to score Wagner to make it 5-0.  
Princeton put a run on the board in the fifth as Noah Garnet hit a solo homer. Georgia answered with two runs. A double from graduate Ben Anderson set up Tate, who crushed his first home run of the season, the 28th of his career, over the left field wall to put the Bulldogs up 7-1. Princeton got a solo home run from Matt Scannell to close the gap to 7-2. 
---
SB: Dawgs run rule Hofstra, game two suspended
Watch a fullscreen slideshow
HERE.
The 17th-ranked Georgia softball team defeated the Hofstra Pride 8-0 in six innings to begin play at the 20th Annual Georgia Classic Friday at Jack Turner Stadium.
Georgia's second game of the day against California Baptist was suspended due to rain in the top of the fifth, with the Bulldogs leading 1-0. The game will resume Saturday at 12:30 p.m.
Saturday's updated schedule is as follows:
10 a.m. – CBU vs. Hofstra
12:30 p.m. – Resume CBU at Georgia
2 p.m. – CBU at Georgia
4:30 p.m. – Hofstra at Georgia
7 p.m. – Lipscomb vs. Hofstra
No. 17 Georgia 8, Hofstra 0 (6 inn.)
A pair of four-run innings in the fourth and sixth innings lifted Georgia to the 8-0 run rule win over Hofstra (0-7), the Bulldogs' first shutout of the season.
The Bulldogs scattered 10 hits led by two hits and two RBI each from juniors Sydney Chambley and Ellie Armistead.
Shelby Walters (4-1) pitched the six-inning complete game shutout. She allowed five hits and struck out one.
A leadoff walk followed by a double put two in scoring position for the Bulldogs in the fourth. Sydney Kuma sent a bounding base hit back up the middle to plate Jayda Kearney and out Georgia on the board, 1-0. A fielder's choice off the bat of Jaiden Fields scored the second run of the inning. Armistead laid down a squeeze bunt to score Fields then Goodnight flew out to center, deep enough for a sac fly to complete the four-run inning, 4-0.
Once again, Georgia found itself with two in scoring position in the sixth. Armistead's second RBI was a single to left, plating Kuma. Chambley drove in two on a double dropped down the left field line. She immediately came in to score the winning run on a single to center from Sara Mosley to complete the run rule, 8-0.
No. 17 Georgia 1, California Baptist 0 (suspended for weather)
Georgia led the Lancers of California Baptist 1-0 with one out in the top of the fifth inning before the game was suspended due to weather.
Each team scattered three hits in the game before it was suspended.
Kuma drew a one-out walk, then raced around the bases to score on a double to the wall in left off the bat of Fields to put Georgia ahead 1-0 in the second inning.
Georgia and CBU will resume Saturday at 12:30 p.m. The Bulldogs will square off against the Lancers (5-6) immediately following.
---
MBB: Georgia (16-12, 6-9 SEC) vs. Missouri (20-8, 8-7 SEC) at 1:00
Saturday, February 25 at 1:00 p.m. ET
Stegeman Coliseum (10,523) in Athens, Ga.
Series History: MIZ leads, 10-8
Last meeting: MIZ, 79-69, on March 5, 2022
Video: SEC Network (Dave Neal, pbp; Jon Sundvold, analyst)
Audio: Georgia Bulldogs Radio Network (WSB AM 750; SiriusXM: 386; SXM App: 976) (Scott Howard, pbp; Chuck Dowdle, analyst; Adam Gillespie, producer)
The Starting Five
• UGA is one victory shy of equaling the Dogs' most-ever regular-season wins at Stegeman Coliseum.
• UGA is 14-0 this season when holding its opponents to 70 or fewer points, including a 5-0 mark in SEC play.
• All 12 Dogs who have logged playing time this season are averaging double-digit minutes per game.
• Seven different Dogs have made double-digit 3s this season, the most since 8 did so in 1997-98.
• UGA's assist-to-TO ratio is up by +.26 since Thanksgiving, the best improvement by an SEC team during that span.
The Opening Tip
Georgia will host Missouri on Saturday at Stegeman Coliseum in a matinee matchup ripe with side festivities and storylines.
Prior to tipoff, Georgia will honor five players and four managers as part of "Senior Day." At halftime, the Bulldogs will welcome back roughly 65 former coaches, players and staff as part of lettermen's day.
Georgia is 16-12 overall and 6-9 in SEC play. The Bulldogs are 13-2 at Stegeman Coliseum this season. With two home games remaining, Georgia is: 1) one win shy of equaling the most regular-season victories ever at Stegeman; and 2) two Ws away from tying the most overall home wins (regular and post-season) in a single season at the arena.
Individually, Jailyn Ingram enters the 152nd game of his career a single point shy of reaching the 1,500-point plateau, while Justin Hill is five assists away from 300 passes-to-points in his career.
Keeping An Eye On: Entering Today's Game . . .
Jailyn Ingram is…
• 1 point from 1,500 for his career
Justin Hill is…
• 5 assists from 300 for his career
• 32 points from 1,000 for his career
Series History With Missouri
Despite a 5-2 edge for Georgia in games played in Athens, Missouri has a 10-8 advantage in the all-time series between the Bulldogs and the Tigers.
In last season's regular-season finale in Columbia, Braelen Bridges' 19-point outing led a trio of Bulldogs in double figures in a 79-69 loss to the Tigers.
Kario Oquendo added 17 points, and St. Louis native Aaron Cook chipped in 17.
Georgia raced to a 9-0 start and quickly pushed that margin to 16-2 with 16:02 left in the first half. The Bulldogs maintained a 14-point advantage at 35-21 at the 5:32 mark of the opening period.
Missouri gradually cut into that gap and eventually tied the game at 51-51 with 12:12 remaining. The Tigers then outscored Georgia 13-3 over the next 5:48.
In Missouri's most recent trip to Athens on Feb. 15, 2021, Georgia upset the No. 20/19 Tigers, 80-70, as five Bulldogs scored in double figures.
Justin Kier led Georgia with 16 points, followed by Toumani Camara with 15, Andrew Garcia with 13, Sahvir Wheeler with 12, and K.D. Johnson with 10.
After leading 37-33 lead at the break, Missouri scored the first nine points of the second stanza as the Tigers' advantage quickly bulged to 13 points.
The Bulldogs chipped away and never trailed again after going up 57-55 on a 3-pointer from P.J. Horne with 7:44 left.
Scouting The Tigers
Missouri reached the 20-win plateau on Tuesday night with a 66-64 victory over Mississippi State. With that overtime decision, the Tigers improved to 20-8 overall and 8-7 in SEC play.
First-year head coach Dennis Gates has Missouri positioned for an NCAA Tournament bid. The Tigers are seeded on the No. 7 and No. 10 seed lines in the latest bracketology projections by CBS and ESPN, respectively.
Kobe Brown leads Missouri with averages of 16.4 points and 6.0 rebounds. Among SEC leaders, he ranks No. 4 in scoring and No. 11 in rebounding, No. 3 in field goal percentage, No. 8 in free throw percentage, and No. 13 in steals.
Graduate transfers D'Moi Hodge and DeAndre Gholston also are scoring at a double-digit pace for the Tigers. Hodge, who previously played for Gates at Cleveland State, is averaging 13.8 ppg. Gholston, who has his diploma from Milwaukee, is contributing 10.0 ppg.
Head Coach Mike White Interview
On finishing the season strong…
"I'm just so thankful you're bringing up the next three games and not the previous couple. A tough week for the Bulldogs. Great opportunities are in front of us. They're all winnable, they're all losable. But our attention and focus is on Missouri and Senior Day. I'm sure it will be rocking in there tomorrow and we've had some success at home. We'll have to play well. We'll have to play better than we did on the road although I thought we did some good things the other day. Arkansas is obviously better than we are. I thought they played well, I really do. But I thought we did a lot of good things and I thought we played really hard in that one."
On preparing for Missouri…
"We took a day and we needed to take a day. I wish we could've taken a few days, and we've had a ton of travel here recently. We've gone really quick the last couple in an effort to get our legs back under us. Also, it's just that time of year where most teams in our league are a little quicker than they were in November or December. But we've gone hard. Our guys have competed at a high level. Missouri has our guys' attention. We have a tournament team coming in here tomorrow and a great opportunity if we play well."
On Missouri's strengths…
"Tempo, offense spread you. They play with a really high level of connection offensively and a high level of confidence. They share it, they space you. They're probably as good of a passing team as anyone in our league and they're willing. They seem to like to play with one another, and defensively, they do a good job of turning you over with some changing defenses. They play really hard as do teams like them that are slated to go to the NCAA Tournament. They've got a good team."
On closing out the season strong…
"We're promised four more opportunities, that's it. It could turn into five or six depending on how we perform. Again, they're all winnable or all losable at the same time. They're SEC opponents. We could finish with 16 wins or there's some other options there depending on how we play. We're just not huge in talking big picture. We spend too much time talking about that then we haven't done a great job in preparing for a really good Missouri team."
On Missouri's Kobe Brown…
"I told our guys today because I've seen it live. Just like I said about Oscar (Tshiebwe), 'If some of you guys played against Oscar, I don't care what he's listed at, he's stronger than that.' Kobe is listed at 250-ish. Guys bounce off him. He's as strong as anyone we'll play, pound-for-pound. Incredibly skilled, good defender, competitor, but offensively, they'll play him at the five or the four. He's a problem, at the elbows, as a passer, in the post, shooting the three. He's just developed. He's one of those guys that you watch year-in and year-out and you say to yourself, 'He must really, really work and it must be really important to him,' because he's just gotten better and better each year."
On the last two results showing a gap in SEC teams…
"We're not there. We're just not. If some things went in a different direction in terms of just going in there and shooting the heck out of it, them missing some for us, it could've been more competitive for us. Arkansas, with Nick Smith back and playing the way he played against us, they can beat anybody in the country. I think you've got a few teams in our league that potentially could get to a Final Four and they're one of them."
On coaching the senior class…
"We inherited three of the seniors. I'm proud of their growth and their development and their buy-in. All of those guys have gone through a process of 'New coach, this isn't what I signed up for,' ups and downs, but playing well at the end of it and practicing hard and having a great attitude. None of those guys had an average practice today. It's important to them. I'm proud of Braelen Bridges, he's come a long way. Jaxon Etter is as good of a culture guy as I've ever coached. Jailyn Ingram, he's in the one-percentile of having to overcome what he's had to overcome in his collegiate career. He's diving for loose balls and coming to work every day. I'm sure his body doesn't feel as good as these 18, 19-year-olds in our league, but I'm proud of those guys and anxious for them to have the opportunity to be recognized tomorrow in front of our fans."
---
Jump To Comments