Today's Contents – Click to Read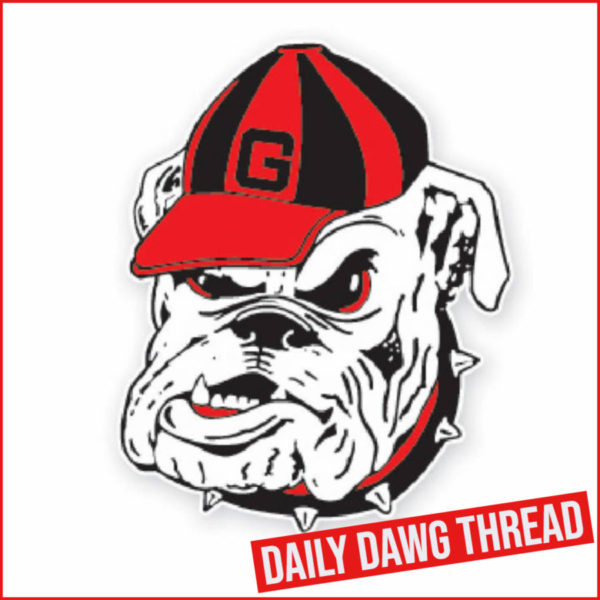 ---
MGOLF: Dawgs Finish Fourth In Southwestern Invitational
The No. 13-ranked Georgia men's golf team placed fourth on Wednesday in the Southwestern Invitational Presented By Topgolf.
On the North Ranch Country Club's par-72, 6,992-yard layout, the Bulldogs posted a final-round 8-over 296 to land at 1-under 863. Arizona State claimed team honors at 30-under 834, followed by host Pepperdine (17-under 847) and Washington (8-under 856).
Junior Ben van Wyk paced the Bulldogs on Wednesday as he shot an even-par 72. Freshman Maxwell Ford signed for a 1-over 73, followed by freshman Buck Brumlow at 3-over 75, and junior Connor Creasy at 4-over 76. Senior Trent Phillips had Georgia's non-counting loop of 6-over 78.
Phillips, the tournament's 18- and 36-hole leader, placed ninth at 2-under 214. Medalist honors went to David Puig of Arizona State at 8-under 208. Ford and van Wyk came in 18th at even-par 216, followed by Brumlow at 3-over 219 and Creasy at 17-over 233.
Competing as an individual, junior Nicolas Cassidy fired a 3-over 75 in the final round to move to 11-over 227.
The Bulldogs will return to action Feb. 13-15 in the Puerto Rico Classic.
Today's Contents – Click to Read
---
MTENNIS: ITT Kickoff at Dan Magill Tennis Complex Begins Sunday
Date: Jan. 30 – Jan. 31
Time: 10 a.m. ET
Location: Athens, GA.
Site: Dan Magill Tennis Complex
The Field
Trent Bryde, Blake Croyder, Mathis Debru, Erik Grevelius, Philip Henning, Britton Johnston, Tristan McCormick, Thomas Paulsell, Miguel Perez Peña, Hamish Stewart and Ethan Quinn will compete against student-athletes from South Florida, VCU and Virginia Tech.
The Format
On Sunday at 10 a.m. ET South Florida will face Virginia Tech followed by a 2 p.m. ET matchup between Georgia and VCU. Monday at 10 a.m. ET the loser of match one will compete against the loser of match two and at 2 p.m. ET the winner of match one will face the winner of match two.
The Stakes
The teams will compete for one of 16 spots in the 2022 ITA National Men's Indoor Championship, which takes place Feb. 18-22 in Seattle, Washington. The Bulldogs have won the ITA national indoor title on two occasions, doing so in 2006 and 2007.
Top 10
ITA released an updated ranking for the DI Top 25 Coaches Poll on Jan. 19. The Georgia Bulldogs rang in at No. 7 which is one spot higher than they were at the previous ranking on Jan. 5. Georgia is one of eight SEC teams featured in the Top 25, checking in only behind Tennessee (No. 1) and Florida (No. 3).
Impressive Opener
The Bulldogs opened their 2022 dual season against the No.11-ranked UCF Knights in Lake Nona, FLA. on Jan. 17 boasting a 6-1 win at the USTA National Campus. Georgia built an early 1-0 lead with the doubles point and continued that momentum throughout the rest of the match. No.62-ranked senior Trent Bryde defeated No.16-ranked Trey Hilderbrand on court one in dominant fashion, 6-3,7-6(7-3). No.23-ranked senior Henning, No. 110-ranked senior Croyder, and graduate transfer McCormick also took down their opponents in straight sets.
Dawgs in the Rankings
Several Georgia men's tennis players were featured in the latest Intercollegiate Tennis Association (ITA) National Ranking. The latest poll highlights the Top 125 singles players and Top 60 doubles teams within Division I Men's Tennis.
Five Bulldogs appear in the singles rankings and two pairs in the doubles rankings. 2020 ITA All-American Philip Henning leads the pack with a No. 23 ranking, Hamish Stewart – a graduate transfer from Tulane – comes in at No. 32, four-time ITA All-American and senior Trent Bryde takes the No. 62 spot, senior Blake Croyder at No. 110, and freshman Thomas Paulsell with a collegiate career milestone in his first ITA ranking at No. 119. In doubles, Bryde and Henning are ranked No. 21, and Henning and Stewart are ranked at No. 47.
Today's Contents – Click to Read
---
Jump To Comments