Jump To Top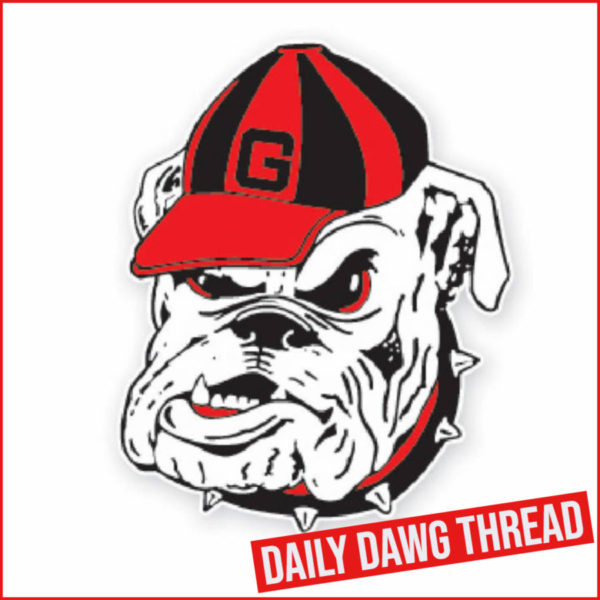 MTennis: Dawgs defeat no. 4 Kentucky
In a heavyweight, top-10 matchup on Friday, with first place in the SEC men's tennis standings on the line, No. 8-ranked Georgia, playing in front of a large and boisterous crown, came through with a 5-2 win over No. 4 Kentucky.
The Bulldogs (13-5, 7-0 SEC) clinched the victory at 4-0 before the remaining matches were played to completion. Redshirt freshman Ethan Quinn, ranked No. 4 in the country, earned the deciding victory with a hard-fought 7-6 (7-3), 7-6 (7-2) win over No. 22-ranked Liam Draxl at the No. 1 singles spot.
Playing in front of a crowd of 2,472 at the Dan Magill Tennis Complex, the largest to see a match since the new grandstand was completed in 2020, certainly got Quinn's attention. Among the crowd during the doubles action were a few dozen Georgia football players, still dressed in their practice jerseys, and head coach Kirby Smart.
"I just had chills throughout my bones," Quinn said. "Right as the football players got here, you could hear the people in the crowd whispering, and even the football guys, during the points they were yelling, going back and forth.
"Honestly, it was just crazy. My body was shaking, and I remember on one of our set points or when we were down a match point, I was shaking at the net because I could feel the energy throughout the crowd. It was just unbelievable."
While Georgia sealed the win at 4-0, very little came easily against Kentucky (19-3, 7-2), which advanced to the finals of last year's NCAA Championships. All told, eight sets went to tiebreakers, with the Bulldogs winning five, including two in doubles to clinch the point and get out to a 1-0 lead.
"That's what we've been emphasizing: mental toughness," Georgia coach Manuel Diaz said. "That Georgia tennis mentality that when things are tough, that's when we're at our best. And I think today we passed with flying colors."
The doubles matches were tight from the start, with all three even at 3-all at one point. Kentucky's team of JJ Mercer and Joshua Lapadat got a break of serve and pulled out a 6-3 win over Teodor Giusca and Philip Henning at the No. 2 spot.
At No. 1 doubles, Georgia's No. 9-ranked team of Quinn and Trent Bryde won a duel with Kentucky's No. 25-ranked Alafia Ayeni and Taha Vaadi, 8-6 in the tiebreaker. Match point was a thriller with all four players trading volleys at the net before Quinn finished it off with a winner.
Blake Croyder and Britton Johnston, playing at No. 3, fought off three match points at 5-6 to force the tiebreaker against Draxl and Jaden Weekes. It was all Bulldogs after that, with Johnston and Croyder storming to a 7-2 win in the tiebreaker to capture the doubles point.
In singles, Henning put Georgia ahead 2-0 with a 6-4, 6-3 win over Ayeni at the No. 2 spot. The next match didn't end for more than another hour. Croyder finally made it 3-0 Bulldogs with a 6-2, 5-7, 6-3 win over Vaadi. Then it was Quinn's turn, closing out his neck-and-neck win over Draxl.
"Kentucky's a great team, and they showed that, especially in doubles. They had set points on two courts (1 and 3), so for us to sneak that out was pretty impressive," Quinn said. "And then for us to be able to battle on basically every court; Phil did a great job to give us early momentum and then for everyone else to be able to battle through and compete was honestly amazing."
Georgia's other singles win came at No. 6, where Miguel Perez Peña edged Charlelie Cosnet, 7-5, 3-6, 6-3. Kentucky's Lapadat held off Bryde at No. 3 singles, 7-6 (7-5), 7-6 (7-5), and Weekes beat Giusca, 7-6 (7-1), 6-7 (7-3), 6-4, at No. 5.
"It wasn't going to be an easy match," Diaz said. "Kentucky's a great team, I have a lot of respect for their program, the finalists in the NCAAs last year, and honestly, our guys had to come out and play their best."
The Bulldogs improved their all-time record against Kentucky to 49-11 with the win. They're back in action on Sunday when they play at Arkansas. Georgia is 34-3 all-time against the Razorbacks.
Results
Doubles
1. #9 Ethan Quinn/Trent Bryde (UGA) def. #25 Alafia Ayeni/Taha Vaadi (UK), 7-6 (8-6)
2. #38 JJ Mercer/Joshua Lapadat (UK) def. Teodor Giusca/Philip Henning (UGA), 6-3
3. Britton Johnston/Blake Croyder (UGA) def. Liam Draxl/Jaden Weekes (UK), 7-6 (7-2)
Singles
1. #4 Ethan Quinn (UGA) def. #22 Liam Draxl, 7-6 (7-3), 7-6, (7-2)
2. Philip Henning (UGA) def. #27 Alafia Ayeni (UK), 6-4, 6-3
3. #44 Joshua Lapadat (UK) def. Trent Bryde (UGA), 7-6 (7-5), 7-6 (7-5)
4. Blake Croyder (UGA) def. Taha Vaadi (UK), 6-2, 5-7, 6-3
5. Jaden Weekes (UK) def. Teodor Giusca (UGA), 7-6 (7-1), 6-7 (7-3), 6-4
6. Miguel Perez Peña (UGA) def. Charlelie Cosnet (UK), 7-5, 3-6, 6-3
Order of Finish
Doubles: 2, 1, 3
Singles: 2, 4, 1, 3, 5, 6
---
WTennis: Georgia Topples LSU 5-2
The fourth-ranked University of Georgia women's tennis team defeated No. 43 LSU 5-2 on Friday evening at the LSU Tennis Complex, in Southeastern Conference action.
In doubles, LSU (9-7, 2-6 SEC) swept Georgia (15-3, 8-0 SEC). On court one, Ania Hertel and Dasha Vidmanova fell to No. 55 Kylie Collins and Anastasiya Komar 6-1, while the Tigers clinched the doubles on court two after Noor Carrington and Safiya Carrington topped No. 31 Guillermina Grant and Mai Nirundorn 6-3.
In singles play, the Bulldogs won five matches. Grant got off to a red-hot start on court six, topping Noor Carrington 6-0, 6-2 to give Georgia its first win of the day. She was followed by No. 8 Lea Ma, who cruised to a 6-1, 6-3 win over No. 27 Anastasiya Komar. This marked Ma's 26th win of the season and 11th consecutive win at the top spot. She is currently 8-0 in SEC play. Kowalski provided the third point of the day for the Bulldogs, defeating Nikita Vishwase on court five 6-2, 6-4. LSU responded with a win on court four as No. 57 Anastasiia Lopata fell to Safiya Carrington 6-4, 6-3. However, No. 60 Reasco answered with a 7-6, 6-2 victory over Nina Geissler on court three to clinch the win for the Bulldogs. This marked Reasco's 10th consecutive win and fifth match-clinching victory of the season. While playing the match out, No. 10 Vidmanova defeated No. 22 Kylie Collins 6-4, 3-6, 6-1.
Up next, the Bulldogs travel to Bryan-College Station, Texas for a highly anticipated top-5 matchup with the Texas A&M Aggies on April 2 at 1 p.m.
Results
Doubles Results
1. #55 Anastasiya Komar/Kylie Collins (LSU) def. Ania Hertel/Dasha Vidmanova (UGA) 6-1
2. Safiya Carrington/Noor Carrington (LSU) def. #31 Guillermina Grant/Mai Nirundorn (UGA) 6-3
3. Nina Geissler/Nikita Vishwase (LSU) vs. #44 Mell Reasco/Meg Kowalski (UGA) 5-5, unfinished
Singles Result
1. #8 Lea Ma (UGA) def. #27 Anastasiya Komar (LSU) 6-1, 6-3
2. #10 Dasha Vidmanova (UGA) def. #22 Kylie Collins (LSU) 6-4, 3-6, 6-1
3. #60 Mell Reasco (UGA) def. Nina Geissler (LSU) 7-6, 6-2
4. Safiya Carrington (LSU) def. #57 Anastasiia Lopata (UGA) 6-4, 6-3
5. Meg Kowalski (UGA) def. Nikita Vishwase (LSU) 6-2, 6-4
6. Guillermina Grant (UGA) def. Noor Carrington (LSU) 6-0, 6-2
---
Baseball: Vandy rolls 9-2
Fourth-ranked Vanderbilt defeated Georgia 9-2 Friday afternoon in front of a Hawkins Field crowd of 3,802.
In the second inning, graduate Will David (2-for-4, 2 RBI) put Georgia in front 2-0 when he connected for his third home run of the year. Junior Parks Harber was on with a leadoff single. It was only the second home run that sophomore left-hander Carter Holton had surrendered this year. Vanderbilt answered in the bottom of the inning when RJ Austin tied the game with a two-run shot, his fourth of the season.
Vanderbilt (21-5, 7-0 SEC) erupted for four runs on three hits in the fifth to build a 6-2 advantage. Jonathan Vastine led off with a triple and then the next two Commodores reached on four-pitch walks. RJ Schreck cleared the bases with a three-run double. The scoring in the frame was capped by a sacrifice fly by RJ Austin to make it 7-2. In the sixth, Parker Noland hit his sixth home run, a solo shot for an 8-2 advantage.
Holton improved to 4-0, pitching seven innings and allowing two runs on three hits with two walks and 10 strikeouts. Georgia junior Jaden Woods fell to 3-1 as he was lifted in the sixth after allowing eight runs on nine hits with five strikeouts. The Bulldogs dropped to 15-11 overall, 1-6 in the SEC.
Bulldog redshirt freshman Charlie Condon had his hitting streak snapped at 24 games, four shy of the school mark set by Josh Hudson in 1999. Condon finished 0-for-3 but did draw a walk to extend his on-base streak to 25 games.
"Vanderbilt is playing at a really high level now," said Georgia's Ike Cousins head baseball coach Scott Stricklin. "I thought we showed some fight, but the fifth inning was the difference. Vanderbilt made some outstanding plays defensively. Parks Harber hit a ball extremely well, and their centerfielder, who is the best one in college baseball, runs it down and crashes into the wall. It was a great play and I'm glad he's all right. We made some plays out there too today by Will David and Connor Tate, and we turned a couple double plays that helped us."
Game two of the series will be Saturday at 3 p.m. ET (SECN+) and available on the Georgia Bulldog Sports Network.
---
Softball: No. 15/10 Georgia (27-6, 7-1) meets No. 16/16 Kentucky (21-7-1, 4-2) for a three-game series beginning this afternoon
Dates: Saturday, April 1-Monday, April 3, 2023
First Pitch: 2 p.m. // 6 p.m. // 7 p.m.
Location: Athens, Ga.
Stadium: Jack Turner Stadium
Admission: FREE (no tickets required // seating is first come, first served)
The 15th-ranked Georgia softball team welcomes No. 16 Kentucky to Jack Turner Stadium for a top-20 series beginning Saturday at 2 p.m.
Sunday's game will air live on SEC Network at 6 p.m. Monday's finale air in primetime on SEC Network at 7 p.m. Georgia head coach Tony Baldwin will be featured as part of Mic'd Up Mondays
Series History
» Georgia leads the all-time series 58-16
» The Bulldogs are 26-6 in Athens in the series
» Kentucky has not visited Athens since 2017
» The Bulldogs and Wildcats last met in the SEC Tournament in 2021 in Tuscaloosa, UK won 3-0
» In the regular season, Georgia has won back-to-back series in Lexington (2018, 2021)
» Georgia has won the last five series; Kentucky last won a series against Georgia in 2012
Recapping Action
Georgia lengthened its win streak to nine games, winning its third SEC series with a pair of shutouts against Mississippi State. Georgia's seven-game SEC win streak is the longest since 2010 (11 games). The Bulldogs won the series opener 3-0 on Friday. Saturday's game featured both lights out pitching and powerful offense. Shelby Walters no-hit MSU in the five-inning contest. The no-hitter is the second of the season for Walters (last vs. Samford on March 4). The no-no is Georgia's first against an SEC opponent since May 3, 2009, when Sarah McCloud and Christie Hamilton combined for the no-hitter at Arkansas. The offense blasted five home runs, tying a season best, en route to the 10-0 run rule and the series victory.
A Look at What's Ahead
The Bulldogs have a quick turnaround as Georgia will begin a road series at No. 10 Arkansas on Thursday, April 6. The series will play out Thursday, Friday, Saturday in Fayetteville. First pitch on April 6 is set for 7 p.m., ET. Saturday's game against the Razorbacks will air nationally on SEC Network.
Georgia in the Polls
Georgia's rankings after Week 7:
– USA Today/NFCA: 15
– ESPN/USA Softball: 10
– D1Softball: 8
– Softball America: 7
– RPI: 14
Shout Outs for Shutouts
The Bulldogs' pitching staff has recorded 13 shutouts so far in 2023, including four in SEC play. Georgia's three-straight SEC shutouts is the longest streak since 2006 (4). Shelby Walters and Madison Kerpics have combined to pitch 24 straight scoreless innings entering the Kentucky series. Earlier in the season, Georgia closed out the month of February, shutting out six-straight opponents. That scoreless-inning streak reached 40 innings.
The Dogs Can Swing It
Georgia is currently slugging its way to the top of the SEC, leading the league with a .618 team slugging percentage. Additionally, UGA leads the Conference with 300 hits, 55 home runs, 13 triples, and 55 doubles.
Kearney Earns Third-Career SEC Player of the Week Award
Jayda Kearney was named the SEC Player of the Week on March 28. Kearney hit .571 the week before, going 4-for-7. Three of her four hits left the yard, including homering twice in game two against Mississippi State on Saturday. In that game, the junior's two two-run home runs were responsible for four of Georgia's 10 runs in the game. She recorded a 1.857 slugging percentage, drove in six runs, and concluded the week with a .667 on-base clip with a pair of walks.
Walters Tabbed SEC Co-Pitcher of the Week
Shelby Walters was named the SEC Co-Pitcher of the Week on March 28. Walters went 2-0 with a save in nine and two-thirds scoreless innings, appearing in all three games the previous week. She highlighted the week tossing Georgia's first no-hitter of an SEC opponent since 2009, not allowing a hit in five innings against Mississippi State on March 25. She began the week working four innings in her start against Kennesaw State, striking out five Owls. She picked up her second save of the season, pitching Georgia out of a two-on situation in the top of the seventh in game one against Mississippi State.
Bulldogs Start SEC Play Strong
Georgia's most recent 5-1 start was in 2018. That season, Georgia went on to go 7-2 through three series. The Bulldogs opened the 2013 SEC schedule 6-0 before being swept in week three. Georgia's best-ever start to SEC play was in 2005, when the Bulldogs went 13-0 en route to an SEC Championship. This season's seven-game SEC win streak is the best since 2010 (11).
Media Information
Streaming: SEC Network+ (Saturday)
Play-by-Play: Kaleb Frady
Analysis: Karlie Smith
TV: SEC Network (Sunday // Monday)
Play-by-play: Eric Frede
Analysis: Madison Shipman
Follow the Bulldogs
» Saturday's game will stream live on SEC Network+. Kaleb Frady (play-by-play) and Karlie Smith (analysis) will be on the call.
» Sunday and Monday's games will air live on SEC Network. Eric Frede (play-by-play) and Madison Shipman (analysis) will be on the call.
Upcoming Promotions at Jack Turner Stadium
» Admission to every home regular season Georgia softball game is FREE. No tickets are required. Seating is first come, first served. The UGA clear bag policy is in effect.
Saturday, April 1 // 2 p.m.
» Pink Out: All fans are encouraged to wear pink
» A silent auction for the Bulldogs' pink jerseys will be held between gates open (1 p.m.) and the end of the fourth inning. Winners must be present. All proceeds benefit the Piedmont Athens Regional Breast Health Center.
» The first 250 fans will receive a pink t-shirt
Sunday, April 2 // 6 p.m.
» Dad & Daughter Day #3 (registration full)
Monday, April 3 // 7 p.m.
» The first 500 fans will receive a 'Pack The Jack' flag
---
Jump To Comments