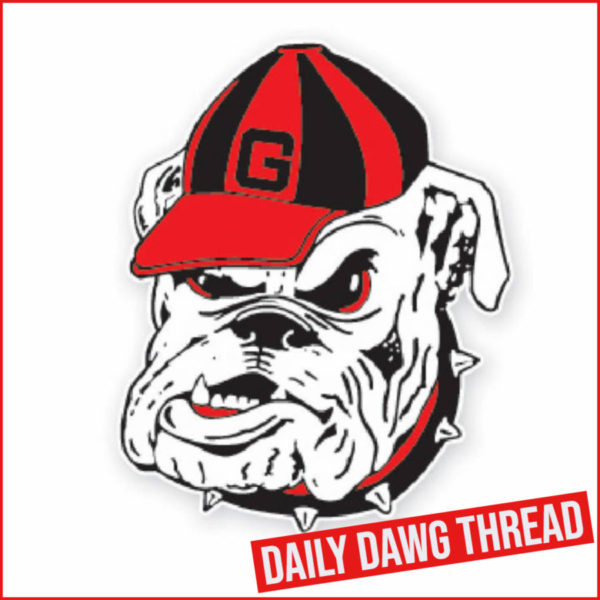 ---
BASEBALL: Dawgs Even Series With 13-7 Win, Finale Today At 2:00
Another strong start from junior right-hander Jonathan Cannon and 10 runs in the final two innings helped 16th-ranked Georgia dispatch No. 14 Vanderbilt, 13-7, Saturday afternoon before 3,405 spectators at Foley Field.
Cannon (9-1) earned the win for Georgia (32-15, 13-10 SEC) as he allowed six hits and four runs, while striking out five on 110 pitches, his highest total since tossing 109 against Florida on April 1. Vanderbilt (30-15, 11-12 SEC) right-hander Patrick Reilly (2-3) was tagged with the loss in relief, while Commodore starter Chris McElvain allowed three hits and four runs (two earned) in six innings of work.
Sophomore catcher Fernando Gonzalez led the Georgia offense with two home runs and four RBI, while graduate left fielder Connor Tate matched a season high with five RBI on two hits. The Bulldogs were especially potent with two outs, finishing 6-for-14 on the afternoon.
"(Cannon) went back out for the seventh," said Ike Cousins Head Coach Scott Stricklin following the game. "He was close to that pitch count after the sixth, but he came back in the dugout and said, 'I'm going back out.'…I thought that's what won us the game, him going back out for the seventh, putting up a zero and giving us momentum.'
Georgia's defense immediately made its mark in the top of the first as senior shortstop Josh McAllister caught a liner off the bat of Vanderbilt's Spencer Jones and subsequently picked off his teammate Calvin Hewitt at first to end the inning.
Following a quiet first at the plate, the Bulldogs struck first in the second, with sophomore first baseman Parks Harber scoring on a two-out, RBI double to deep center from graduate right fielder Chaney Rogers. The Commodores responded in the top of the third with four runs, culminating in a two-run home run from Dominic Keegan. Thanks to consecutive errors, the Bulldogs earned back a run in the bottom half, but left the bases loaded with three straight batters retired.
After Cannon retired the side to begin the fourth, Gonzalez extended his hitting streak to seven games with a shot over the right field fence, bringing the margin to 4-3. Cannon continued to pitch well, racking up four consecutive scoreless innings and finishing off his day with a called strikeout to strand a Commodore at third in the seventh.
Escaping the jam proved to be opportune as the Bulldogs pounced on Commodore pitching in the bottom half of the seventh and took control of the game with eight runs in the frame. Following a leadoff walk and pitching change, Tate put Georgia ahead with a two-run homer to left, also extending his streak to seven.
With two outs, senior pinch hitter Garrett Blaylock extended the lead with an RBI single, followed by a three-run shot to deep center by Gonzalez, matching his season home run total from 2021 with a second on the afternoon. Tate returned to close out the inning with a two-run double to left, making the score 11-4.
In the eighth, Georgia tacked on two more insurance runs with a sacrifice fly from Rogers and an RBI double from junior third baseman Buddy Floyd. Vanderbilt used a pair of home runs in the ninth to narrow the final margin, but sophomore Max DeJong wrapped up the game by notching the final out.
Georgia and Vanderbilt close out their three-game series with the rubber match Sunday afternoon at 2 p.m. at Foley Field. The Mother's Day matchup will air on SEC Network.
---
WTENNIS: Georgia Sweeps Charleston Southern
The 13th-ranked University of Georgia women's tennis team swept the Charleston Southern Buccaneers 4-0 Saturday afternoon, in the first round of the NCAA women's tennis tournament.
"It's always going to be exciting," said Georgia associate head coach Drake Bernstein. "The fact that we're here at the Dan Magill Tennis Complex at home is such a bonus and a great opportunity for us. I thought our team came out and played some really good doubles. That was a great doubles point by both teams and it was nice to get up 1-0. I really felt like our players just rolled in singles and played fantastic. We're excited to get that first one done and have a huge match tomorrow against Wake Forest. We'll be ready, I know they will and it should be an epic battle."
In doubles, Georgia (18-6) swept Charleston Southern (17-6). The duo of No. 20 Morgan Coppoc and Ania Hertel cruised to a 6-2 win over Luiza Fullana and Laura Marti, while the freshmen duo of Mell Resco and Dasha Vidmanova defeated Zoe Cauthen and Tiffany Pyritz 6-3.
In singles play the Bulldogs earned wins from No. 17 Reasco, Ania Hertel, and Meg Kowalski. Kowalski earned the first point of the day for Georgia, dominating Noa Boyd 6-0, 6-0. She was quickly followed by Hertel who cruised to a 6-1, 6-0 Amila Jusufbegovic. Reasco, the freshman, clinched the match for the Bulldogs, defeating Luiza Fullana 6-3, 6-0 at the No. 1 spot. Since assuming the top spot, Reasco is 4-0 with one match unfinished.
Up next, Georgia will face Wake Forest in the second round of the NCAA Tournament on Sunday, May 8. First serve is slated for 1 p.m.
---
SOFTBALL: Dawgs Fall 10-8, Tiebreaker Today
The 16th-ranked Georgia Bulldogs broke the program single-season home run record Saturday at Jack Turner Stadium in a 10-8 loss to Ole Miss.
Sophomore Jayda Kearney's seventh inning grand slam was the 100th home run of the season for the Georgia Bulldogs, breaking the previous record of 99 set in 2010. Georgia becomes the first SEC team to hit 100 home runs in a season since Tennessee in 2015.
Georgia falls to 40-14 on the season and 12-11 in SEC play. Georgia honored the careers of senior student-athletes Lauren Mathis, Savana Sikes, Mackenzie Puckett, and Lacey Fincher prior to the game.
After going 4-for-4 in Friday's game, Kearney added two more hits Saturday, both home runs, and drove in seven RBI, a new career high. She has hit 15 home runs this season and moves into the team lead with 54 RBI.
Senior Lauren Mathis worked a combined three and a third innings in her start. She fanned six Rebels, allowing five runs on six hits. Britton Rogers (10-2) suffered the loss in relief. Riley Orcutt and Kylie Macy each saw time out of the pen.
Watch a fullscreen slideshow
HERE.
Ole Miss (37-16, 11-12) quickly jumped out in front with a three-run home run in the top of the first. The Bulldogs responded in the home half of the inning to tie the game. A one-out single from Sara Mosley and a walk to Fincher put two on. Kearney's 14th home run of the season tied the game at 3-3 and tied the program's single-season home run record at 99.
Georgia opened the run factory in the second inning. Sikes singled to left with one out then was successfully bunted to second by Ellie Armistead. Sikes scored all the way from second on a base hit to left off the bat of Sydney Kuma and Georgia took the lead 4-3.
A two-out base hit up the middle from Abbey Latham tied the game at 4-all in the top of the fourth. The Rebels strung together four runs on three RBI singles and a bases-loaded walk to go ahead 8-4. A two-RBI base hit in the top of the seventh would prove to be beneficial for the Rebels, widening the lead to 10-4.
Georgia didn't go quietly in the bottom of the seventh down six. Three walks loaded the bases for the Bulldogs with two out. Kearney stepped in and launched a grand slam, her second of the season, to right field, cutting the Rebel lead to two and breaking the program home run record. The comeback was cut short on a groundout, 10-8.
The regular-season finale is set for Sunday afternoon at 2 p.m. at Jack Turner Stadium. Sunday's game will be Georgia's annual Strike Out Cancer game. Fans are encouraged to wear pink.
---
T&F: Kyle Garland Sets Collegiate Decathlon Record
Bulldog junior decathlete Kyle Garland destroyed the collegiate record with 8,720 points and qualified to be on Team USA for the coming World Athletics Championships to wrap up the USATF Combined Events Championships in Fayetteville, Ark., on Saturday.
Garland, a native of Philadelphia, Pa., posted six personal bests out of his 10 events, including his final three to end the competition. Garland's 8,720 score left the former collegiate record of 8,539 (Lindon Victor, 2017) far behind as he became the No. 7 American performer in history.
A top-three finish and a score of 8,350 points or more for Garland also qualified him for a spot on Team USA for the coming World Outdoor Championships in Eugene, Ore., on July 15-24. The top three finishers in this weekend's meet will also have the opportunity to be invited to compete during the Thorpe Cup and other U.S. combined event competitions.
Garland moves into the 2022 NCAA lead over Arkansas' Ayden Owens, who was No. 2 on the all-time collegiate list with 8,528 but was ahead of Victor on the all-time collegiate list on several publications because Owens' events were wind-legal (2.0 meters/second or less) and Victor's were wind-aided. Garland is now No. 2 on the 2022 world list behind former Bulldog Garrett Scantling, who won today's meet with a mammoth 8,867 points. Finally, Garland takes over the school record since Karel Tilga owned it with an 8,484 from the 2021 Spec Towns Invitational.
On Friday, Garland finished with two personal bests to score a day one collegiate best score (4,660). Counting the U.S. Olympic Trials last summer, this is only Garland's fourth collegiate decathlon.
Full Results: Please visit the following link to check Garland's progress over the two days: gado.gs/9b3
The Lowdown: Garland started his day two off in fine fashion with a personal best in the 110-meter hurdles with a 13.71. This gave him a second-place finish and placed him No. 5 on the school's all-time top-10 list in the event.
Garland then sandwiched a mark of 46.16 meters/151 feet, 5 inches in the discus to keep pace in the overall race. He was fifth in the event and remained in first place following the seventh event.
Reaching 4.45m/14-7.25 in the pole vault earlier this season in a decathlon at the Tennessee Relays, Garland rode three first attempt clearances to start the pole vault on Saturday and then finished with a pair of second try clearances, including at a personal best height of 4.85m/15-11. He slipped to second overall after this event with Scantling going over the bar at nearly 17 feet.
Garland registered yet another personal record as the competition's ninth event, the javelin, arrived. He built to a third and final toss of 59.63m/195-7 to firm his foundation as a runner-up to Scantling.
In the finale of two-day event, Garland situated himself in the back half of the 1500m pack and ran the fastest time of his life with a 4:43.21. This edged the 4:44 he clocked during his victorious competition at the 2021 SEC Championships.
---
Jump To Comments