Jump To Top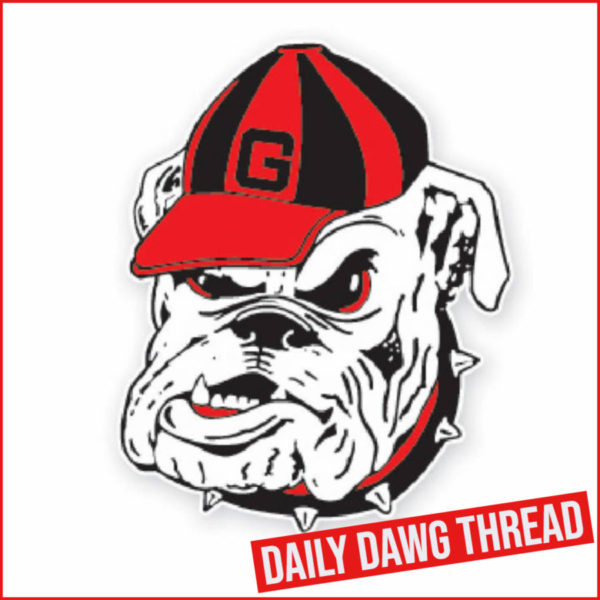 WGolf: Bulldogs pushed their advantage over the field to double figures at NCAA Athens Regional
The Georgia women's golf team fired a 6-under 282 in Tuesday's second round of the NCAA Athens Regional at the University of Georgia Golf Course. In the process, the Bulldogs pushed their advantage over the field to double figures, and Jenny Bae ascended atop the individual leaderboard by three strokes.
"Not a bad day," head coach Josh Brewer quipped. "I can kid about it, but I don't usually smile day two at a Regional. I am proud of them, and it has been really fun to watch for the two days. As a team, we set the goal that we want to win today. We tried to imagine being at zero and being in first place tomorrow if today would have been the first round. I am really proud of them for coming through and being focused and accomplish that."
After shooting 9-under on Monday, the Bulldogs' 6-under second-round score matched South Carolina for the low team loop of the day.
Bae signed for a 5-under 67, while classmate Jo Hua Hung posted a 4-under 68 – two of just three rounds in the 60s in the field of 66 golfers. Georgia also counted an even-par 72 from Isabella Holpfer and a 3-over by LoraLie Cowart.
Georgia is at 15-under 561 entering Wednesday's final round. By comparison, the Bulldogs' best-ever tournament total in NCAA Regional and Championships play is a 6-under tally to win the 2016 Bryan Regional. Overall, Georgia's tournament record is a 20-under mark set at the Illini Invitational last fall.
Bulldogs dominate the individual leaderboard too. Bae is at 8-under 136, three shots clear of South Carolina's Louise Rydvist in second. Hung is tied for third at 4-under 142; Holpfer is tied for sixth at 1-under 143; Cowart is tied for ninth at even-par 144; and Candice Mahé, who shot 76 on Tuesday, is tied for 15th at 2-over 146.
While Georgia is 10 shots up on all teams, the Bulldogs own a massive 30-shot gap between first and sixth place, the cut line to earn a spot in the NCAA Championships in Scottsdale, Ariz., on May 19-24. South Carolina is in second place at 571, followed by San Jose State at 583 and Maryland at 589. Augusta, Ohio State and Ole Miss are tied for fourth at 591 and on the cut to advance to the national championships. Kansas and Furman are tied for eighth at 598, seven shots off the pace of the current cut.
Bae's round was her 22nd par-or-better score in 32 rounds this season, tying Georgia's single-season record established by Bailey Tardy in 2015-16 and Marta Silva Zamora in 2010-11. Bae will attempt to break that mark on Wednesday and even if she does not is all but guaranteed at least three more chances to do so at the NCAA Championships.
"I think I started getting momentum when we had qualified the week before," Bae said. "I played really well there too. I thought to myself today it's only the second round we still have one more round left, and we have to just try our best and hopefully we'll do well."
Hung was Georgia's drop score on Monday, when the Bulldogs discarded her even-par 72 as their fifth-best effort on the day. She led the Bulldogs for most of the day on Tuesday, turning at 3-under and closing with an additional birdie at No. 18.
"I would say the whole time I was playing solid," Hung said. "My long game, my putting and my chipping. When I get out of position I just made sure I give myself the best angle for the third shots. I think I did pretty well on that."
Georgia, South Carolina and San Jose State will be paired together on Wednesday, teeing off at No. 1 in 11-minute intervals from 9:09-9:53 a.m. Live scoring is available at www.golfstat.com.
Jenny Bae's Comments
On today's round…
"I think I started getting momentum when we had qualified the week before. I played really well there too. I thought to myself today it's only the second round we still have one more round left, and we have to just try our best and hopefully we'll do well."
On the team's excitement…
"It is super exciting, and I know that everyone is grinding out there and trying their best. I know that some didn't do as well as they wanted to do today but others really stepped up and did their job. Tomorrow, everyone will click, and we will finish it off."
On the keys to success at NCAA Regionals…
"Post season vibes are just another level for us. All six of us will go out there and the amount of hypes we get from one another is just unreal. I think it just all drives us to be better and be a better person."
Tuesday's Second-Round Standings
Team Leaderboard
Georgia 279-282=561
South Carolina 289-282=571
San Jose State 295-288=583
Maryland 295-294=589
Augusta 301-290=591
Ohio State 288-303=591
Ole Miss 297-294=591
Kansas 300-298=598
Furman 297-301=598
Kent State 300-299=599
Charleston 309-293=602
Sacred Heart 312-311=603
Individual Leaderboard
Jenny Bae, Georgia 69-67=136
Louise Rydqvist, S. Carolina 70-69=139
Jo Hua Hung, Georgia 72-68=140
Anna Morgan, Furman 68-72=140
Chiara Tamburlink, Ole Miss 70-71=141
Isabella Holpfer, Georgia 71-72=143
Hannah Darling, S. Carolina 71-72=143
Angela Garvin, Maryland 71-72=143
Leon Takagi, Kent State 70-73=143
LoraLie Cowart, Georgia 69-75=144
Antonia Malate, San Jose St. 72-72=144
Kajsa Arwefjall, San Jose. St. 75-70=145
Mathilde Claisse, S. Carolina 75-70=145
Emma Schimpf, Charleston 72-73=145
Candice Mahé, Georgia 70-76=146
---
Baseball: Georgia returns to Foley Field Wednesday
The first pitch will be at 6:02 p.m., and the game will be streamed on SEC Network+ and be available on the Georgia Bulldog Sports Network.
The Bulldogs (27-21, 10-14 SEC) close out a five-game homestand with the Spartans (32-16). Georgia posted a series win over No. 18 Tennessee this past weekend. Meanwhile, the Spartans swept a Big South series from Gardner-Webb. They arrive at Foley Field on a six-game winning streak.
Series History: This will be the second meeting between Georgia and USC Upstate. The Bulldogs registered a 15-3 win over the Spartans at Foley Field last season. Georgia collected 16 hits in the victory, led by a 3-for-4, five RBI effort by Connor Tate, while his twin Cole was 3-for-6. The Tate brothers combined to hit for the cycle. Also, Cole Wagner enjoyed a solid game, going 2-for-3 with a three-run home run as part of a five-run first inning. Coleman Willis was the winning pitcher, going three innings as part of a staff outing.
On The Mound: Freshman RHP Blake Gillespie (0-1, 16.76) will start as part of another midweek staff night. He provided 0.2 scoreless innings of relief against No. 18 Tennessee last Friday. In his last staff start, he pitched two innings and allowed three runs on four hits with two strikeouts against Ga. State on April 25. The Bulldogs have a 6.18 ERA with 442 strikeouts and 237 walks. Opponents are batting .267 versus Georgia.
USC Upstate will go with redshirt senior RHP Chase Matheny (2-2, 5.47). They have a 4.97 ERA with 408 strikeouts and 221 walks. Opponents are hitting .248 against the Spartans.
At The Plate: Georgia is batting .289 with 87 home runs, a .389 OB% and is 31-for-37 in stolen base attempts.
Redshirt freshman Charlie Condon is chasing the team's triple crown, batting .410-22-61. Also, Condon ranks second in the SEC in batting, home runs, total bases and slugging percentage. Graduate Connor Tate ranks second on the club in batting at .387-13-49 and leads the SEC with 74 hits and 19 doubles. Junior Parks Harber checks in at .277-16-51.
The Spartans are batting .288 with 45 home runs, a .391 OB% and are 97-for-115 in stolen base attempts. Their leading hitter is redshirt junior Grant Sherrod (.326-14-57) while redshirt junior Troy Hamilton is next at .325-5-37. Junior Easton Cullison (.289-0-20) has a team-best 20 stolen bases in 24 attempts.
Radio/TV/Live Stats Information
Wednesday: Georgia vs. USC Upstate, 6:02 p.m. (Foley Field)
Radio: Georgia Bulldog Sports Network (Jeff Dantzler & David Johnston): https://georgiadogs.com/watch/?Live=4405&type=Archive
TV: SEC Network+ (Matt Stewart & Jason Jacobs): https://www.espn.com/watch/player?id=0a23173d-2777-4b97-9f6b-10c0b78e2007
Live Stats: https://georgiadogs.com/sidearmstats/baseball/summary
Tickets/Parking/Promotion Information
* A limited number of tickets are available in the Left Field Bleachers and in the Right Field Bleachers.
* Fans can get seats from other fans through our official secondary ticketing partner StubHub.
* Fans with tickets who are unable to come are encouraged to transfer them to other Bulldog fans, return them to UGAAA or resell them on StubHub.
* Foley Field Gates open one hour before game time.
* Free parking is available in the commuter surface lot behind the outfield.
---
MTennis: Miguel Perez Peña's confidence grows with experience
For Miguel Perez Peña, it's not the individual glory or success that he wants to be remembered by.
Transitioning into singles in the Bulldogs' top-five matchup against the Gamecocks in Columbia on April 7, Georgia jumped out to a quick lead 3-0 lead needing just one more win to sweep the Gamecocks.
For his second consecutive match, the sophomore's singles victory acted as the match-clinching win for the Bulldogs. His performance a week prior against Arkansas earned him a permanent spot on court five.
This season, Georgia men's tennis head coach Manny Diaz has seen Perez Peña respond to the challenge in front of him. He has seen his confidence grow in the big opportunities presented to him.
After a Southeastern Conference play finale win over Ole Miss, the Bulldogs completed the last leg of the spring season gauntlet: an undefeated record in SEC play for the 16th time in program history.
One of the biggest contributors to the Bulldogs' conference dominance has been the steady, consistent play from Perez Peña.
"I'm going out to the court thinking that I just need to fight I need to do my best," said Perez Peña. "I need to play smart, and I think I've been doing a really good job of being smart and sticking to what I do best."
The Spanish native arrived at Georgia in the fall of 2021 as the second-ranked prospect after a decorated junior career. Perez Peña featured for the Spanish national team in the European Championship and Davis Cup while also collecting five International Tennis Federation junior singles titles.
His first visit stateside came on his prospective visit. Although the experience was overwhelming and felt immense, Perez Peña recalls how welcoming the new environment felt.
Perez Peña acknowledged and embraced the "warm" culture that the fans provided at matches. He recognized the responsibility that came with donning the revered red and black. Despite the hardships of being far away from home, choosing Georgia was one of the best decisions he has ever made.
During his freshman year, Perez Peña held a 12-13 overall record and a 4-7 record in the spring. This spring, he's hit his stride, leading the team in singles wins with a 28-11 record and boasts an 18-6 mark in dual match play.
"I think I've been putting less pressure on myself," shared Perez Peña. "Last year, I came as a freshman, and I wanted to impress everyone. I feel like this year I've just, since the beginning, I've been playing confident. I've been trusting myself, believing in myself, and I've been executing what I do well at a high level."
For Perez Peña, his improvement comes from the belief in his ability to adapt to his opponents. At times during his freshman year, he found himself matched against opponents who played with serious pace and speed, and he would then try to play even faster.
"Last year, I would play with players that will play fast, and I would try to play even faster than them."
But not this year. The sophomore has settled into his role within the team, tallying 18 straight-set victories in the dual-match season, with 11 of those victories coming in matches 6-4, 6-4, or better.
"This year, I've been reading the matches really well, the opponents, and been able to adapt my tennis."
Perez Peña is top-three in the team in singles win percentage. His 16-match increase in the singles win column is the highest of any returning player on the roster.
"I want the people to recognize me as a person that gave everything on court every single match, regardless of the outcome. A person that fought like a Bulldog and gave everything for his teammates."
So, set aside the individual glory for Perez Peña. He's fought to reach the heights of his junior career. He's fought to propel his team to an undefeated conference slate. He's fought to reach the championship game of the SEC tournament.
And now, alongside the band of Bulldogs who roam the Magill Tennis Complex, he stands ready to fight like a Bulldog in search of an NCAA tournament championship.
---
Jump To Comments