Today's Contents – Click to Read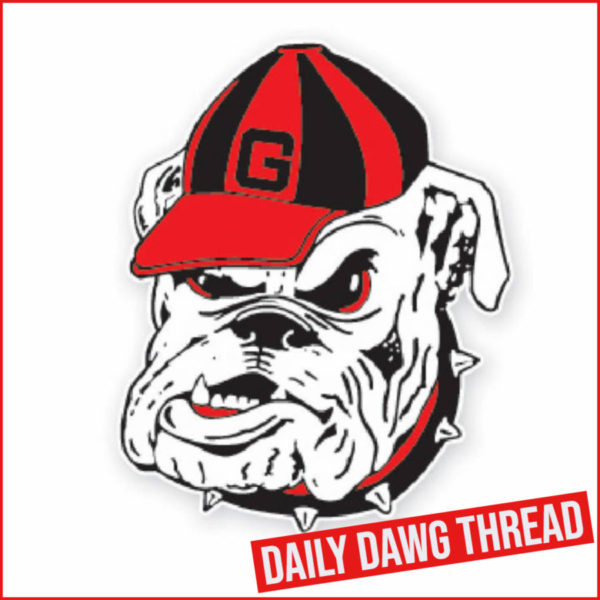 ---
MGOLF: NCAA Bryan Regional – UGA in Fourth
The third-seeded and 12th-ranked Georgia men's golf team opened the NCAA Bryan Regional in fourth place on Monday.
Playing Traditions Club's par-72, 7,146-yard layout, the Bulldogs posted a 7-under 281. Arizona snagged the first-round lead at 12-under 276, followed by Pepperdine at 9-under 279, host Texas A&M at 8-under 280, Georgia, and Oregon State at 3-under 285.
Following three rounds, the top five teams from the Regional will advance to the 30-team field for the NCAA Championships in Scottsdale, Ariz., May 27-June 1.
Senior Trent Phillips, who last week became the first player in school history to garner First-Team All-SEC honors all four seasons, paced the Bulldogs on Monday. He registered a clean card with four birdies to land at 4-under 68, pushing his team-high total in the 60s to 15 this year. Phillips is third, three shy of Chase Sienkiewicz of Arizona.
Maxwell Ford, a member of the SEC's All-Freshman Team, followed Phillips at 3-under 69. Ford was 2-over after four holes, but he rallied with six of his seven birdies over the final 14 to wind up in seventh.
Junior Ben van Wyk carded a 2-under 70, which was good enough for 11th, and freshman Buck Brumlow added a 2-over 74. Junior Nicolas Cassidy had Georgia's non-counting loop of 4-over 76.
The NCAA Bryan Regional will continue on Tuesday and will conclude on Wednesday. The Bulldogs will tee off on Tuesday between 9 and 9:44 a.m. and will be paired with Oregon State and SMU.
Georgia is appearing in a Regional for the 26th straight and 32nd in 33 seasons. The Bulldogs have played in a Regional 25 times under Coach Chris Haack (excluding 2020 when the postseason was canceled) and have made it to the NCAAs 20 times. Haack led the Bulldogs to the 1999 and 2005 national titles, to runner-up finishes in 2007 and 2011, and to the national semifinals in 2015.
Today's Contents – Click to Read
---
WBB: UGA Signs Texas Transfer
Audrey Warren, who helped lead the University of Texas women's basketball team to back-to-back NCAA Elite Eights, has signed with the Georgia Lady Bulldogs, head coach Katie Abrahamson-Henderson announced Monday.

The combo guard/forward has played the past four seasons for the Longhorns. She drew 35 starts and appeared in 59 games over the last two years, helping Texas capture the 2022 Big 12 Championship.

Warren averaged 10.3 points per game and 5.0 rebounds per contest in 2020-21 and averaged 8.2 ppg during the 2021-22 campaign.

The Fort Worth, Texas, native will be a fifth-year senior for the Lady Bulldogs this upcoming season.

"We are excited to welcome Audrey to the University of Georgia," Coach 'ABE' said. "Audrey has a tremendous skill set on offense as a three-tier scorer. Her basketball IQ is unmatched. She is a relentless defender who takes pride in getting stops, and inspires her teammates to have that same mentality. Audrey is a winner and knows what it takes to compete at a high level after reaching back-to-back Elite Eights in her college career. She will make an immediate impact on our program here at Georgia."

Warren scored in double figures 24 times over the last two seasons, including a career-high 21-point effort against Oklahoma and an 11-point outing against Stanford in the Elite Eight.

Her 4.3 rebounds per game ranked third on this past season's Texas team, while her 80-percent clip from the free-throw line was the best among all Longhorns.

During her sophomore season, Warren scored a team-best 10 points against then-No. 2 ranked Baylor and had another 10-point effort against Texas Tech.

Warren drew 10 starts and played in 28 games during her freshman year. She was twice named the Big 12 Freshman of the Week – one honor coming after she scored 21 points in a career-best 33 minutes of action against No. 9 Tennessee.

The two-time Big 12 Commissioner's Honor Roll selection went to Texas as one of the top wing players in the country following an illustrious high school career. She was the Dallas Morning News Texas District 6, Class 5A MVP in her junior and senior seasons, playing her final two years at Boswell High School in Fort Worth.
Today's Contents – Click to Read
---
BASEBALL: Georgia Meets Presbyterian at Foley Tonight
The Georgia Bulldogs play host to Presbyterian Tuesday at Foley Field with first pitch slated for 6:02 p.m. (SECN+). The game will be available on the Georgia Bulldog Sports Network.
Georgia is 33-18 overall and 14-13 in the SEC. The Bulldogs are tied for second in the East with Vanderbilt and tied for fifth overall in the league with VU and LSU. The Bulldogs have the No. 7 RPI including going 9-9 versus top 25 teams. The Bulldogs are ranked as high as No. 25 (USA TODAY Sports Top 25 Coaches) in the major polls this week. Georgia is batting .285 with 62 home runs while posting a 5.54 ERA and a .978 fielding percentage.
The Blue Hose (22-28) are batting .271 with 37 home runs, a 6.67 ERA and a .959 fielding percentage. PC has dropped its last six games including getting swept by Gardner-Webb this past weekend. Georgia and PC will use a staff night on the mound. The Bulldogs will start freshman RHP Coleman Willis (1-0, 9.42 ERA) while the Blue Hose counter with senior RHP Jordan Art (1-0, 15.75 ERA).
Graduate All-SEC OF candidate Connor Tate (.356-10-51) leads the team in batting, home runs and RBI this season and has been even better in SEC action at .386-7-25. He has a team-best 23 multi-hit games this year and has a chance at the team's Triple Crown (Avg.-HR-RBI). His twin brother, graduate 3B/SS Cole Tate (.338-4-21), returned to action this past weekend in the UT series after being limited last week versus Vanderbilt. He had missed 13 games due to a stress fracture in his leg. Against the Vols, Cole Tate hit .600 (6-for-10) with a double, two home runs, two walks and five RBI. Georgia defeated top-ranked 8-3 Tennessee this past Saturday, and the Tate twins combined to go 3-for-8 with three runs scored and four RBI in the victory.
The final SEC series starts Thursday against Missouri at Foley Field with all games on SECN+. The Tigers are 26-22 overall and 8-19 in the SEC. UM dropped two of three to Florida this past weekend in Columbia. UM faces Kansas in Lawrence on Tuesday. The Bulldogs have clinched a spot in the 12-team SEC Tournament that begins Tuesday, May 24 in Hoover, Ala. The Missouri series will be Military Appreciation Weekend and feature the annual Senior Day recognition on Saturday.
Probable Pitching Matchup Tuesday: UGA vs. PC
G52 #21 Coleman Willis (1-0, 9.42, RHP, Fr.) vs. #41 Jordan Art (1-0, 15.75 ERA, RHP, Sr.)
LiveStats Link: https://georgiadogs.com/sidearmstats/baseball/summary
Georgia Baseball Radio Links/TV Stream
Georgia Bulldog Sports Network (Announcers: Jeff Dantzler & David Johnston)
Free audio streaming of all Georgia Bulldogs games can be heard using the Gameday LIVE app.
Optimized for iOS7+ and Android 4.0+, Georgiadogs.com Gameday LIVE is now available for both smartphone and tablet in App Store and Google Play marketplaces. Georgiadogs.com Gameday LIVE is the official mobile application of Georgia athletics. Get the app here: georgiadogs.com/wireless/.
Tuesday Pregame Radio Show at 5:40 pm ET: https://georgiadogs.com/watch/?Live=4182&type=Archive
SEC Network+ TV Links
SEC Network+ Announcers: Matt Stewart & Jason Jacobs
SEC Network+ Link for Tuesday: https://www.espn.com/watch/player?id=3943932
Today's Contents – Click to Read
---
Jump To Comments