Today's Contents – Click to Read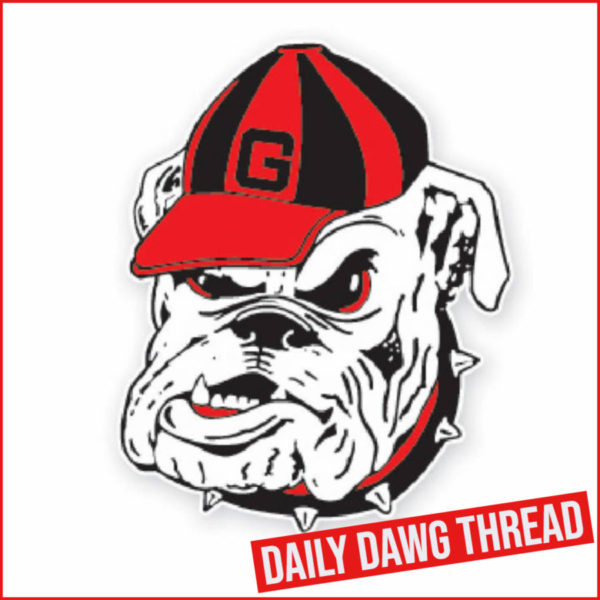 ---
2022 Football Schedule Updates
Another trio of Georgia games for the upcoming season now have kickoff times and network assignments, according to an announcement from the league office Thursday.
The Bulldogs will play host to Samford in the home opener on Saturday, Sept. 10, and the game will be televised on the SEC Network at 4 p.m. ET.
One week later, Georgia will travel to Columbia, S.C., to face South Carolina on Saturday, Sept. 10. ESPN will televise this matchup at 12 p.m.
The Bulldogs return to Sanford Stadium on Saturday, Sept. 24, and will take on Kent State at 12 p.m. ESPN+/SECN+ will stream Georgia's fourth game of the year.
Kickoff for the season-opening Georgia-Oregon matchup in the Chick-Fil-A Kickoff Classic has also already been set for 3:30 p.m. (ABC) on Saturday, Sept. 3, in the Mercedes-Benz Stadium in Atlanta.
In addition, the annual Georgia-Florida showdown in Jacksonville, Fla., will be on CBS at 3:30 p.m. on Saturday, Oct. 29.
Today's Contents – Click to Read
---
ICYMI: Report From Yesterday's Athletic Board Meeting
Reports by University of Georgia President Jere W. Morehead, J. Reid Parker Director of Athletics Josh Brooks, and an update on current and future facilities projects highlighted the first day of the UGA Athletic Association Board of Directors annual spring meeting.
In his report, Brooks touched on a wide range of topics, including:
• The academic achievements of UGA student-athletes, highlighted by an SEC-best 97 of them earning places on the most recent SEC Academic Honor Roll; 15 of UGA's 21 sports earning collective GPA's of 3.0 in the Spring semester; and 342 student-athletes earning 3.0 GPA's or better in the Spring.
• Athletically, nine of Georgia's teams earned Top 15 national rankings, and all eight Spring teams project to earn post-season berths.
• The introduction of new head coaches in both men's and women's basketball during the 2022 academic year. Brooks noted the unusual nature of filling both positions in the same year, but he also added that it was an opportunity to create a unique "synergy" between the two programs. The meeting kicked off with a brief presentation by new men's coach Mike White.
• Brooks also praised the historic nature of Georgia's success at the 2022 NFL Draft, where a record 15 players were selected, including the first overall pick, Travon Walker.
As part of Brooks' report, Executive Associate Athletic Director Ford Williams and Associate AD Matt Brachowski gave presentations on fundraising and facilities projects, respectively.
Williams introduced the Spring 2022 capital campaign with a 5-year vision of raising $300 million. A new area of emphasis for fundraising will be to enhance mental health services available to UGA student-athletes.
Brachowski's presentation highlighted projects at Sanford Stadium and the Lindsey Hopkins Indoor Tennis facility. The first phase of the Sanford Stadium project, set to begin in December, will double the width of the South 100 Level concourse and add more entry gates, restrooms and concessions areas at Gate 9. The second phase, construction for which is slated for begin in December of 2023, will add 200- and 300-level restrooms and suites, as well as add a new press box on the west end at the 400 and 500 levels.
Construction on the new indoor tennis facility will begin this fall and will give Georgia six indoor courts. The $26.7 million project is already full funded by donations.
Faculty Athletics Representative David Shipley gave a report of the Athletic Association's most recent academic news. He noted that the recently completed Spring semester closely resembled the "normal" conditions from the Fall of 2019 (pre-pandemic), with the majority classes and exams in person. Among the items mentioned by Shipley included:
• 121 student-athletes graduated earlier this month.
• Three UGA student-athletes — Mikayla Coombs of women's basketball, Ben Anderson of baseball and track sprinter Matthew Boling — were named SEC Scholar-Athlete of the Year in their respective sports.
• The highest female sport team GPA for Spring was the cross country squad with a 3.62 average. Highest among the men's teams was also cross country with a 3.33.
• Swimmer Andrew Abruzzo and distance runner Samantha Drop are the latest UGA student-athletes to have won NCAA postgraduate scholarships.
During a closed meeting, the Board discussed new contracts for head football coach Kirby Smart and Brooks, though no action was taken.
Day two of the annual meeting on Friday will include a student-athlete wellness report, reports from the Board's student representatives, treasurer's report, and a presentation of the fiscal year 2022 budget.
Comments from UGA President Jere W. Morehead:
Regarding the current state of Name, Image and Likeness (NIL): "I think NIL has evolved in a way that was not intended. It was intended to reward student-athletes for their name, image and likeness, as student-athletes enrolled at college institutions. It's clearly become something different than what it was intended. I believe we've got to have some very clear rules that do not lead to the professionalization of college athletics. You probably saw the action that the Division I Board of Directors took a few weeks ago. It was a strong statement by the Board that we want the Enforcement staff to enforce the rules that exist, as related to recruitment. And we don't expect NIL to be used as a recruitment device. I believe, in the long term, that we're going to have to have a more formalized process, whether that comes from Congress, or it can come from the actions of the NCAA. We clearly need a strong framework that governs the conduct that every institution engages in, when it comes to NIL. How we get there, and when we get there, is an open question. But right now, I hope the Enforcement staff feels like they've been given the green light by the Division I Board of Directors to investigate some of the cases that have made a lot of national attention."
Comments from J. Reid Parker Director of Athletics Josh Brooks:
Regarding the contract of head football coach Kirby Smart: "It's just going through the process, taking your time. This is an important contract for him (Smart) and for us, so it's just all the little details. It's typical stuff, nothing out of the ordinary. We've worked closely with his agent, and it's been a great process.
Regarding the process of fundraising: "We're going to keep going forward. There are a lot of people that want to support our athletic department and university. That support is still strong. But the pace at which we raise will determine the pace at which we build. We've had tremendous success in the last five years. It has put us in a great position today and we look forward to continuing that process."
Today's Contents – Click to Read
---
MGOLF: Georgia Begins Quest For National Title Today
The Georgia men's golf team will continue its quest for the program's third national title this week in the NCAA Championships at Grayhawk Golf Club in Scottsdale, Ariz.

Schedule And Format: Georgia and the other 29 squads will have 18 holes of stroke play Friday through Sunday. The field then will be cut to the top 15 teams to complete a fourth round on Monday. The top eight squads after stroke play will advance to match play, with the quarterfinals and semifinals set for Tuesday and the championship slated for Wednesday. Georgia will be paired with Arkansas and Wake Forest for the first and second rounds, with tee times set for 4:20-5:04 p.m. and 11-11:44 a.m., respectively.

Field (in order by seed): Oklahoma, Oklahoma State, Vanderbilt, Arizona State, North Carolina, Pepperdine, Texas, Texas Tech, Florida, Georgia Tech, Texas A&M, Stanford, Arkansas, Georgia, Wake Forest, Auburn, Florida State, Ole Miss, Kansas, Arizona, Oregon, East Tennessee State, South Florida, Ohio State, North Florida, Liberty, BYU, Georgia Southern, Utah, and College of Charleston.

Course: Grayhawk Golf Club (par 70, 7,289 yards)
Travel Party: Senior Trent Phillips; juniors Nicolas Cassidy, Connor Creasy, and Ben van Wyk; and freshmen Buck Brumlow and Maxwell Ford. The Bulldogs will use a lineup of five players with the four lowest scores counting.
Live Results: Golfstat will provide scoring, pairings, and tee times for the NCAAs.
TV Coverage: The Golf Channel will broadcast the NCAAs on Monday from 5-9 p.m., on Tuesday from noon to 2:30 p.m. and from 5-9 p.m., and Wednesday from 5-9 p.m.
Rankings: No. 12 Bushnell Golfweek Coaches, No. 12 Golfweek/Sagarin, No. 15 Golfstat.
Last Time: The Bulldogs came in fourth in the Bryan Regional to qualify for the NCAAs for the 50th time in program history. Since the Regional format was introduced in 1988-89, Georgia has advanced to the NCAAs 24 times, including 21 of 25 under Coach Chris Haack (excluding the 2020 postseason, which was canceled). Haack led the Bulldogs to the 1999 and 2005 national titles, to runner-up finishes in 2007 and 2011, and to the national semifinals in 2015.
Coach Chris Haack Says: "The No. 1 goal when you begin each fall is to make it to the finals and try to win a national championship. Mission accomplished. Now we've got to go out and play well. We need to get the five guys firing on all cylinders at the same time and playing solid, confident golf. The message all week has been to stay patient, to stay in the moment, to stay in the present. Nothing else matters. Take one shot at a time, one hole at a time. Don't look at the leaderboard, don't look at where we stand. That shot you're about to hit is your most important shot. That's something our young team has had to learn this season. They definitely have matured in that regard. We're going into the finals knowing we have to hit a lot of irons off the tee to give ourselves a chance to hit greens. Hopefully our putters will get hot at the right time. I go into every season believing our team can win it all. This year is no different."
News And Notes: Phillips was named First-Team All-SEC and Ford was selected for the league's All-Freshman Team. Phillips became the first player in school history to garner First-Team honors all four seasons. He also joined Harris English, Russell Henley, and Brendon Todd as the only Bulldogs to be named All-SEC four times. … Creasy was named to the SEC's Community Service Team. … Cassidy served this year on Georgia's Diversity, Equity, and Inclusion Committee, while senior Will Kahlstorf and Creasy were on the Student-Athlete Advisory Committee. … van Wyk's last name is pronounced fun-vake. … Ford represented the Bulldogs in the Patriot All-America, wherein the players carry a bag that includes the name and branch of service of a fallen or severely wounded soldier. … Phillips is rated No. 5 in the Velocity Global Ranking, No. 10 by Golfweek/Sagarin, and No. 11 in the World Amateur Golf Rankings. … With his opening tee shot on Friday, Phillips will have appeared in 41-of-41 collegiate tournaments. Henley, Kevin Kisner, and Brian Harman are the only four-year Bulldogs under Haack to never miss a tournament.
Today's Contents – Click to Read
---
Jump To Comments