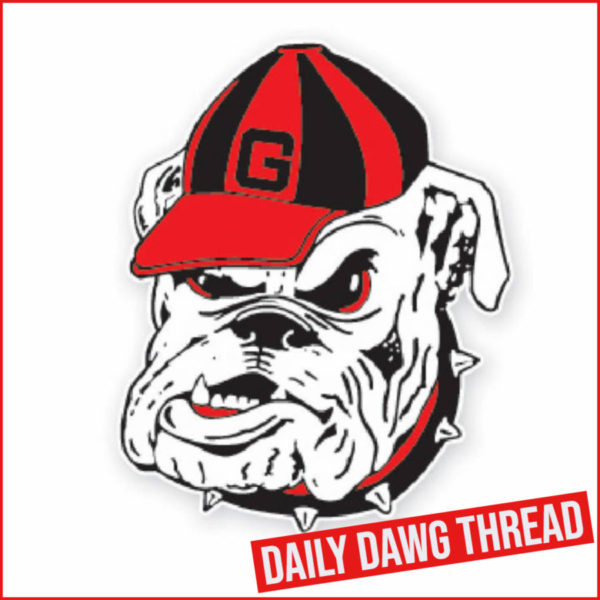 ---
T&F: Six Individuals and Relay Team Qualify For NCAA Championships On Day Three
Six Georgia individuals and a relay team advanced to Nationals on the third day of the NCAA East Prelims Friday.
Senior Darius Carbin (high jump), junior Matthew Boling (100m, 200m, 4x400m relay), senior Elija Godwin (400m, 4x400m relay), junior Caleb Cavanaugh (400m hurdles, 4x400m relay) and Bryson McCray (4x400m relay) all qualified for Nationals.
Through the first two days, four Bulldogs qualified for Nationals at the meet. Senior Titiana Marsh (long jump), junior Ana da Silva (shot put), senior Alencar Pereira (hammer throw) and senior Ahmed Magour (javelin) punched their tickets to the final round on Wednesday and Thursday.
There are 48 competitors from the East Region in every individual event and 24 in the relays.  The NCAA West Prelims are running simultaneously in Fayetteville, Ark., with the same format.  The top 12 in each event from both regions advance to the NCAA Outdoor Championships in Eugene, Ore, on June 8-11.
Two Bulldogs ranked in the nation's top four in the multi-events earned the right to skip the Prelims by automatically qualifying for the NCAA Championships (senior Johannes Erm, junior Kyle Garland – decathlon).
When Do The Bulldogs Start On Saturday? The second and final day of the competition for the women begins on Saturday.  Elsie Igberaese, who had a personal best in the hammer on Thursday, starts the day for UGA in the discus on Saturday at 1 p.m.  The only event on the track for Georgia in the final Day is the 100m hurdle quarterfinal featuring senior Imani Carothers and freshman Eddiyah Frye.
Live Results: For live results, please click on: http://gado.gs/9dd
Live Stream: The NCAA East Prelims will be live streamed all four days: http://gado.gs/9dc
The Lowdown: The Bulldogs qualified six individuals on Friday. Carbin posted three first attempt clearances in the high jump, including a mark of 2.15/-7-0.50 to break into the top 12. This will be Carbin's second trip to the NCAA Outdoor Championships after he earned First Team All-America honors with a seventh-place finish in 2019.
Boling was third in his 100m heat and 11th overall while he took second in his heat and third overall in the 200m to punch his ticket in both. Boling was sixth in the 100m and fifth in the 200m at the 2021 Nationals after the country's 2020 outdoor season was canceled due to the pandemic.
Godwin won the opening heat with a 45.35 and finished fourth overall to automatically qualify for Nationals. Last year, Godwin advanced to the NCAA Championships final rounds and was 11th in the semifinal. His 2019 season was ended prematurely after Godwin ran into a javelin while backpedaling at practice.
Pender finished sixth in his heat and 10th overall after completing his laps in 1:48.77. This will mark Pender's first qualification to the NCAA meet.
Cavanaugh ran the fastest qualifying time of the 400m hurdles in the quarterfinals with a 49.59, which improves his No. 4 spot in the school record books. Cavanaugh punched his ticket to last year's NCAA Championships with an 11th-place finish in the Prelims quarterfinals. He was 14th in the semifinal at Nationals in 2021.
While Godwin and Boling were part of the First Team All-American corps in the 4x100m relay last year, this will give the Bulldogs a chance to score in the event at Nationals for the first time. Godwin, Cavanaugh, Boling and freshman Bryce McCray registered a 3:03.77 at the SEC Championships.
Results and recaps from the NCAA East Prelims will be found at georgiadogs.com. 
Day 1 NCAA Championships Final Qualifiers (MEN)
Name Event Place / Mark
Alencar Pereira Hammer Throw 4th / 69.02/226-5
Ahmed Magour           Javelin                         4th / 72.52/237-11
Day 2 NCAA Championships Final Qualifiers (WOMEN)
Titiana Marsh Long Jump 2nd / 6.37/20-10.75
Ana da Silva                 Shot Put                      2nd / 17.99/59-0.25
Day 3 NCAA Championships Final Qualifiers (MEN)
Darius Carbin High Jump 9th / 2.15/7-0.50
Elija Godwin 400m 4th / 45.35
Matthew Boling 100m 11th / 10.18
Matthew Boling 200m 3rd / 20.24
Clay Pender 800m 10th / 1:48.77
Caleb Cavanaugh 400mH 1st / *49.59
Men's 4x400m relay 6th / 3:03.77
Godwin, Boling, Bryce McCray
*personal record
Day 2 NCAA East Prelims Quarterfinal Qualifiers (WOMEN)
Imani Carothers 100mH 18th / 13.47
Eddiyah Frye               100mH                        27th / 13.59
MGOLF: Dawgs Open NCAA Championships in 11th
The Georgia men's golf team opened the NCAA Championships at Grayhawk Golf Club in 11th place on Friday.
Playing Grayhawk's par-70, 7,289-yard layout, the Bulldogs posted a first-round score of 11-over 291. Vanderbilt secured the team lead at 2-over 282, followed by Oregon and Auburn at 5-over 285, and Kansas and Arizona at 6-over 286.
"We need to keep playing solid golf," Georgia head coach Chris Haack said. "I saw a lot of good things out of our guys today. They were patient and they did not get in their own way. We'll clean up a few things here and there, and we'll be OK."
Freshman Maxwell Ford paced the Bulldogs with an even-par 70, including a birdie on his closing hole, good enough for eighth. Harry Hillier of Kansas and Brendan Valdes of Auburn ascended to the top of the individual leaderboard at 2-under 68. Senior Trent Phillips followed Ford with a 1-over 71 for 16th. 
Georgia also posted a 4-over 74 by junior Ben van Wyk and a 6-over 76 by freshman Buck Brumlow. Junior NIcolas Cassidy had the Bulldogs' non-counting score of 8-over 78.
"We're not concerned about the standings," Ford said. "We're really not looking at any leaderboards. Our plan is to keep swinging, all do our best, count them up at the end, and see what happens."
The Bulldogs will return to the course on Saturday for the second round, again paired with Arkansas and Wake Forest. Tee times will range from 11-11:45 a.m. EDT.
Georgia and the other 29 squads will have 54 holes of stroke play ending Sunday. The field then will be cut to the top 15 teams to complete a fourth round on Monday. The top eight squads after stroke play will advance to match play, with the quarterfinals and semifinals set for Tuesday and the championship slated for Wednesday.
Golfstat will provide scoring, pairings, and tee times for the NCAAs.
---
UGAAA Approves FY23 Budget
A fiscal year 2023 budget of $162,278,743 was unanimously approved by the University of Georgia Athletic Association Board of Directors as its annual two-day spring meeting concluded here Friday.
The budget projection for 2023 represents nearly an eight percent increase from the 2022 budget. "This (2023 budget) is a look back to pre-Covid numbers," said J. Reid Parker Director of Athletics Josh Brooks. "Last year there was a lot of uncertainty as we began to return to normal. This year is a return to normal projections as you look at budgets, when you talk about travel and recruiting. So it's more of a return to normal. We hope and project it to be a more 'normal' year and it's reflected in the projected budget."
Day Two agenda items included reports from student representatives Meg Kowalski (Tennis), Josh Stinson (baseball) about initiatives by the Georgia Way program. and Brennan Cox (student body rep), who proposed a series of changes to the student ticket policy for the 2023 school year. The changes were approved by the Board. The Student Wellness Committee, represented by Faculty Athletics Representative David Shipley, reported on further programs to enhance the mental well-being of UGA student-athletes. UGA Vice President for Finance Ryan Nesbit also presented the Treasurer's Report for the 2022 and 2023 fiscal years.
The increased emphasis on student-athletes' mental health programs was reflected in the 2023 budget projections. "I think we're seeing it on a national level. It's not just college athletes; it's college students in general," Brooks said. "We recognize that. We're dealing with a lot of high-performing student-athletes that put a lot of pressure on themselves. We're learning that the support we give them in that area goes a long way. They've embraced it. So we want to support them on the court, on the field, in the classroom."
The tenures of all three student representatives expired at the end of the 2022 academic year. Student-athlete reps on the Board for 2023 will be softball player Jaiden Fields, a junior from Kennesaw., and sprinter Caleb Cavanaugh, a junior from Houston, Texas. The student body representative for 2023 was voted on Thursday by the Board and will be announced at a later date.
---
Georgia To Participate in CFB's Mental Health Week
The Georgia Bulldogs will take part in college football's mental health week during the 2022 season, which is scheduled for October 1-8 this fall. Plans include the Bulldogs wearing a helmet decal for their home game against Auburn on Oct. 8.
For college football games between Oct. 1-8, Hilinski's Hope Foundation is curating a collective week of action focused on eliminating stigma and increasing mental health resources in universities and colleges. This coincides with Mental Illness Awareness Week, October 2-8, culminating on World Mental Health Day on October 10.
In 2021, more 65 universities showed their support, alongside the Pac-12, Big-12, and the College Football Playoff Foundation. This collective week of action garnered substantial nationwide attention over various media platforms. Most importantly, student-athletes, fans, coaches, sports psychologists, and countless others came together to break down stigma, host difficult conversations, and provide mental health resources.
Hilinski's Hope Foundation is a non-profit organization formed to promote awareness and education of mental health and wellness for student athletes. The Foundation's mission is to educate, advocate and eliminate the stigma associated with mental illness while funding programs that provide student-athletes with the tools and resources that support their mental health and wellness.
The Hilinski's Hope Foundation (H3H) was founded in 2018 by Mark and Kym Hilinski to honor the life of their son Tyler, a Washington State quarterback who died by suicide in 2018. H3H helps colleges and universities save lives, eliminate stigma and scale mental wellness programs for student-athletes. H3H does this by sharing Tyler's story, connecting students with mental health resources and assisting universities to institutionalize best practices.
H3H envisions a world where mental health is supported in parity with physical health and equally prioritized by universities as connected to athletic performance.
---
Jump To Comments