Jump To Top of Page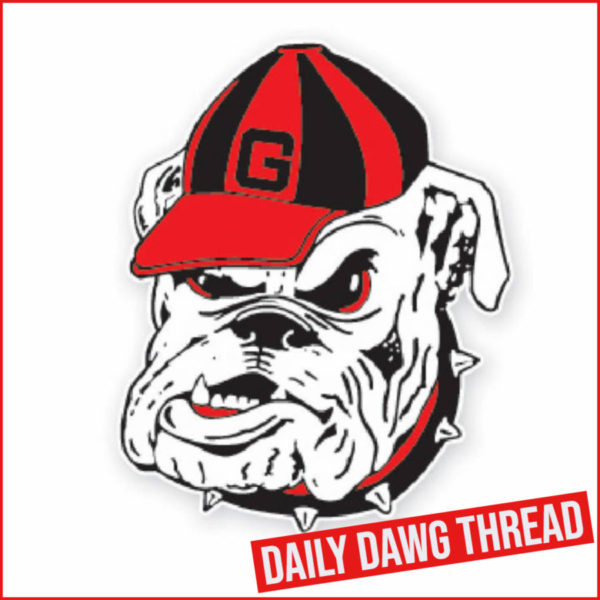 Video/Transcript: Kirby Smat's Tuesday Presser November 14, 2023
On preparing for the pace of Tennessee's game…
"I don't think you can simulate their pace. They are really good at what they do. They are fast at what they do. We try to, but I don't really delve into how we practice publicly. We keep that in house, but it is tough to simulate."
On Amarius Mims…
"He has looked good. He played good. He feels more comfortable with each day. The highs and lows of that injury are pretty common. He feels good."
On Warren Brinson and C.J. Smith…
"C.J. has been dealing with a knee injury that has been bothering him. He has had it off and on for a while. We are hoping to get him back soon. Warren had a calf injury. We are hoping to get him back. He hasn't been able to do much this week. He felt it in the game some. We are hoping to get him back. He was out there today moving around."
On Brock Bowers' return…
"You are probably better off asking him that. He wanted to get back. I don't think it was ever a rush. You don't rush an injury back, especially somebody like that. You have markers to hit. When you hit the marker, you go to the next marker. Once you hit the four markers, it becomes are you capable of playing at a high enough level to contribute to the team? It was never about a number of days, it was about the markers. He clocked those off, and he went to the next step each time. He felt like he had the confidence to go out there and play, and he did that."
On the passing offense…
"We had Nick Chubb and Sony Michel when we got here, so we would be fools to throw it more than we run it. They are both first round picks in my mind, It is really about your personnel."
On the importance of the relationship between a coordinator and an offensive line coach…
"I think I hired Stacy (Searels) before Mike (Bobo), but I am not sure of the order there. Maybe Mike was here but he was and analyst. We hired Stacy because Coach (Todd) Monken was really comfortable with Stacy. I was comfortable with Stacy. He has worked with me at LSU. I had worked with him at LSU. He is a really good offensive line coach. The hiring of Stacy didn't have much to do with Mike. The coordinator of the offensive line is a big deal. That is his go-to guy. They want to have a good relationship and a good understanding and philosophies need to marry up. That was really important to Monken in that hire. Once we hired Mike, it was a no-brainer. (Searels) had already been a coordinator and had worked with everybody in the room."
On what has stood out about Mike Bobo as a coordinator and play-caller…
"His ability to adapt to the personnel we have. He has a very rotating lineup. He has had this in and that guy out. He had two tight ends then he didn't have two tight ends. Pearce (Spurlin) had been in twice. Lawson (Luckie) has been hurt. Brock (Bowers) has been hurt. He has had backs in and out. Backs in and out. The ability to teach concepts and have plug-and-play players, his development of the quarterback, his leadership and messaging to the offensive is critical because I am not over there all the time. He has to be the leader and voice of reason. He relies heavily on his staff. He would be the first to tell you he has an incredible staff. Dell (McGee), (Todd) Hartley, (Bryan McClendon) and Searels are incredible, and the analysts are incredible. When you put a good staff together, you get good decision making, innovative with a lot of ideas. They present each week to him so that he has good material to pick from."
On Tennessee's run game…
"It is the backs, the commitment to the run and the spacing of the receivers. They are not playing in a phone booth. They are playing in a big farm field. They have everybody spread out, so when a run spits, it is going to go for a long way before somebody gets to it. Your ability to tackle and fit runs is exposed at a three-times the level. They almost always have a good box count, meaning they got a hat on a hat and are at ana advantage. A man has to whip another man to be able to stop the run against them. Sometimes you don't do that."
On praising players who have returned from injury…
"That is just a snippet of what you saw. I praised a lot of guys in that moment. I don't know what they pick and choose to play. That is something that I don't have anything to do with. I am certainly proud of those guys. I was proud of a lot of guys that night. Jamaal Jarrett, he came back from injury twice. I am proud of all the players that come back from injuries."
On if the crowd noise helps prepare for the atmosphere at Tennessee…
"I wouldn't go play without it. I can't tell you how much it helps. I don't honestly know how much it helps. It is hard to measure that. Some teams can do it more than we do it, have a young offense and have a lot of penalties. You could have a very experienced offense, not do it and not have a lot of penalties. It comes and goes. A lot of It has to do with the situation of your team and the focus of your team."
On focusing on the challenge of Tennessee after their loss last weekend…
"It was today. I don't know if it was because of that. I don't know what it was because of. They must be feeling themselves a little bit. I am a little disappointed. I don't think it has anything to do with Tennessee. It was a disappointing practice. We have had about five really good Tuesdays in a row, but they were not good today."
On the key to get the team refocused after a bad practice…
"Having a core leadership and good culture on your team to respond."
On Jonathan Jefferson's status…
"He's good. His breath got knocked out of him, I think."
On his advice to assistant coaches who aspire to be head coaches…
"Pick the right one. Be where your feet are. You have a good job. Do a good job at your job, and you will get more opportunities. A lot of jobs out there are not better than the one you've got."
---
Video/Transcript: Brock Bowers, Zion Logue and Tate Ratledge Interviews – November 14, 2023
On his first snaps back after his injury…
"I'm feeling pretty good. I'm a little sore after the game, but that's to be expected. Just haven't played in three or four weeks, or whatever. But yeah, I'm excited to go on the road and play at Neyland. I think it's going to be a fun environment to play in. I'm just excited."
On getting to in play the final game of the season at Sanford Stadium…
"I didn't have my mind really locked in on it [being the last home game of the season], but once I got out and there and suited up, it just felt kind of special being out there for the last time this season. It was just so cool."
On his touchdown against Ole Miss…
"The touchdown catch – we've repped that play every single day of every single week for like three years. That was like the first time we have actually ran that in a game because of the right coverage to throw the 'Y' the ball. It came up, and I motioned out and I saw them and thought, 'Oh man, this might be good.' It felt really good just getting back and scoring, and then being able to celebrate on the sideline with all the dudes. It was fun."
On the final home game of the season…
"Saturday night was very emotional. I dropped a couple tears at different times of the day. The first one was during our religious service, then Sed hit us with it, and then seeing my parents right after the game, and just dapping everybody up. Just embracing all of those guys. Having Nolan [Smith] and Jordan [Davis} back – it was huge. Just to always see those guys, not even in a football setting, but when you see them when they come back to town and sit down to talk with them and ask how it's going at the next level to pick at their brains a little bit. But my favorite memory – probably just dapping everybody up that last time, and just enjoying everybody pregame, during it, actually getting the younger guys playing and going out there to dominate. Just having fun, honestly."
On his relationship with Nazir Stackhouse…
"That's my dog, man. Just knowing Naz, knowing who he is, knowing what he's overcome over his time of his recruiting process in high school coming to Georgia. A lot of people don't know that Naz has narcolepsy, so he's not allowed to drive. It's hard for him to stay active and awake. Just the daily grind that he goes through just to be a dominant player – I love him, and I tip my hat to him."
On the offensive line being nominated for the Joe Moore award…
"Well, they should be a three-time Joe Moore winner, so I'm just going to throw that out there. Those guys, they really pride themselves on that. On being the best offensive line in the country, which I believe. Like I said, they're very competitive, a very tight-knit group. They're going to work their tails off every day. They're going to give you everything they have on Saturdays, and I wouldn't rather have a better group of guys on my side."
On growing up a Tennessee fan before coming to Georgia…
"Growing up, it was my dad's side of the family that were die hard Tennessee fans, so it's what I grew up with. I went to a couple of spring games here and there. It was a team of choice around the house, but when the time came that I started getting recruited my dad told me that I had to make my own decision and put everything else aside. My dad told me 'I'm not going to live my life through you, I'm a huge Tennessee fan but you're not going to hurt my feelings if you don't go there'. It just came down to picking what was best for me."
On how he feels about getting to start a game in Neyland Stadium…
"I think part of being a competitor is that it is something you look forward to when you're going into an amazing environment which almost every SEC team has. It's basically you against the world in a place like that, and I think that feeling as a competitor is awesome."
On keeping the same level of play each week against good opponents…
"I don't think it's difficult to keep that same level of play, that's the standard here. I think everybody knows that, and I think we're going to always get called out if we don't uphold that. It's something we have to fix, and I think we'll make sure to do that tomorrow."
---
---
Dawgs in the NFL – Week 10
Former Georgia Bulldogs played a large role across the National Football League during week 10 of the 2023 regular season. Roquan Smith had a career game during Baltimore's loss, racking up 21 total tackles. Former Bulldogs hold the top two spots for total tackles in a single game this season – Smith with 21 on Sunday and Quay Walker with 19 for Green Bay during the team's week four loss.
Colts 10, Patriots 6
Isaiah McKenzie, WR – Played 46 percent of snaps Indianapolis, reeling in four passes on all four of his targets for 31 yards. Served as the primary returner for both punts and kickoffs for the Colts, returning one punt for 11 yards, and one kickoff for 42 yards in the win.
David Andrews, OC – Started at center for the Patriots as they gained 340 yards on offense.
Browns 33, Ravens 31
Ben Cleveland, OG – Played two snaps on offense and six snaps on special teams for the Ravens in the loss.
Roquan Smith, ILB – Started at middle linebacker for the Baltimore defense, recording 21 total tackles. Smith now stands third in the NFL with 107 tackles, while also surpassing 800 in his seven-year NFL career thus far. His 21 tackles on Sunday were also a career record for tackles in a single game.
Texans 30, Bengals 27
Trey Hill, OC – Was inactive for the Bengals due to a coach's decision.
49ers 34, Jaguars 3
Charlie Woerner, TE – Played 24 total snaps for San Francisco on Sunday, recording no statistics.
Travon Walker, DE – Played 69 percent of snaps for the Jaguars defense, recording one pass defended and two quarterback hits.
Tyson Campbell, CB – Started at cornerback for Jacksonville, recording three total tackles.
Vikings 27, Saints 19
Lewis Cine, S – Inactive for Minnesota due to a coach's decision.
Steelers 23, Packers 19
Broderick Jones, OT – Started his second consecutive game at tackle for the Steelers, playing 100 percent of their offensive snaps, as they gained 324 total yards.
Darnell Washington, TE – Played 51 percent of snaps for the Pittsburgh offense, catching one pass for six yards in the win.
George Pickens, WR – Started at wide receiver for the Steelers, hauling in three of his four targets for 45 yards.
Quay Walker, ILB – Was inactive for Green Bay due to a groin injury.
Devonte Wyatt, DT – Recorded two tackles for the Packers defense in the loss.
Buccaneers 20, Titans 6
Jake Camarda, P – Punted five times for Tampa Bay, for an average of 34.2 yards, with a long of 47 yards and one punt downed inside the 20-yard-line.
Monty Rice, ILB – Played 29 percent of snaps for the Titans defense, recording four tackles in the loss.
Cardinals 25, Falcons 23
John Fitzpatrick, TE – Played nine snaps for the Falcons offense and 10 special teams plays while recording no statistics.
Lorenzo Carter, OLB – Saw action in 27 snaps on defense for Atlanta and 10 snaps on special teams, recording one total tackle.
Jonathan Ledbetter, DE – Started at defensive end for the Cardinals, recording four total tackles in the win.
Lions 41, Chargers 38
Jamaree Salyer, OT/OG – Started at right guard for Los Angeles as it gained 421 total yards of offense and a season-high 38 points.
Cowboys 49, Giants 17
Andrew Thomas, OT – Started at left tackle for the Giants and injured his knee midway through the first quarter. He was listed as questionable to return but reentered the game in the second quarter, totaling one tackle and appearing in 32 offensive snaps.
Lawrence Cager, TE – Appeared as a reserve tight end for New York, catching a 10-yard touchdown pass. Cager played in 25 total snaps – 13 on offense and 12 on special teams.
Seahawks 29, Commanders 26
Kenny McIntosh, RB – Was removed from the Seahawks' injured reserve list but was not active in the team's win.
Raiders 16, Jets 12
John Jenkins, NT – Started at defensive tackle for Las Vegas, posting four tackles and a pass deflection in just over half of the team's plays on defense.
Zamir White, RB – Saw action as a reserve running back for the Raiders, earning five yards on one rush attempt and playing in 10 special teams snaps.
Christopher Smith II, S – Appeared as a reserve safety for Las Vegas, playing in 16 special teams plays and recording no statistics.
Broncos 24, Bills 22
James Cook, RB – Started at running back for the Bills and had a game-best 109 rushing yards on 12 attempts including a long of 42 yards. Also had two catches for 11 yards.
Leonard Floyd, OLB – Started at defensive end for Buffalo and recorded three tackles, including one for loss while playing in 59 percent of the team's defensive snaps.
Practice Squads
Falcons: Justin Shaffer, OL
Buccaneers: Richard Lecounte III, S
Commanders: Jake Fromm, QB
Chargers: Mark Webb, DB
49ers: Chris Conley, WR
Reserve Lists (IR, PUP, NFI)
49ers: Robert Beal Jr., DE
Ravens: Nick Moore, LS
Rams: Stetson Bennett, QB
Titans: Kearis Jackson, WR/PR
Browns: Nick Chubb, RB
Giants: Azeez Ojulari, OLB
Packers: Eric Stokes, CB
Dolphins: Isaiah Wynn, OT/OG
Panthers: Justin Houston, OLB
---
Georgia's offensive line has been named one of the 12 semifinalists for the 2023 Joe Moore Award
Now in their eighth season under the direction of Kirby Smart, the Bulldogs are 10-0 this year, and are the consensus number one team in the national polls and No. 2 in the College Football Playoff rankings. Stacy Searels serves as Georgia's offensive line coach.
The Bulldogs rank sixth nationally is scoring, averaging 40.6 points per game. Georgia ranks fifth nationally in Total Offense at 504.8 yards per game including 7.3 yards per play. The Bulldogs lead the SEC and rank seventh nationally in fewest sacks allowed at 0.90 per game. The offensive line has helped first-year starting quarterback Carson Beck rank sixth nationally with a 72.2 completion percentage. The line has been one of the reasons the Bulldogs lead the nation in 3rd Down Conversion Percentage at 56 percent.

Here is the Joe Moore Award voting committee's take on Georgia's offensive line at this point:
"The Georgia O-line machine rolls on. Not many units could lose their best player [RT Amarius Mims] in Week 3 and replace him with their LG [Xavier Truss] and not skip a beat. It looks a bit different this year, but the high level of production through all the injuries on that side of the ball is remarkable. Searels does a great job, and this may be the year they break through."
---
CJ Allen named Shaun Alexander Freshman of the Week
Georgia true freshman inside linebacker CJ Allen was named the Shaun Alexander Freshman of the Week following his performance versus No. 9 Ole Miss, according to an announcement from the Maxwell Football Club Tuesday.
Bulldogs are no stranger to his award as Malaki Starks was the finalist last year and Brock Bowers won the honor in 2021. This weekly accolade comes a day after Allen was named the Southeastern Conference Freshman of the Week.
Allen, a native of Barnesville, Ga., led the Bulldogs in tackles with nine stops, including a sack, during his first start filling in for the injured Jamon Dumas-Johnson. He was part of a unit that held the Rebels to just three points in the second half to help clinch the SEC Eastern Division for the third straight year.
The Shaun Alexander Freshman Player of the Year Award is an honor given each year to the most outstanding freshman player in college football. Named after Shaun Alexander since 2018, this award recognizes the exceptional performance and impact made by these players on their respective teams throughout the season. The winning formula evaluates players based on Talent, Character, Ambassador and Legend.
---
Jump To Today's Discussion Thread