Today's Contents – Click to Read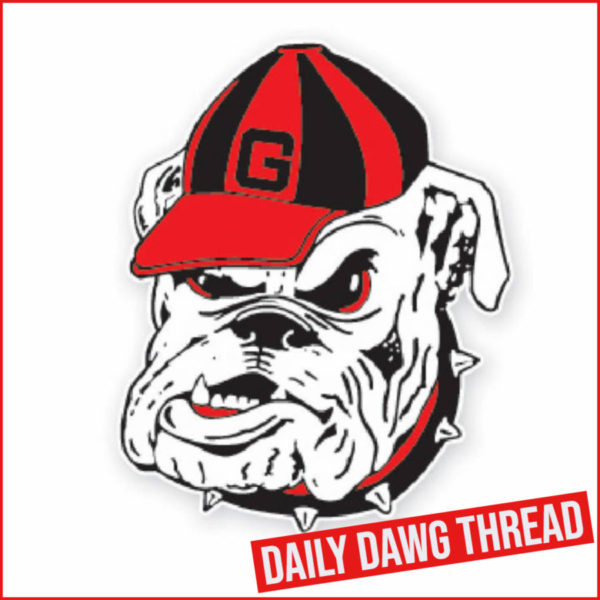 ---
Jonas Jennings' Annual Thanksgiving Turkey Distribution
Jonas Jennings, the Director of Player Development for the University of Georgia football program and former Bulldog great, is hosting his 13th Annual Helping Hands Thanksgiving Turkey Distribution on Monday, November 22 from 11 a.m.- 3 p.m.
A native of College Park, Ga., Jennings will distribute the turkeys to College View Hills residents of the College Park Housing Authority on the COI basketball court. Additionally, he will be visiting 230 families and seniors in the community.
One of Jennings' passions is his philanthropic efforts towards the poor-stricken communities of his hometown and towards the youth and elderly within it.
Today's Contents – Click to Read
---
Baseball: Dawgs Add Nine for 2023
Georgia's Ike Cousins head baseball coach Scott Stricklin announced Monday that nine student-athletes will be joining the Bulldog baseball program for the 2023 season.
Luke Boykin, OF, 6-1, 189, R-R, Jesup, Ga. (Wayne County HS)
*Batted a team-best .431 with 14 home runs, 39 RBI and 10 stolen bases as a junior for coach Justin McDonald
*Led the Yellow Jackets to region titles in 2019 and 2021 while earning All-Region and Player of the Year honors plus was named All-State by the Georgia Dugout Club
*A Georgia Certificate of Merit Scholar, a recipient of Heisman High School Scholarship and three-time honoree for highest GPA on the baseball team
*Played summer baseball for Five Star National and Game On Vipers including winning 2018 BCS national title with Five Star plus earned multiple All-Tournament honors with Game On Vipers
*Son of James and CeciliaBoykin
"I've always dreamed of playing for UGA," said Boykin. "This opportunity provides a great education and an awesome coaching staff who have an outstanding reputation for player development."
                Coach Stricklin on Boykin: "Luke is a very good athlete with lots of power and capable of hitting to all fields. He plays with high energy."
Jarvis Evans, LHP, 6-4, 215, L-L, Buford, Ga. (Georgia Premier Academy)
*Posted a 3-1 mark with a 2.10 ERA and 15 strikeouts in 25 innings pitched for coach Gene Reynolds
*Also earned letters in football and basketball for the Sox
*Participated in 2021 Perfect Game National Showcase event and named to PG Underclassmen All-America team for the Southeast Region
*Played summer baseball with the GBSA Rays and with Toronto Blue Jays Scout Team at the 2021 WWBA World Championships with fellow signee Leighton Finley
*Son of Jarvis and Kim Evans
"I've been a Georgia boy my whole life – I'm a Dawg," said Evans.
Coach Stricklin on Evans: "Jarvis is a football/baseball player who has decided to focus on baseball. He is a left-handed pitcher with a very high ceiling, and the best is yet to come for him."
Leighton Finley, RHP/SS, 6-5, 214, R-R, Richmond Hill, Ga. (Richmond Hill HS)
*Posted an 8-2 mark with a 0.80 ERA and 35 strikeouts in 56 innings plus hit .385 with 28 RBI as a junior for the Wildcats
*Went 7-3 with a 1.30 ERA in 50 innings plus batted .385 with 23 RBI during his first two seasons on the varsity for coach Chris Jenkins
*Named team MVP, Region Player of the Year and FCA All-Star in leading Wildcats to the sweet 16 of the state playoffs
*Honor Roll student and recipient of Wildcat Pride Award
*Played summer baseball for Game On Vipers that won a pair of titles as well on the Toronto Blue Jays Scout Team at the 2021 WWBA World Championships with fellow signee Jarvis Evans
*Son of Mitch and Beth Finley
"I am excited to play baseball at UGA because it is a very competitive SEC school which will challenge my abilities both academically and athletically," said Finley.
                Coach Stricklin on Finley: "Leighton is a big, strong, physical athlete that has the potential to be a two-way player for us. He is a high-velocity right-handed pitcher who also hits with a lot of power."
Blake Gillespie, RHP, 6-1, 180, S-R, Lula, Ga. (Medway HS)
*Posted a 3-1 record and team-best 1.07 ERA and 38 strikeouts in 23 innings as a senior for the Cowboys who went 35-16 in 2021 under coach Scott Hubert
*Batted .310 with two home runs, a team-best 46 RBI and 21 stolen bases combined during his sophomore and junior seasons on the varsity as the Cowboys went 42-32
*An Honor Roll student who attended Medway in Arva, Ontario before family moved to Georgia
*Played summer baseball with the Ontario Nationals
*Named to Perfect Game Underclass All-America Honorable Mention for Canada in 2020 and 2021
*Son of Shawn and Amy Gillespie
"The coaching staff, the academics and the lifestyle made choosing UGA an easy decision," said Gillespie.
Coach Stricklin on Gillespie: "Blake is a very projectable right-handed pitcher and a plus athlete on the mound. He has a chance to be a frontline starter."
Matthew Hoskins, RHP, 6-2, 210, R-R, Duluth, Ga. (Peachtree Ridge HS)
*Tallied a 3-4 record, 3.90 ERA with 35 strikeouts in 26.1 innings in his first two seasons on the varsity for coach Tyler Collins
*Batted .396 with a team-high three home runs and 20 RBI for the Lions
*Played summer baseball with Team Elite
*Son of Scott and Susan Hoskins
"I chose UGA because it is a great school and has really good athletics," said Hoskins.
                Coach Stricklin on Hoskins: "Matthew is a big, strong physical pitcher who features a mid-90s fastball.  We feel like he can be a future member of our starting rotation."
Tanner Knowles, INF, 5-10, 175, R-R, Perry, Ga. (Perry HS)
*Batted .402 with a home run, 25 RBI and 24 stolen bases in his first two seasons on varsity for coach Denny Bryant
*Helped the Panthers to a 22-9 mark and was named Offensive Player of the Year in 2021
*Outstanding student with 4.0 GPA and four-year member of the Honor Roll
*Played summer baseball with 5 Star National
*Son of Ricky and Chrissy Knowles
"Georgia has always been my dream school growing up, and I knew if I ever got the opportunity to play there, I would," said Knowles.
                Coach Stricklin on Knowles: "Tanner is one of the fastest guys in the country in the 2022 class. He can play anywhere on the infield and could even play in the outfield."
Jonathan Little, INF, 5-8, 170, R-R, Tyrone, Ga. (Sandy Creek HS)
*Batted .425 with four home runs, 28 RBI and 42 stolen bases in his first two seasons on the varsity for coach Nicholas Pou
*Helped the Patriots to a 26-18 record
*Two-time First Team All-Region, All-State honors plus was named Freshman of the Year and Georgia Positive Athlete nominee
*Played summer baseball with Foundation Sports and Arkansas Sticks Academy
*Son of Stacy and Dorinda Little
"I chose UGA because it was close to home for friends and family to come to watch, and the University of Georgia has state-of-the-art technology that will develop me to ultimately reach my goal of playing professionally," said Little.
Coach Stricklin on Little: "Jonathan is a versatile infielder who can play second base or shortstop. He has a lot of bat speed and plays the game with a lot of energy."
­­
Josh Tate, INF, 5-11, 167, R-R, Peachtree City, Ga. (Starr's Mill HS)
*Batted .364 with a home run, 17 RBI and 33 stolen bases as a junior for the Panthers as they went 31-11 and captured the state championship
*Batted .338 with three home runs, 38 RBI and 54 stolen bases in 41 games during his first two seasons on the varsity for coach Brent Moseley
*Played summer baseball with Home Plate Chili Dogs and helped them capture the 2020 Perfect Game Southeast Fall World Series and invited to the National Showcase event
*Son of Eugene and Rebecca Tate
"I choose UGA because it was the perfect fit for me," said Tate.
                Coach Stricklin on Tate: "Josh is a really instinctive baseball player capable of playing anywhere on the infield. He can handle the bat and projects as a top-of-the-order hitter."
Justin Thomas, OF, 6-0, 180, R-R, Savannah, Ga. (Benedictine Military School)
*Batted .455 with a team-leading 56 hits, five triples, 45 RBI and a .547 OB% as a junior in 39 games for coach Kevin Farmer
*Tallied eight home runs and 16 stolen bases in 2021 plus saw action on the mound, posting a 3-1 record, 1.41 ERA and two saves in 13 appearances
*Finished with 38 strikeouts and 12 walks in 29.2 innings
*Helped the Cadets advance to the state finals in Class 4-A and a final record of 33-6
*A two-time All-Region 3-AAA selection as well as to the Savannah Morning News All-Greater Savannah baseball team and named 2021 All-State by the Georgia Dugout Club
*Also earned All-Region and All-State honors on the gridiron as a two-way standout, tallying 34 touchdowns and more than 2,000 all-purpose yards for Danny Britt's squad that is ranked No. 2 in the state by the Atlanta Journal Constitution heading in to the quarterfinals of the 2021 Class 4A playoffs…Scored a career-high five TDs in 2nd round win over Luella
*Received the Chuck Phillips Scholarship as an Outstanding Senior
*Played summer baseball with Team Elite
*Son of Justin and Jessica Thomas
"It's always been a goal of mine to play college baseball at the University of Georgia," said Thomas. "I am very grateful for all of my coaches and teammates who have helped me achieve my goal to wear the Red and Black. Go Dawgs!"
                Coach Stricklin on Thomas: "Justin is one of the best athletes in the 2022 class, and he is a Division I football prospect. We're thrilled that he's chosen to play baseball where he projects as a centerfielder."
Georgia Baseball Recruiting Class For The 2023 Season
Luke Boykin (OF, 6-1, 189, R-R, Jesup, Ga., Wayne County HS)
Jarvis Evans (LHP, 6-4, 215, L-L, Buford, Ga., Georgia Premier Academy)
Leighton Finley (RHP/SS, 6-5, 214, R-R, Richmond Hill, Ga., Richmond Hill HS)
Blake Gillespie (RHP, 6-1, 180, S-R, Lula, Ga., Medway HS)
Matthew Hoskins (RHP, 6-2, 210, R-R, Duluth, Ga., Peachtree Ridge HS)
Tanner Knowles (INF, 5-10, 175, R-R, Perry, Ga., Perry HS)
Jonathan Little (INF, 5-8, 170, R-R, Tyrone, Ga., Sandy Creek HS)
Josh Tate (INF, 5-11, 167, R-R, Peachtree City, Ga., Starr's Mill HS)
Justin Thomas (OF, 6-0, 180, R-R, Savannah, Ga., Benedictine Military School)
Today's Contents – Click to Read
---
Jump To Comments