Jump To Top of Page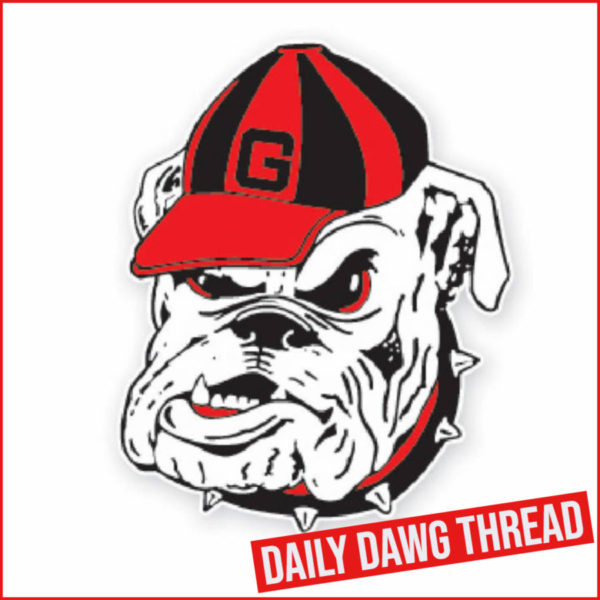 Dominic Lovett and Tate Ratledge Interviews – October 25, 2023
On what his teammates told him to expect for his first Georgia vs. Florida game…
"My teammates told me to just go out there, play football, and have fun. They just told me that this game does mean something to this program as far as the Gators and the Dawgs. I know it's going to be a physical war, but at the same time I want to go out there and have fun. We've prepared a lot for this game because it does mean a lot so I'm just going to try to go out there and just play."
On if there is more pressure with Brock Bowers out of the lineup…
"Brock is a big piece of our team, but we all said that we're going to go five percent harder to make up for the loss. Football isn't played by one person at the end of the day, and Brock is a big piece but with him out it just means that everyone has to step up for the team. So, I'm hoping for a speedy recovery for him, and we hope to see him back sooner rather than later."
On the team's performance so far and Carson Beck…
"I feel like from a full team standpoint, we have yet to play our best football, we take strides day in and day out as a team on and off the field. We come in and watch film before and after practice, I just think we have yet to reach our peak as a team so far this season. Carson is doing a great job leading the team with his confidence and swagger, so we're just going to follow behind him and whatever he says, goes."
On the importance of the Georgia Florida rivalry…
"I think it's huge. It's the one growing up that you always hear about no matter what fan you are. If you're a football fan down south, it's one of the bigger games of the year. All through recruiting you hear about it here. It's something we pride ourselves on and take really seriously."
On how he has seen quarterback Carson Beck prepare for playing back in his hometown…
"He's been a little bit more energetic at practice. I think he's really looking forward to this game and getting to go back to his hometown and play. I know this is a big game for him, so I'm excited to see what he can do."
On the rotation at right tackle next to him…
"I would say I try to keep away from thinking about it as much because I feel like if I start thinking about it that's when I'm going to start playing differently and stuff like that. But it's definitely different playing next to all three guys. Like I've said before, [Amarius] Mims is a freak; he plays like a freak. I've played next to him for two years now, so I have all my trust in him knowing he's going to be where he's supposed to be and stuff like that. With [Xavier] Truss it's the same way. I trust him knowing. He plays a little tighter to me in pass-pro so that was a little bit of adjusting too. Mims usually is farther away when we're passing off twists, but he can be because he has freakishly long arms. Just knowing Truss is always going to be closer to me. And with Monroe [Freeling], it's more trying to help him out. Trying to help him find his way because against Vanderbilt was his first time playing meaningful snaps in a game, so him getting in there is kind of just telling him, 'Play ball. Play your game.' So, trying to help him out knowing that I'm going to help in every way I can when we're out there."
---
Ladd McConkey named a William V. Campbell Trophy finalist
Watch a fullscreen slideshow
HERE.
Georgia junior receiver Ladd McConkey is one of 16 recipients who has been named to the 2023 National Football Foundation (NFF) National Scholar-Athlete Award class and a William V. Campbell Trophy finalist for his combined academic success, football performance and exemplary leadership, according to an announcement from the NFF and the College Hall of Fame on Wednesday.
With McConkey's selection, Georgia has now had a Southeastern Conference leading 15 NFF postgraduate scholars and has the league's only recipient this year. In fact, the Bulldogs are tied for sixth nationally in the category with their first receiver in history being honored.
Each of the players honored win an $18,000 postgraduate scholarship and will be recognized at the 65th NFF Annual Awards Dinner in Las Vegas at the ARIA Resort & Casino on Dec. 5. The honorees comprise the list of finalists for the Campbell Trophy, which recognizes an individual as the best scholar-athlete in the nation. One member of the class will be declared as the winner of the 34th Campbell Trophy and have his postgraduate scholarship increased to $25,000.
McConkey is also the only receiver on a squad that has nine offensive players. The Chatsworth, Ga., native is the first Bulldog to garner the honor since place-kicker Rodrigo Blankenship received the 2019 NFF award. Like Blankenship, McConkey was named to the Allstate American Football Coaches Association (AFCA) Good Works Team earlier this season.
This marks only the third time in school history that Georgia has had an NFF Scholar Athlete as well as an Allstate AFCA Good Works Team member in the same year. In addition to Blankenship garnering both honors, punter Drew Butler was included as a Scholar Athlete while tight end Aron White was on the Good Works Team in 2011.
The Bulldogs have now had 15 players in school history to earn this NFF honor. While this is the second in the Kirby Smart era, there have now been six in the 2000s: McConkey, Blankenship, Murray, Butler, quarterback David Greene (2004) and offensive tackle Jon Stinchcomb (2002).
Bobby Etter in 1966 was the first Georgia winner. Tommy Lawhorne (1967), Billy Payne (1968), Tim Callaway (1969), Tommy Lyons (1970), Tom Nash (1971), Jeff Lewis (1977), Terry Hoage (1983) and Matt Stinchcomb (1998) are also Bulldogs who have been honored.
Redshirting as a scout team member during the pandemic shortened 2020 season, McConkey has distinguished himself as exceptional both on and off the playing field.
McConkey, a 6-0, 185-pound graduate of North Murray High School, was a pivotal part of Georgia's run to consecutive national championships in 2021 and 2022 and a 29-1 mark over that stretch. Last season, he finished with 58 receptions for 762 yards and a team-high seven touchdowns. McConkey added seven carries for 135 yards and two touchdowns while returning 16 punts for 197 yards. He helped finish the Bulldogs' record-breaking 15-0 campaign by snagging five catches for 88 yards and two scores in the College Football Playoff title game during a 65-7 rout of No. 3 TCU.
McConkey made the best out of his redshirt freshman season in 2021 to help lead Georgia to its first national championship in 41 years. He had 31 catches for 447 yards and five touchdowns, carried the ball four times for 44 yards and a score and returned five punts for 82 yards.
This season, McConkey has been limited with a back injury but has nine catches for 107 yards (11.9 average) in just three games played during the Bulldogs' 7-0 start. Four of his receptions accounted for substantial third down conversions and another was a season-long 31 yarder at Vanderbilt that led to Georgia's second touchdown.
In the classroom, McConkey has been just as impressive. The SEC Academic Honor Roll member graduated magna cum laude in just three years thanks to a 3.85 GPA in Finance. He was voted to the 2022 College Sports Communicators (CSC) All-District Team and is part of the UGA Athletic Association's Leadership Academy (LEAD). McConkey is currently enrolled in the Entrepreneurship Certificate program.
---
Baseball: Dawgs Face Gators in Exhibition Friday Night in Jacksonville
The exhibition will be played at 121 Financial Ballpark, home of the Jacksonville Jumbo Shrimp, the Triple-A affiliate of the Miami Marlins. The Bulldogs, under the direction of Ike Cousins head baseball coach Wes Johnson, are the visiting team this year. They will occupy the third base dugout. Tickets will be $15 and include a 90's themed post-game concert featuring performances by Vanilla Ice, Young MC, Montell Jordan and Tone Loc. Tickets are on sale online via Ticketmaster at the following link: https://gado.gs/avk
Friday's contest will mark the first of two fall exhibitions for the Bulldogs who began practice last month.
"It's always good to play somebody in a different uniform, the lines are painted, there's umpires and people in the stands," said Johnson.
Johnson added several pitchers are slated to see action Friday, however the final number including the starter has not been determined. Still, he's looking forward to seeing how his club performs.
"It's not about their ability, I know what their ability is, their talent-level, it's what's their heartbeat?" Johnson said. "That's what's going to change. There's about a 15 percent window where it's going to go either way for some of the guys. However, we have an older club, and guys that have been on the big stage before, been in regionals, been in Omaha, so I don't anticipate some of these guys having the speed of their heart change too much. There will be some nerves, and the next phase is how do you coach a player after you see where his heart rate is."
Since 2019, the schools have partnered with the City of Jacksonville, ASM-Global Jacksonville and 121 Financial Ballpark to add the exhibition to the weekend of activities surrounding the annual Georgia-Florida football game that will be played this Saturday at EverBank Stadium. 
Last year, the Gators won the baseball exhibition 8-4 while the Bulldogs defeated Florida 8-5 in the 2021 scrimmage. The 2020 contest was canceled due the COVID-19 pandemic. In 2019, Florida posted a 5-3 decision before a crowd of 8,640 that also featured a post-game concert by country music star Brett Young and special guests.
---
Jump To Today's Discussion Thread