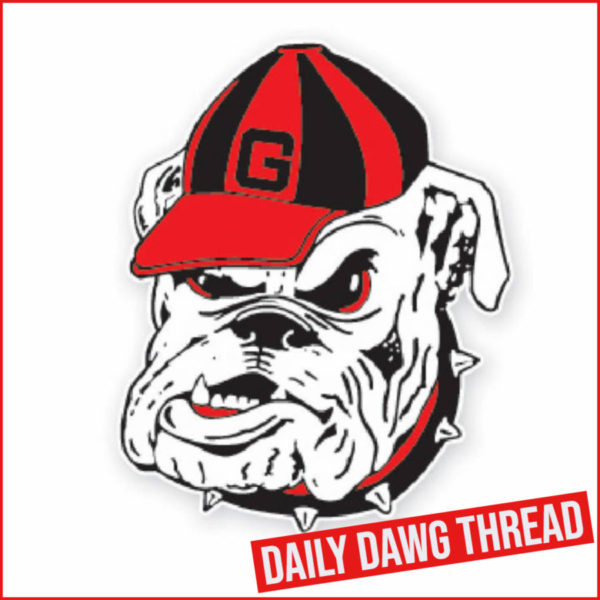 ---
Kirby Smart Postgame Interview – Georgia vs. South Carolina
---
Brock Bowers, Stetson Bennett, Sedrick Van Pran, Nolan Smith and Kelee Ringo Postgame Interviews
---
Georgia vs. South Carolina Photo Gallery
Watch a fullscreen slideshow
HERE.
Today's Contents – Click to Read
---
MTennis: UGA Posts 6 Wins vs. Virginia
The Georgia men's tennis team posted four singles wins and a pair of doubles victories against defending national champion Virginia on Saturday at the 55th Southern Intercollegiate Championships.
Bulldog freshman Ethan Quinn moved to 2-0 on the week, this time downing No. 21-ranked Jeffery Von Der Schulenburg, 6-4, 6-7 (8), 6-4. On Friday, Quinn defeated No. 35-ranked Eliot Spizzirri of Texas in three sets.
Joining Quinn in the victory column were Teodor Giusca, Miguel Perez Peña and Thomas Paulsell. Overall, Georgia totaled eight singles wins in back-to-back days against Texas and Virginia.
In the first completed doubles match, which was done in an eight-game pro set, Georgia's Guisca and Paulsell dropped the opening game against UVA's Ty Switzer and Georgia State's Gabriele Datei. The sophomore and fifth year rattled off six straight afterward to claim an early 6-1 lead en route to an 8-4 victory.
Georgia's Blake Croyder and Britton Johnston were down 4-3, but reeled off wins in five-straight games to defeat Von Der Schulenburg and Alexander Kiefer.
On Sunday, Georgia faces off against players from USC, beginning at 9 a.m.
Georgia vs. Virginia
(this is a singles and doubles tournament with no team score)
Doubles
1. Chris Rodesch/Ryan Goetz (UVA) def. Ethan Quinn/Trent Bryde (UGA) , 8-7 (4)
2. Blake Croyder/Britton Johnston (UGA) def. Jeffery Von Der Schulenburg/Alexander Kiefer (UVA), 8-4
3. Teodor Giusca/Thomas Paulsell (UGA) def. Ty Switzer (UVA)/Gabriele Datei (Georgia State), 8-4
Singles
1. Ethan Quinn (UGA) def. #21 Jeffery Von Der Schulenburg (UVA), 6-4, 6-7 (8), 6-4
2. #7 Chris Rodesch (UVA) def. #117 Blake Croyder (UGA), 6-4, 4-6, 6-2
3. #63 Ryan Goetz (UVA) def. #73 Trent Bryde (UGA), 6-1, 6-3
4. #93 Teodor Giusca (UGA) def. Alexander Kiefer (UVA), 6-3, 7-6 (5)
5. Miguel Perez Pena (UGA) def. Ty Switzer (UVA), 7-6 (7), 6-3
6. Thomas Paulsell (UGA) def. William Woodall (UVA), 6-2, 6-3
7. Gabriele Datei (Georgia State) def. Britton Johnston (UGA), 6-7 (2), 6-1, 1-0 (10-8)
---
Jump To Comments