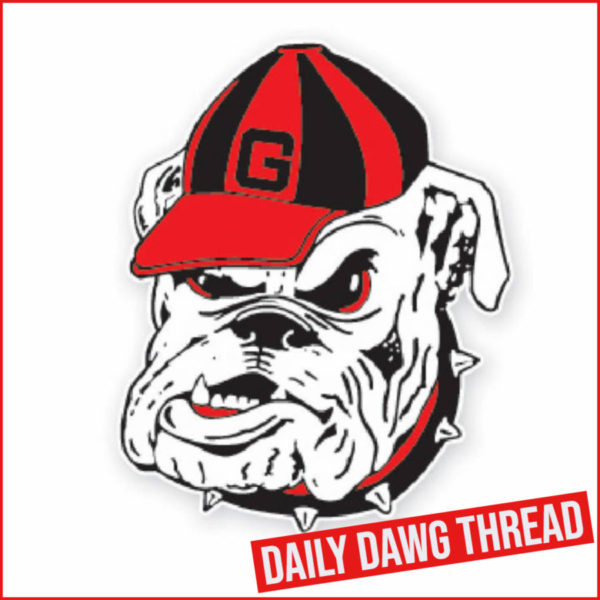 ---
ICYMI: 2023 Football Schedule
GEORGIA 2023 Schedule
Sept. 2 UT MARTIN
Sept. 9 BALL STATE
Sept. 16 SOUTH CAROLINA
Sept. 23 UAB
Sept. 30 at Auburn
Oct. 7 KENTUCKY
Oct. 14 at Vanderbilt
Oct. 21 Open Date
Oct. 28 vs. Florida (Jacksonville)
Nov. 4 MISSOURI
Nov. 11 OLE MISS
Nov. 18 at Tennessee
Nov. 25                  at Georgia Tech
---
Video/Transcript: Kirby Smart Presser – September 20, 2022
FB: Smart, Jackson and Logue Prep for Kent State
ATHENS, Ga. — University of Georgia head football coach Kirby Smart along with juniors Dan Jackson and Zion Logue spoke with the media Tuesday evening after practice and offered the following comments sharing their thoughts about the team and returning to Sanford Stadium to take on the Kent State Golden Flashes.
Head Coach Kirby Smart
On what he has seen from Jamon Dumas-Johnson..
"It is the same thing that I saw last year. He is hardworking, tough guy. He didn't play his senior year of football. He came in a little out of shape, but he caught up quick. He is very bright, conscientious, tough, and physical. All of the traits of a linebacker. He got to watch three of the best do it, and he learned from them. He is probably not where they were, but he is sharp. He cares. He has got a really good football coach, too."
On the praise from other coaches…
"Sean Lewis [Kent State head coach] is probably watching last year's tape saying that, because there were a lot of really good players on that team last year. This team, we are young. We have a lot of mistakes and a lot of things we need to clean up. I get it. If I was him, I would be saying the same thing, but I know different."
On the process of walk-on success…
"It validates it, but I don't know if they listen to it. There is no patience. We have been talking all of this week that growth requires patience. Some kids don't really understand what that is. Growth definitely requires patience. IF you don't get it right the first time or the second time, it requires patience. We are talking about growing this week and finding ways to get better. We have had each kid pick two things, write them down on an index card, put it up in his meeting room and then he is going to get up and show it where he did it. That requires growth. Those guys epitomize, Ladd (McConkey), Dan (Jackson), Stetson (Bennett), guys that grew. They were patient. It requires patience sometimes to get to where you want to go."
On the growth exercise…
"We change it up sometimes. It is something we are doing this week. We have done it before. We have different exercises where they post them and put them in their meeting rooms. It is on the door like your kindergarten teacher. You look at it and decorate your door. You see it every day you go in, and then you have to stand up in front of your team and show the video where you actually did what you said you were going to do."
On Zion Logue and Dan Jackson…
"Max effort guys. They epitomize what the culture of this program is. You are tough. You are physical. You listen. You try hard. you are selfless. They are all those things. That includes some talent. They have talent. You have to have talent to be here. You would not be able to play. Talent is not the overriding factor with those two guys. Caring about the program is. They set the tone. They were out there today in 90-something degree heat, and I went over to both of them. We were getting our touches in and bumping up and saying that we need to go to work. They drive that part. Not just them, but so many others like them create a good bond among the guys to work hard."
On opposing coaches' goals when offering exuberant praise to Georgia…
"So when they upset us, they beat somebody good. I mean, that's what they're doing. They believe they got a shot to come in here and and beat us and you want to build your opponent up the same way I respect his program. When you turn on a team's tape and you watch special teams, you find out within five minutes what kind of team they are. They are some of the leaders in the MAC in almost every special teams category, they have a great offensive system that utilizes a really talented quarterback, they have good skilled players, and they have a unique defense that's hard to prepare for. I have the utmost respect for what they've done, they've played probably one of the hardest schedules in the country."
On Zion Logue and Dan Jackson's growth this season…
"I don't even know where to begin with Zion. He's been a guy that sat behind the studs we had last year forever. I was laughing today because we had Bear [Alexander] and Christen [Miller] going down against the one offense and getting just drilled, and I was telling Bear and Christian, 'You got you got to do it to get better,' and Zion was just sitting there, and I said, 'Ask Zion, he spent three years down there.' He had three years of going against Jamaree [Salyer] and Justin [Shaffer], just every day. And now, he goes against the scout offensive line, and he's over there making those guys better. But those young guys have to go over and rep, and Zion just spent a lot of time working at his craft getting better. He still has a lot of things he can improve on, but he's not afraid to work at it. And Dan, same thing. Dan was an unknown that really worked his way to the point where he's a contributor, he's intelligent, he's reliable."
On keeping the younger players focused…
"Oh, the tape does that. There's success to you guys in statistics. There's not necessarily success for us when you watch the tape and you caught a guy free, or you watch the tape and a guy didn't do his job ,he didn't strike the right guy, we gave up a gap. There's no perfect defense or perfect offense that we've played. We know that the winner will ask what we did in the fall, and what we're doing now is preparation for what is to come. And that includes getting better every day, regardless of who our opponent is. We're not out there just getting ready for Kent State, we're getting ready for the entire schedule we got. We want to get our players better. We're trying to get guys better for the first game next year, because we got some guys that may not play this year. So we're in the development business, and we do that really hard. We're not caught up in statistics or where we are right now because it really doesn't matter. They may get it outside from you guys and read it, but they're not hearing about it over here."
On if the team's defense is helped from the offense's field position…
"I don't know. I think that the lead, the scoring on offense, has made other offenses play us differently. We haven't been in one of those kinds of games yet, when you get into a two-score, three-score lead. Sometimes, it puts a lot of pressure on the other side of the ball and the offense. It allows you to play looser at times on defense too, but our guys go against that offense every day. So, it definitely prepares us better to go against good people. Our defense is preparing every day like they're getting ready to play the best offense ever that week, because we know that they can be coming anytime in the future. We got a lot of guys that need to improve on defense. I continue to say that, you all continue to talk about defensive statistics, and I just keep talking about having to improve."
On recruiting Malaki Starks…
"He's a great kid. He has a wonderful family with very disciplined parents. He was raised in a great family home. You knew right away he had great respect. When he walks in to talk to you, he looks you in the eye. Yes sir, no sir. He knows what he is supposed to do. We already knew he was a tremendous athlete. He ran really fast and jumped really high when he was a ninth grader here. I talked to his dad that day, and we knew he was going to be some kind of special player. We just didn't know how good he was going to be, and I still don't think we know. We just found out today on the practice field that there are a lot of things he can improve on and work on. He's got to get better. He's made some good plays, but he's also been gifted on some plays. He's been lucky sometimes when he had his eyes in the wrong spot that we have to keep working with him on."
On players he's seen that are similar to Darnell Washington…
"The combination of the athleticism and displacement, there are probably none. We had some guys when I was at Alabama, Michael Williams, that were big, more blocking guys, offensive tackle type guys. He has a receiving skillset that is unique, combined with that size. The best thing about Darnell is that he has been working so hard. You see it usually in year three in guys where you go, 'Wow, that guy has matured. That guy has practiced. That guy knows how to push himself'. And they start thinking if they go hard during the week, the game will be easy. I've seen more of that out of Darnell this year, and you are able to see that during the game. He doesn't get tired, he pushes, and makes plays."
On creating turnovers…
"Pressure. Pressure causes turnovers. That's it. When you have a guy flushed out the pocket, he's running for his life, he's moving. He doesn't have long or clean pocket. He simulates pressure, he thinks there's pressure. He thinks this backer is coming, this guy's coming. They don't know what is going on, and you create doubt. They make mistakes. That's created a lot of them."
On Trezmen Marshall…
"I think his two goals were to continue to work on his conditioning level because he is a guy who has struggled with his conditioning level. That was one of his big things. Could he play more snaps? Could he play a whole game if he had to? He's been a rotational guy. We want him to improve that. Some of his box fits are things that he can improve, but we have really been pleased with how he's played. He's played well and earned the right to roll in there and play. He's been with good players since he's been here. And to be honest, last year he went and played with those three guys, but he stayed with eh injury bug. It's really important that he stays healthy."
On Gunner Stockton in the scout team…
"Poise, great arm talent. He's probably played since being on the scout team. He hasn't had to deal with the information overload. A lot of times, you find out a lot about a guy on the scout team because he is looking at a card. There's no thought process. There's no, 'I have to say this, I have to do this.' You take the robot out and you play. He's played well on the scout team. A lot of the kids who came over there, there's no pressure because you are not in trouble if you mess up. It's the same way when you play defensive guys on the scout team. You look at your card, and a lot of times you play faster."
On scoring with special teams…
"We're not in protect mode. That's conservative. That's not what we want to be about. We are trying to score on every kickoff return, on every punt return. We're aggressive. We think are going to outwork and out practice people at those things to put pressure on them. Our goal is to strike fear in every part of the game in our opponent. That might be the one edge that puts us over the top. We are not telling them to fair catch it. We are telling them to be smart. We have to do a better job in that unit to create space."
---
Video/Transcript: Zion Logue and Dan Jackson Interviews
On his goals for the week…
"It really gives you something to work for that week. Mine were playing blocks better. Having better eyes, having better feet, and then just staying on my blocks a little longer to let the backers work a little bit. That kind of plays in with everybody because everybody in every group has something they need to work on. I think it's a big step for us going into this new week."
On the defensive line…
"I feel like we have played together as a collect group. I feel like we have to stop the run a little bit more. I feel like we haven't been tested like that as much as we though, but we know it's coming down the road. We have some big teams coming up, so we have to be ready for that."
On buying into the process at Georgia…
"It's about getting respect from your peers. When you see guys like Dan Jackson, who came in with me, that work their tails off from day one and be a silent guy, he just kept his head down and worked. When you see guys like that, I know that I can depend on him and trust in him."
On creating pressure to create turnovers…
"Pressure plays a big role in every game we play now. Everybody wants to make us one-dimensional, so when their quarterback is sitting there having all the time in the world, we have to find ways to get pressure on him. Last week, we wanted to get the offense on punt a lot, but we really didn't. We need to keep working on that."
On his interception against South Carolina…
"Obviously it was a big deal for me. It is my first one I am real proud of. First off, we got great pressure from our defensive line like we had been getting all game. We had them rattled. (Spencer Rattler) made a rushed decision thanks to our defensive line. Once the ball was in the air, I work that every day, and I tried to high point the ball. Thankfully, I came down with it."
On his effort goals this week…
"This week I have tried to focus on two things. I want to be the best tackler I can be. I wrote down that I have to bring my feet and no bending at the waist, keep my head up. Secondly, knowing and being more aware of down and distance situations, more specifically third down. That is what I want to focus on."
On the pride of the defense to shut teams out and South Carolina scoring…
"I was really disappointed on that play. It didn't happen on that play. We were letting them drive down the field way too much already. We just didn't feel like we finished the game like we should have defensively. That is what we are working on this week in practice. No matter if you are first string, second string or third string, we say that if you are in the game you are a starter. We hope to finish every game better."
---
Bulldogs in the NFL – Week 2
How the Bulldogs in the NFL fared in Week 2. (Note, at least one Bulldog was active in all 16 games in Week 2.):
CHIEFS 27, CHARGERS 24
Mecole Hardman, WR: Caught three passes for 49 yards for Kansas City.
Malik Herring, DL: Was on the Chiefs' inactive list (coach's decision).
Tre' McKitty, TE: Appeared on 39 offensive and four special teams plays with no stats for the Chargers.
Sony Michel, RB: Carried four times for 13 yards and hauled in a 6-yard pass for Los Angeles.
Jamaree Salyer, OL: Saw action on four special teams plays for the Chargers.
JAGUARS 24, COLTS 0
Tyson Campbell, DB: Recorded three tackles for the Jaguars.
Travon Walker, OLB: Posted two tackles and a quarterback hurry for Jacksonville.
LIONS 36, COMMANDERS 27
D'Andre Swift, RB: Rushed for 56 yards on five carries and hauled in two passes for 31 yards and a touchdown for the Lions.
PACKERS 27, BEARS 10
Eric Stokes, DB: Had two tackles for the Packers.
Quay Walker, ILB: Posted five tackles and defended a pass for Green Bay.
Devonte Wyatt, DB: Saw action on four defensive and four special teams plays with no stats for the Packers.
Roquan Smith, ILB: Led Chicago with 11 tackles.
BILLS 41, TITANS 7
James Cook, RB: Led the Bills with 53 yards rushing on 11 carries.
Isaiah McKenzie, WR: Caught two passes for 37 yards.
Ben Jones, OL: Started at center and helped the Titans post 187 total yards.
GIANTS 19, PANTHERS 16
Tae Crowder, ILB: Recorded two tackles for New York.
Azeez Ojulari, OLB: Was on the Giants' inactive list (calf injury).
Andrew Thomas, OL: Started at left tackle and helped New York post 265 total yards.
PATRIOTS 17, STEELERS 14
David Andrews, OL: Started at center and helped the Patriots roll up 376 total yards.
Isaiah Wynn, OL: Started at right tackle as New England accumulated 376 total yards.
George Pickens, WR: Hauled in a 23-yard pass and recorded a tackle following a Steelers turnover.
BUCCANEERS 20, SAINTS 10
Jake Camarda, P: Punted six times for a 38.2-yard average, kicked off five times, and held on two extra points and two field goals for Tampa Bay.
DOLPHINS 42, RAVENS 38
John Jenkins, DL: Saw action on 14 defensive snaps with no stats for Miami.
Channing Tindall, OLB: Was on the Dolphins' inactive list (illness).
Ben Cleveland, OL: Logged six special teams plays for the Ravens.
Justin Houston, OLB: Had three tackles, including a sack, for Baltimore.
Nick Moore, LS: Snapped on five extra points, two punts, and one field goal for the Ravens.
CARDINALS 29, RAIDERS 23 (OT)
A.J. Green, WR: Caught a two-point conversion to force overtime and had three receptions for 16 yards for Arizona.
Jonathan Ledbetter, DL: Was on the Cardinals' inactive list (coach's decision).
Zamir White, RB: Appeared on nine special teams and six offensive plays for the Raiders and gained two yards on his first NFL carry.
JETS 31, BROWNS 30
Lawrence Cager, TE: Was on the Jets' inactive list (coach's decision).
Nick Chubb, RB: Ran for a career-best three touchdowns and rolled up 113 all-purpose yards — 87 rushing, 26 receiving — for Cleveland.
Richard LeCounte, DB: Was on the Browns' inactive list (coach's decision).
RAMS 31, FALCONS 27
Leonard Floyd, OLB: Posted two quarterback hurries and one tackle for Los Angeles.
Derion Kendrick, DB: Was on the Rams' inactive list (coach's decision).
Matthew Stafford, QB: Went 27-of-36 for 272 yards and three touchdowns for Los Angeles.
Lorenzo Carter, OLB: Returned a blocked punt 26 yards for a Falcons touchdown and had two tackles, including one for loss.
49ERS 27, SEAHAWKS 7
Charlie Woerner, TE: Appeared on 36 offensive and 20 special teams plays with no stats for San Francisco.
EAGLES 24, VIKINGS 7
Jordan Davis, DL: Saw action on 21 defensive plays and one special teams play with no stats for the Eagles.
Nakobe Dean, ILB: Appeared on 12 special teams plays with no stats for Philadelphia.
Lewis Cine, DB: Logged one defensive play and 15 special teams plays with no stats as he made his NFL debut with the Vikings.
BRONCOS 16, TEXANS 9
Chris Conley, WR: Logged 20 offensive plays and one special teams play with no stats after being elevated from the Texans' practice squad.
COWBOYS 20, BENGALS 17
Trey Hill, OL: Was active but did not see any action for Cincinnati.
Practice Squads
Cardinals: Javon Wims, WR
Chargers: Mark Webb, DB
Falcons: Justin Shaffer, OL
Raiders: J.R. Reed, DB
Reserve Lists (IR, PUP, NFI, COVID)
Bengals: Elijah Holyfield, RB
Commanders: Eli Wolf, TE
Falcons: John FitzPatrick, TE
Raiders: Jordan Jenkins, OLB
Titans: Monty Rice, ILB
---
Jump To Comments