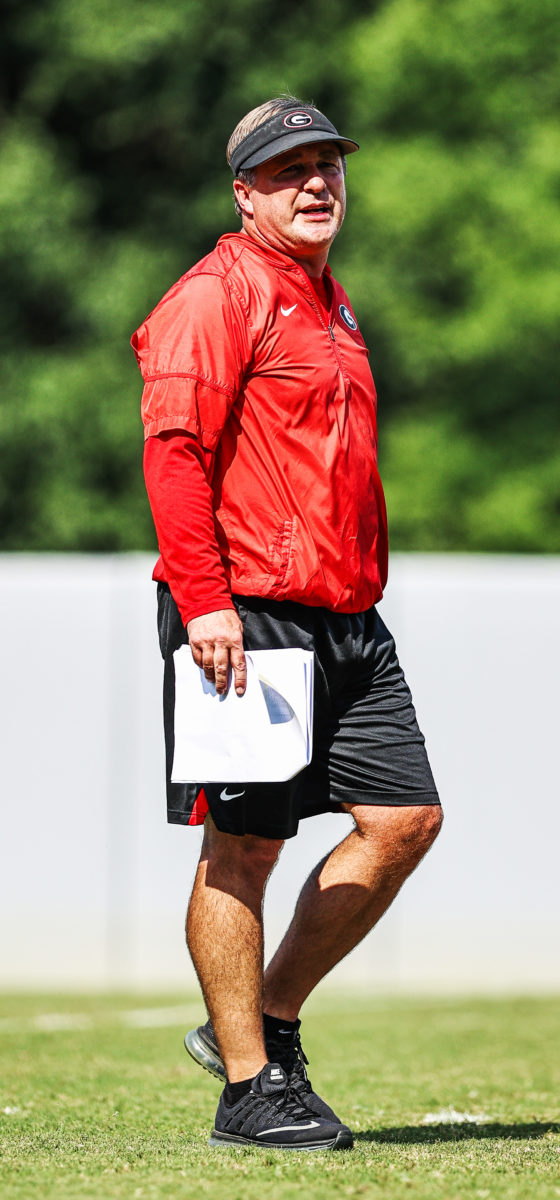 DAWG BONES OFFENSE – GEORGIA
Both teams are extremely talented and that is what makes this matchup so intriguing, especially this early in the year. However, Georgia gets the nod on offense due to more experience. JT Daniels has now had a full offseason with his receivers and offensive coordinator Todd Monken. Seniors Zamir White and James Cook also return to a loaded running backs unit. The Bulldogs have often talked this offseason about creating more explosive plays, and they will need them to beat Clemson. The Tigers will be led by quarterback D.J. Uiagalelei who started two games last year. He has big game experience, as he threw for 439 yards in his first ever start against a ranked Notre Dame team. The Tigers lost multiple offensive players to the NFL though, whereas Georgia brings back almost all of what they had last year.
DAWG BONES DEFENSE – CLEMSON
This is a close call because both defenses have similar strengths and weaknesses. Both are stronger up front, while inexperienced in the secondary. The biggest threat to Georgia not succeeding offensively in this game is Clemson's defensive line. Led by Bryan Bresee, Myles Murphy and Tyler Davis, these Tigers can stop the run and put pressure on the quarterback in the passing game. Georgia's D-Line has a lot of talent up front but not as many guys are experienced in the pass rushing department, especially after Azeez Ojulari went to the NFL. It'll be up to Adam Anderson, Nolan Smith and others to break out this year.
DAWG BONES SPECIAL TEAMS – GEORGIA
Luckily, Georgia returns both of its specialists in placekicker Jack Podlesny and punter Jake Camarda. Podlesny hit on 13 of his 16 field goal attempts last year, including a 53-yarder to win the Chick-fil-A Peach Bowl. He also did not miss a PAT. Camarda might have the best leg in the country. He's already been named to the Ray Guy Award Watchlist and was a Pre-season All-America first team pick by the Associated Press. Clemson's punter Will Spiers enters his sixth year with the Tigers. B.T. Potter enters as Clemson's kicker after hitting 18-of-23 field goals last year. Georgia will also have Kearis Jackson returning punts and most likely Kenny McIntosh returning kicks.
DAWG BONES COACHING – CLEMSON
Any game of any magnitude, Dabo Swinney has been there, done it, and probably even won it. Swinney enters his 14th year as the head coach of the Tigers and has turned Clemson into one of the most powerful brands in college athletics. Under Swinney, the Tigers have now had 10 consecutive 10-win or better seasons. Clemson's offensive coordinator Tony Elliott and defensive coordinator Brent Venables are also regarded as two of the best coordinators in the country. This is not a diss against Kirby Smart or any of his staff, because he's done a tremendous job in his five years at Georgia. Swinney is just in the elite tier of college football coaches.
DAWG BONES OVERALL – GEORGIA
It sounds cliche, but this matchup will come down to who executes better. Both teams have the talent to beat each other. If Georgia's offensive line can hold up against Clemson's defensive front, it will be very difficult for the Tigers to stop JT Daniels and his guys. Although Clemson's offense has firepower, look for Georgia's defense to force a few turnovers to help decide the game.